Afghanistan's new Taliban rulers struggled to keep the country functioning today after the final withdrawal of US forces, with foreign donors alarmed about an impending humanitarian crisis.
Two weeks since the Taliban's sweep into Kabul brought a chaotic end to 20 years of warfare, the Islamist militants have yet to name a new government or reveal how they intend to rule.
In an administrative vacuum, prices have soared and crowds have gathered at banks to withdraw cash.
Heavily armed fighters have imposed control on the capital, but Taliban officials were grappling with keeping hospitals and government machinery running following the end of a huge airlift of foreigners and Afghans who had helped Western forces.
Meanwhile, thousands of people trying to flee Afghanistan have rushed to its borders amid the administrative vacuum after the Taliban's takeover.
The Islamist militia has focused on keeping banks, hospitals and government machinery running after the final withdrawal of US forces on Monday brought an end to a huge airlift of Afghans who had helped Western nations during the 20-year military presence.
With Kabul's airport inoperable, private efforts to help Afghans fearful of Taliban reprisals focused on arranging safe passage across the landlocked nation's borders with Iran, Pakistan and central Asian states.
At Torkham, a border crossing with Pakistan just east of the Khyber Pass, a Pakistani official said: "A large number of people are waiting on the Afghanistan side for the opening of the gate."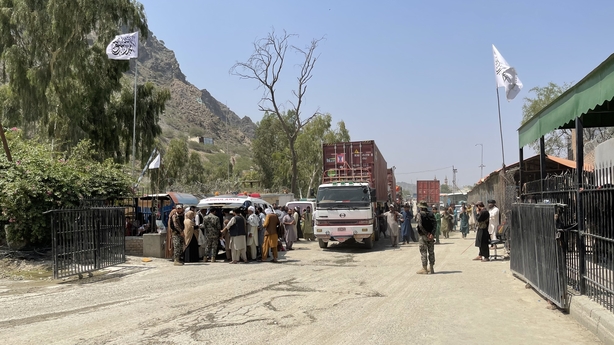 Thousands also gathered at the Islam Qala post on the border with Iran, witnesses said.
"I felt that being among Iranian security forces brought some kind of relaxation for Afghans as they entered Iran, compared with the past," said one Afghan among a group of eight that crossed over.
The US has begun to wrestle with painful choices in the chaotic final days of the war, as most Afghan allies seeking to flee with the US withdrawal were unable to do so according to a US official.
These have been incredibly emotional and trying days, and indeed years," said General Mark Milley, the top US military officer.
"We are all conflicted with feelings of pain and anger, sorrow and sadness, combined with pride and resilience," he said.
A senior State Department official vowed to keep working to help everyone leave.
"Everybody who lived it is haunted by the choices we had to make and by the people we were not able to help depart," he said on customary condition of anonymity.
More than 123,000 people were evacuated from Kabul in the US-led airlift after the Taliban seized the city in mid-August, but tens of thousands of Afghans at risk remained behind.
Germany alone estimates that between 10,000 and 40,000 have a right to be evacuated to Germany if they feel endangered.
The Taliban is talking with Qatar and Turkey over how to run Kabul's airport, French Foreign Minister Jean-Yves Le Drian said, but it could take days or weeks to finalise those negotiations.
Uzbekistan's land border with northern Afghanistan remained closed but its government said it would assist Afghans in transit to Germany by air, once flights resume.
---
Read more:
End of Afghan mission brings major uncertainty
US completes withdrawal of forces from Afghanistan
UN chief warns of 'humanitarian catastrophe' in Afghanistan
---
In a resolution on Monday, the UN Security Council urged the Taliban to permit safe passage for those seeking to leave, but did not mention the creation of a safe zone, a step backed by France and others.
The Taliban have declared an amnesty for all Afghans who worked with foreign forces during the war that ousted them from power in 2001 for their refusal to hand over al Qaeda leader Osama bin Laden after the 11 September attacks on the United States.
Taliban leaders have also called on Afghans to return home and help rebuild, while promising to protect human rights, in an apparent bid to present a more moderate face than their first government, which enforced radical Islamic law.
We need your consent to load this rte-player contentWe use rte-player to manage extra content that can set cookies on your device and collect data about your activity. Please review their details and accept them to load the content.Manage Preferences
The militia made similar promises upon seizing power in 1996, only to publicly hang a former president, ban women from education and employment, enforce strict dress codes and adopt a punitive approach to the people of Kabul.
One woman said she saw Taliban fighters beating women with sticks outside a bank in the Afghan capital on Tuesday.
"It's the first time I've seen something like that and it really frightened me," the 22-year-old said, speaking on condition of anonymity.
Among those reportedly left behind in Afghanistan is an interpreter who helped then-senator Biden escape a snowstorm in Afghanistan in 2008, according to The Wall Street Journal.
Hundreds of staff members of family members also remain from Radio Azadi, the US-backed broadcaster in Dari and Pashto that continues to operate despite past attacks.
Jamie Fly, president of Radio Free Europe/Radio Liberty which oversees the service, said the United States had a "moral duty" to help Afghan journalists.
"The US government needs to step up and work with other governments to create safe passage for those who want to leave," he said.
Taliban approve return of cricket
The Taliban have approved Afghanistan's first cricket Test since their takeover, raising hopes that international matches will continue as usual under the new rule of the Islamists.
"We have got approval to send the team to Australia," the chief executive of the Afghanistan Cricket Board, Hamid Shinwari, told AFP.
During their first stint in power, before they were ousted in 2001, the Taliban banned most forms of entertainment -- including many sports -- and stadiums were used as public execution venues.
The hardline Islamists do not mind cricket, however, and the game is popular among many fighters.
They have also promised to enforce a less strict version of Islamic law this time, after seizing the capital Kabul last month.
The Test match, to be played in Hobart from November 27-December 1, was scheduled for last year but was put off due to the Covid-19 pandemic and international travel restrictions.
It will be Afghanistan's first Test in Australia.