United Nations chief Antonio Guterres has warned of a looming "humanitarian catastrophe" in Afghanistan as he urged countries to provide emergency funding following the departure of US forces.
Mr Guterres expressed his "grave concern at the deepening humanitarian and economic crisis in the country", adding that basic services threatened to collapse "completely".
"Now more than ever, Afghan children, women and men need the support and solidarity of the international community," he said in a statement, as he pleaded for financial support from nations.
"I urge all member states to dig deep for the people of Afghanistan in their darkest hour of need. I urge them to provide timely, flexible and comprehensive funding," the secretary-general said.
Mr Guterres announced that the UN would release details of a flash appeal for Afghanistan next week.
The information will detail the "most immediate humanitarian needs and funding requirements" needed over the next four months, he said.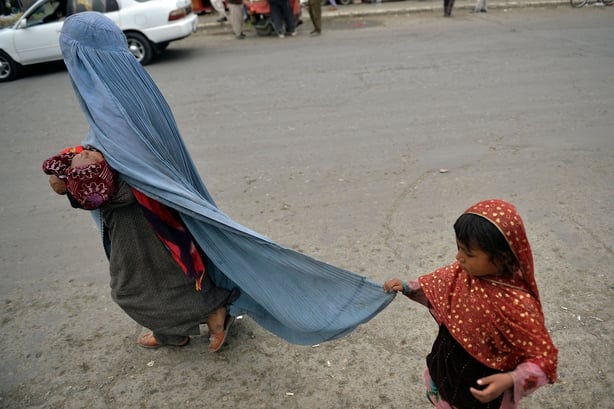 Under-Secretary-General for Humanitarian Affairs and Emergency Relief Coordinator Martin Griffiths will coordinate "the entire UN system" in preparation of the appeal, Mr Guterres added.
He said almost half of the population of Afghanistan - 18 million people - need urgent humanitarian assistance to survive.
"One in three Afghans do not know where their next meal will come from. More than half of all children under five are expected to become acutely malnourished in the next year.
"People are losing access to basic goods and services every day. A humanitarian catastrophe looms," said Mr Guterres.
He added that severe drought and coming harsh winter conditions meant extra food, shelter and health supplies "must be urgently fast-tracked" to Afghanistan.
"I call on all parties to facilitate safe and unimpeded humanitarian access for life-saving and life-sustaining supplies, as well as for all humanitarian workers - men and women," he said.
Mr Guterres said the commitment of humanitarian agencies to stay in Afghanistan and deliver aid "will not waver".
Security Council resolution
Meanwhile, the UN Security Council has adopted a resolution requiring the Taliban to honour its commitment to let people freely leave Afghanistan, but the measure did not cite a "safe zone" mentioned by French President Emmanuel Macron.
The resolution - drafted by the United States, the UK and France - was passed with 13 votes in favour and no objections. China and Russia abstained.
The resolution says the council expects the Taliban to allow a "safe, secure, and orderly departure from Afghanistan of Afghans and all foreign nationals".
It refers to a 27 August statement by the Taliban in which the hard line Islamists said Afghans would be able to travel abroad, and leave Afghanistan any time they want to, including by any border crossing, both air and ground.
The Security Council "expects that the Taliban will adhere to these and all other commitments", the resolution says.
Mr Macron had raised hopes of more concrete proposals in comments published in the weekly Journal du Dimanche over the weekend.
He said Paris and London would present a draft resolution which "aims to define, under UN control, a 'safe zone' in Kabul, that will allow humanitarian operations to continue," Mr Macron said.
"I am very hopeful that it will be successful. I don't see who could be against making humanitarian projects secure," he said.
But the UN resolution is far less ambitious. It is not clear whether another resolution proposing a "safe zone" will be circulated later on.
"This resolution is not an operational aspect. It's much more on principles, key political messages and warnings," a UN diplomat told reporters.
Richard Gowan, UN expert at the International Crisis Group, said the resolution "does at least send a political signal to the Taliban about the need to keep the airport open and help the UN deliver aid," but is "a pretty thin text".
"Macron was guilty of overselling the idea of a safe zone at Kabul airport this weekend, or at least not communicating very clearly," he added.
Despite those criticisms, the French foreign ministry said that Paris "welcomes the adoption of the resolution. We got what we asked for, which was for the airport to be a safe place for those who want to leave Kabul.
"We regret the Russian and Chinese abstention, but will work with each to ensure the council's decision is implemented," the French statement added.
Every country should support Afghan refugees
The United Nations Refugee Agency has said that there is a global humanitarian responsibility for every country to support Afghans seeking protection outside of its borders.
The global spokesperson for the UNHCR Babar Balloch said that 90% of Afghan refugees have sought shelter in Iran and Pakistan over many years, but that other countries must also accept them and provide them with safe shelter.
At present, the focus of displacement is largely internal, with 550,000 people displaced, the majority of whom are women and children.
He told RTÉ's Morning Ireland that while the numbers arriving in neighbouring countries are not so big so far, as people "try to find safety and protection, they could be looking beyond the borders".
He said that the UNHCR has a presence in 300 districts of Afghanistan along with its partners and for the past 40 years has stood by the Afghans "and tried to deal with people who have to live with consequences of conflict and failures of politics".
Mr Balloch said there is a lot of anxiety and fear on the ground and if people need to seek safety, it has to be there.
He said they will need to be allowed to access borders and respect for human rights and human lives is essential as the US withdrawal ends.
Mr Balloch said that Pakistan has been providing refuge to Afghans for many years and there are 1.5 million registered Afghan refugees in Pakistan.
He said there are a lot of desperate families who want to be reunited with their loved ones across the border and others who need medical attention.
International efforts to airlift foreign nationals and vulnerable Afghans out of the country have come to an end after the Taliban swept back into power on 15 August, with the United States withdrawing from the country after 20 years.
France ended its evacuation efforts on Friday and Britain followed suit on Saturday.
The United States announced it had withdrawn just before midnight, Kabul time, today.
US troops had been scrambling in dangerous and chaotic conditions to complete a massive evacuation operation from Kabul airport by today's deadline.