Scenes from Kabul airport over the weekend showed vividly the desperation felt by many Afghans at the impending change in regime.
Some people chose to risk their lives, clinging on to the wheels of a departing airplane, rather than stay behind.
Families passed children over barbed-wired walls, hoping a flight, any flight, might have room on board.
While we can only guess at their motives, it was clear that they were trying to leave their country by any means.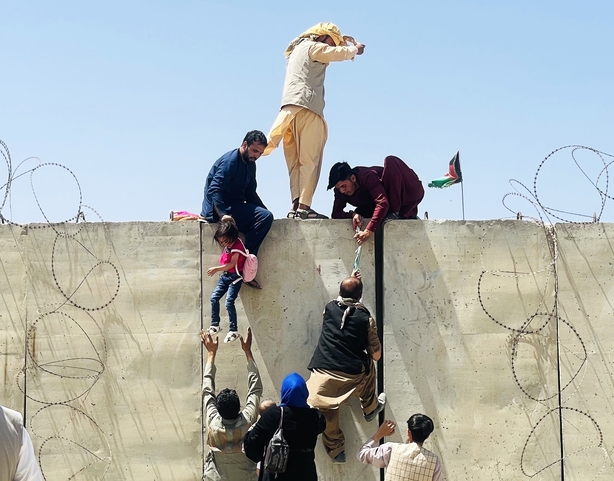 Chillingly, some members of the Taliban were taking photographs of people trying to enter the airport. Many Afghans are terrified of what's to come. Some have more reason than others to be afraid.
For five years under Taliban rule, women were worse than second-class citizens. Forbidden from working, going to school or university, or even from leaving the house unaccompanied. Their very faces were deemed offensive, hidden behind a burqa, which barely allowed them to see out.
Speaking as events unfolded over the weekend, Nobel Peace Prize winner, Malala Yousefzai tweeted of her shock, saying she was deeply worried about women.
As a schoolgirl, the campaigner for education and human rights was shot in the face by a member of the Taliban, so she knows better than most the dangers facing girls and women under Taliban rule.
We watch in complete shock as Taliban takes control of Afghanistan. I am deeply worried about women, minorities and human rights advocates. Global, regional and local powers must call for an immediate ceasefire, provide urgent humanitarian aid and protect refugees and civilians.

— Malala (@Malala) August 15, 2021
But the Taliban, meaning "the Students" in Pashto, say they are a changed organisation, willing to permit some freedoms, such as allowing women to work, and to get an education.
The Taliban held their first official news conference in Kabul today since the shock seizure of the city, declaring they wanted peaceful relations with other countries and would respect the rights of women within the framework of Islamic law.
"We don't want any internal or external enemies" said the movement's main spokesman Zabihullah Mujahid.
Mr Mujahid said women would be allowed to work and study and "will be very active in society but within the framework of Islam".
Campaigner for women's rights Mahbouba Seraj said as frightening as the situation is, there is also hope.
She said: "The way things are going there is also hope that maybe they're not going to kill us all. Maybe we will be alive. Maybe we will be allowed to do what we want to do.
"And so ... it's a whole lot of mixed feelings. But right now the concern [is] we are living in such a big void of power, void of security, void of government, I can feel it like we are almost in the air and there is not a solid ground that I'm putting my feet on. So I'm sure everybody feels that way, especially for us women."
We need your consent to load this rte-player contentWe use rte-player to manage extra content that can set cookies on your device and collect data about your activity. Please review their details and accept them to load the content.Manage Preferences
Ms Mahbouba said it's not a problem to wear the hijab, the traditional Muslim veil that covers the hair, but she will refuse to wear a "chadari" or burqa as we would call it.
"You know, as long as our face is open and we can, you know breathe and we can go to work and we can do what we need to do.
"This country still needs a lot of work, a lot of work, so if [the Taliban] are really as clever as they think they are, they are going to use us. They're going to use our skills and our capabilities, and give us a chance to work."
Ms Mahbouba is being practical, and also quite hopeful, but she's aware that the Taliban has a reputation for treating women abominably in the past, in fact, she lived in exile for 23 years. So, when asked about her fears for young women, she said that the Taliban must not take away hope from the generation of young people.
"These people, especially the young people of this country, they have a lot of hope and, and God forbid, if that was taken. If that hope is taken away, it will psychologically, mentally, and emotionally, it will kill us all.
"You're not supposed to tell a girl ...'from now on you're going to be stuck at home and you can't do anything. You can't use your brain anymore. You cannot study. You cannot learn. You cannot do anything and you have to be, just sit at home'."
Asked what the international community can do to help, Ms Mahbouba said the most important thing is for the world to watch, to keep an eye on them, especially after the transfer of power. "Don't forget about us," she urged.
Aoife MacManus, from Ashbourne in Co Meath, has been living and working in Afghanistan for two years in the primary education sector as a teacher and trainer.
While she acknowledges that the Taliban have urged people to go back to work, and children and staff to go back to school, she said people are still very afraid.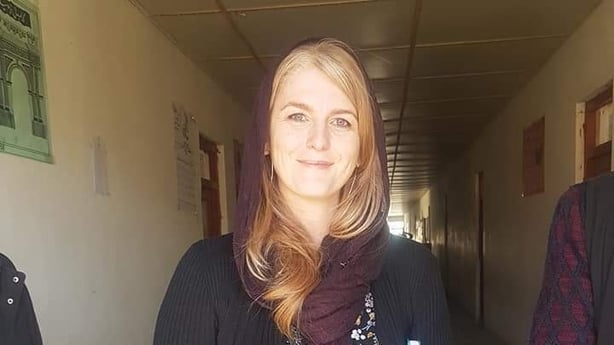 "Whatever the Taliban are saying to the international community while they are asking the international community to leave isn't necessarily what's going to happen when everybody is gone and they have ... taken over.
"So, this charm offensive, as people are calling it, saying 'no problem, everything is going to be the same, don't even worry about it' is not necessarily what's going to happen. You know, this Taliban 2.0 is not necessarily a real thing. They still are who they are.
"It just remains to be seen, so people are very, very worried. Everybody is trying to leave or trying to protect themselves in whatever way that they can."
Ms MacManus hopes to be able to return home in the coming days and has been moved to a safe location by the organisation she works with.
The EU said it will only cooperate with the Afghan government following the Taliban's return to power if it respects fundamental rights, including women's, and prevents the use of Afghanistan's territory by terrorists.
"Cooperation with any future Afghan government will be conditioned on a peaceful and inclusive settlement and respect for the fundamental rights of all Afghans, including women, youth and persons belonging to minorities, as well as respect for Afghanistan's international obligations, commitment to the fight against corruption and preventing the use of Afghanistan's territory by terrorist organisations," Josep Borrell said in a statement.
It follows an emergency meeting of European Union foreign ministers to discuss events in Afghanistan.