The Taliban have held their first official news conference in Kabul since the shock seizure of the city, declaring they wanted peaceful relations with other countries and would respect the rights of women within the framework of Islamic law.
"We don't want any internal or external enemies," the movement's main spokesman Zabihullah Mujahid said.
Mr Mujahid said women would be allowed to work and study and "will be very active in society but within the framework of Islam".
During their 1996-2001 rule, also guided by Islamic law, or shariah, the Taliban stopped women from working and administered punishments including public stoning.
Girls were not allowed to go to school and women had to wear all-enveloping burqas to go out.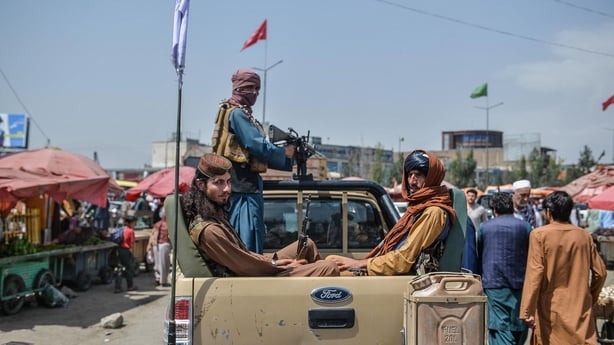 The United States has called on the Taliban to follow through on their promises to respect the rights of citizens, including women.
"If the Taliban says they are going to respect the rights of their citizens, we will be looking for them to uphold that statement and make good on that statement," State Department spokesman Ned Price told reporters.
"I think what will matter is what that looks like if and when we see it put into practice."
"We have never taken them squarely at their word," Mr Price said of the Taliban.
Meanwhile, Afghan First Vice President Amrullah Saleh said he was in the country and declared himself the "legitimate caretaker president" and that he would not bow to Kabul's new rulers.
The Taliban news conference came as the US and Western allies evacuated diplomats and civilians the day after scenes of chaos at Kabul airport as Afghans desperate to flee the Taliban thronged to the terminal.
As they rush to evacuate diplomats and civilians from Afghanistan, foreign powers are assessing how to respond to the changed situation on the ground.
US President Joe Biden and British Prime Minister Boris Johnson have discussed the situation in Afghanistan and announced a virtual summit of the G7 leaders on the crisis, the White House said.
"They agreed to hold a virtual G7 leaders' meeting next week to discuss a common strategy and approach," the White House said in a statement.
Both leaders "discussed the need for continued close coordination among allies and democratic partners on Afghanistan policy going forward," the statement said.
This includes "ways the global community can provide further humanitarian assistance and support for refugees and other vulnerable Afghans."
Meanwhile, NATO Secretary General Jens Stoltenberg said the Taliban should allow all those who wanted to leave the country to depart, adding that NATO's aim was to help build a viable state in Afghanistan.
There has been widespread criticism of the US withdrawal amid the chaotic scenes at Kabul airport. German President Frank-Walter Steinmeier said "the images of despair at Kabul airport shame the political West".
Under a US troops withdrawal pact struck last year, the Taliban agreed not to attack foreign forces as they leave.
"The imperative now, is that there is not a humanitarian, and political, and diplomatic withdrawal to match the military withdrawal"

As the Taliban take control of Afghanistan, @DMiliband speaks to @LouiseByrneNews about the new reality for the Afghan people | #rtept pic.twitter.com/UdStHp7bv6

— RTÉ Prime Time (@RTE_PrimeTime) August 17, 2021
Meanwhile, the Taliban militants have told government staff to return to work, though residents reacted cautiously and few women took to the streets.
The Taliban's deputy leader and co-founder Mullah Abdul Ghani Baradar arrived in Kandahar this afternoon.
A spokesman said on Twitter that Mullah Baradar and a high level delegation "reached their beloved country in the afternoon" from Qatar.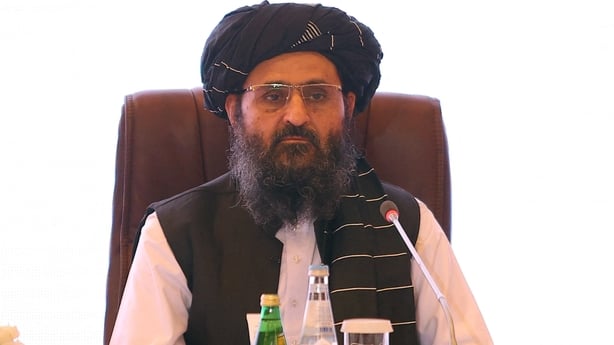 Tens of thousands of people have tried to flee Afghanistan to escape the hardline Islamist rule expected under the Taliban.
Many more fear direct retribution for siding with the US-backed government that ruled for the past two decades.
Evacuation flights from Kabul's airport restarted this morning after chaos the previous day in which huge crowds mobbed the tarmac.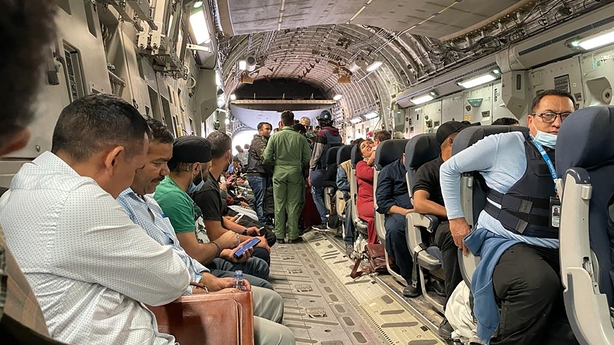 Some people were so desperate yesterday they clung to the outside of a US military plane as it prepared for take-off.
At least 12 military flights had taken off today, a diplomat at the airport said.
Planes are due to arrive from countries including Australia and Poland to pick up their nationals and Afghan colleagues.
German President Frank-Walter Steinmeier said: "The images of despair at Kabul airport shame the political West."
We need your consent to load this rte-player contentWe use rte-player to manage extra content that can set cookies on your device and collect data about your activity. Please review their details and accept them to load the content.Manage Preferences
The Taliban led a pariah regime from 1996 to 2001, infamous for a brutal rule in which girls could not go to school, women were barred from working in jobs that would put them in contact with men, and people were stoned to death.
US-led forces invaded following the September 11 attacks, in response to the Taliban giving sanctuary to Al-Qaeda, and toppled them.
Now the Taliban is back in power, it has sought to project an air of restraint and moderation, including by announcing a "general amnesty" for government workers.
"Those working in any part or department of the government should resume their duties with full satisfaction and continue their duties without any fear," a Taliban statement said.
Some shops also reopened as traffic police were back on the streets, while Taliban officials planned a first diplomatic meeting, with the Russian ambassador.
A Taliban official also gave an interview to a female journalist on an Afghan news channel, and a girls' school reopened in the western city of Herat.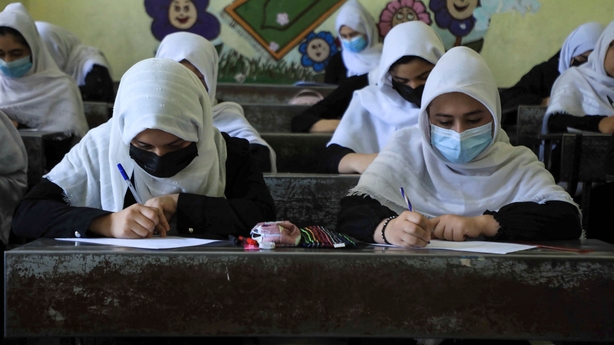 However, schools and universities remained closed, few women openly took to the streets and men had shed their Western clothes for traditional garb.
"The fear is there," said a shopkeeper who asked not to be named after opening his small neighbourhood provisions store.
The UN Security Council also said yesterday the international community must ensure Afghanistan does not become a breeding ground for terrorism.
"The world is watching," UN Secretary-General Antonio Guterres said.
The Taliban took effective control of the country on Sunday when president Ashraf Ghani fled and the insurgents walked into Kabul with no opposition.
It capped a staggeringly fast rout of all cities in just ten days, achieved with relatively little bloodshed, following two decades of war that claimed hundreds of thousands of lives.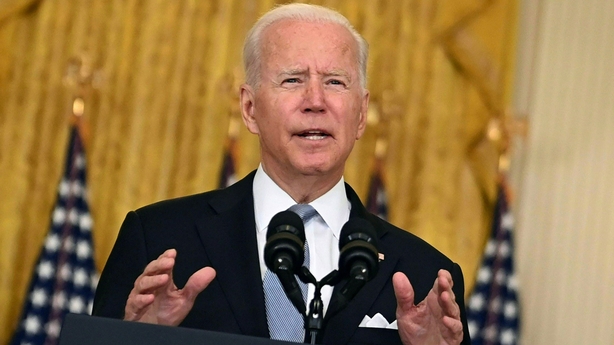 The collapse came after Mr Biden withdrew US troops, under the false belief that the Afghan army, with billions of dollars in American funding and training, was strong enough to withstand the Taliban.
In his first comments since the Taliban victory, Mr Biden admitted the Taliban advance had unfolded more quickly than expected.
But he heaped criticism on Mr Ghani's government, insisted he had no regrets, and emphasised US troops could not defend a nation whose leaders "gave up and fled".
The same day as Mr Ghani's departure, some 640 Afghans crammed into a US C-17 transport aircraft to fly to Qatar, a photo taken inside the plane showed.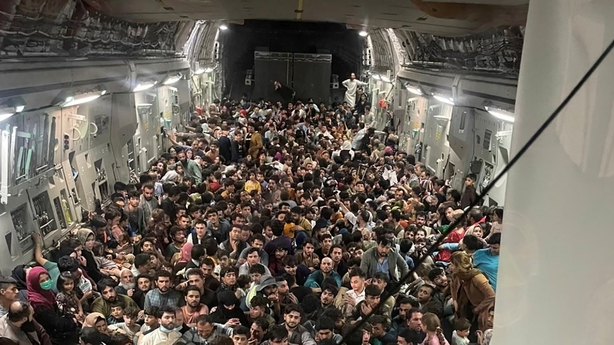 The US has also come under criticism for its handling of the evacuations of Afghans.
It sent 6,000 troops to ensure the safe evacuation of embassy staff, as well as Afghans who worked as interpreters or in other support roles.
Other governments, including France, Germany and Australia, also organised charter flights.
But yesterday, dramatic footage posted on social media showed hundreds of men running alongside a US Air Force plane as it rolled down the runway, with some clinging to the side of it.
In other videos, civilians frantically clambered up an already overcrowded and buckling jetway.
هرج و مرج در #کابل؛
لحظه‌ی پرواز هواپیمای نظامی آمریکایی‌ها از میدان هوایی کابل.#Afghanistan #Kabul #KabulHasFallen pic.twitter.com/3OF8S8Dmf2

— Mukhtar wafayee (@Mukhtarwafayee) August 16, 2021
The Taliban began their push in the spring with attacks on government positions in the countryside and targeted killings in cities.
The International Committee of the Red Cross said more than 40,000 people with wounds caused by weapons had been treated at facilities it supports in June, July and August, 7,600 of them since 1 August.
US forces are due to complete their withdrawal by the end of this month under the deal with the Taliban that hinged on their promise not to let Afghanistan be used for international terrorism.
The Taliban has said there will be no retribution against opponents and promised to respect the rights of women, minorities and foreigners, but many Afghans are sceptical and fear old enemies and activists will be rounded up.