The French government approved a draft law today that is intended to pressure non-vaccinated people to get a jab against Covid-19 as the country faces a surge in new cases.
The law, which is expected to be presented to parliament at the end of the week, was approved at a cabinet meeting today, said government spokesman Gabriel Attal.
It will massively extend a "health pass" system that will require people to produce evidence of vaccination or a negative test when they visit public venues such as restaurants, bars or shopping centres.
The government has said the legislation is intended to incite people to take up the offer of jabs, and more than three million people have booked appointments since it was outlined by President Emmanuel Macron last Monday.
The proposals have led to mass protests and accusations from some politicians that Mr Macron is abusing his powers and even running a "dictatorship".
A former member of Mr Macron's parliamentary party, Martine Wonner, urged protesters at the weekend to "go lay siege to lawmakers, go invade their headquarters, to tell them you do not agree".
Around 114,000 people rallied around France on Saturday to protest the system, with some wearing a yellow star, seeking to liken the treatment of the non-vaccinated with that of Jews in Nazi-occupied Europe during World War II.
The government and Holocaust survivors have condemned the symbolism.
"This is an odious comparison," Joseph Szwarc, a survivor of a notorious roundup of Jews in Paris, said at a remembrance event yesterday, adding that the sight of the yellow stars had greatly saddened him.
"I wore the star. I know what it is. It's in my flesh," he said.
Europe Minister Clement Beaune called the comparisons "monstrous".
Canada to open border on 9 August to vaccinated Americans
Fully vaccinated US citizens and permanent residents will be allowed to cross the border into Canada for non-essential travel from 9 August without any quarantine requirements, the government in Ottawa said today.
Canada will then reopen its borders to all vaccinated foreign travellers from 7 September.
The US-Canadian land border, the world's longest, and the air border have been closed to non-essential travel since mid-March 2020 because of the coronavirus pandemic.
Pressure had been rising on the government from the ailing tourism sector to ease travel restrictions, but Prime Minister Justin Trudeau and his administration did not want to jeopardise progress on the home front in curtailing the spread of Covid-19.
Earlier this month, Canada waived quarantine requirements for its own citizens and permanent residents returning from abroad who are fully vaccinated against Covid-19.
"On August 9, a number of important changes at the border will come into effect, to allow fully vaccinated United States citizens and permanent residents who are currently residing in the United States to enter Canada for non-essential purposes," Canadian Health Minister Patty Hadju said.
Vaccinated Americans and permanent US residents - and eventually, other foreign travellers - will be required to have had their full course of doses of a vaccine approved by Canadian authorities at least 14 days before arrival, and they will be subject to "testing as required," her ministry said.
Those travellers should also be asymptomatic on arrival.
Australia's Victoria state extends Covid-19 lockdown
Australian authorities said Victoria state will extend a Covid-19 lockdown beyond Tuesday despite a slight drop in new infections as the country's two biggest cities fight to stop the spread of the highly infectious Delta variant.
Victoria state Premier Daniel Andrews said lockdown rules would not be lifted as cases were still being detected in the community, promising more details would be provided tomorrow.
"It would be perhaps a few days of sunshine and then there is a very high chance that we'd be back in lockdown again. That's what I'm trying to avoid," said Mr Andrews in explaining why the lockdown would not be lifted as scheduled.
Victoria, the country's second most populous state which includes Melbourne, today reported 13 locally acquired cases, down from 16 a day earlier. All new local cases are linked.
Nearly half of Australia's 25 million population has been confined to their homes with Sydney, the country's largest city, in a five-week lockdown, and all of Victoria state under stay-at-home rules, after the fast-moving Delta strain triggered the country's worst outbreak for this year.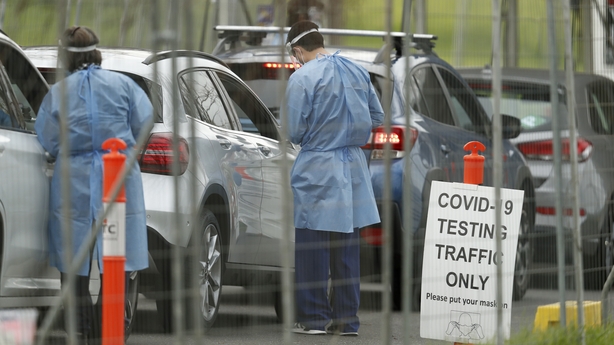 New South Wales (NSW) state, of which Sydney is the capital, reported 98 new locally-acquired cases, down from 105 a day earlier. At least 20 of the new cases were infectious while in the community, roughly in line with the last few days.
"That 20 number is the number we are really keen to nudge... the closer we get that number to zero, the sooner we can end the lockdown," NSW state Premier Gladys Berejiklian said during a televised media conference.
There are currently 82 people in hospitals, with 24 in intensive care, seven of whom require ventilation.
NSW has twice extended lockdown measures in Sydney since it was first imposed on 26 June, with the tough restrictions now scheduled to end on 30 July.
---
Read more:
Irish in Australia facing further stay-at-home orders over outbreaks of Delta variant
Latest Covid-19 stories
---
Though cases dipped today, Ms Berejiklian said the state would not see the effects of the hard lockdown for "another four or five days" and pleaded with people not to mingle with extended family as most infections are occurring within families.
Swift contact tracing, a high community compliance of tough social distancing rules and lockdowns have helped Australia quash past outbreaks and keep its Covid-19 numbers relatively low. Just over 31,900 cases and 914 deaths have been reported.
Australia could be heading into a new cycle of stop-and-start lockdowns until the end of the year until it hits high vaccination coverage, experts have said.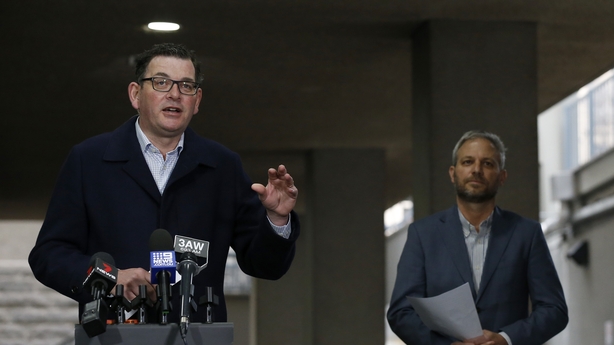 A poll by one Australian newspaper showed the slow immunisation drive, with just 13% of the country's adult population fully vaccinated, have pulled down Prime Minister Scott Morrison's approval ratings to the lowest level in more than a year.
Nearly one million Pfizer vaccine doses arrived overnight in the country, officials said, after the federal government reached an agreement to bring forward weekly shipments scheduled from September, tripling the current supply.
Officials are also frustrated after reports of people breaching social distancing rules in Sydney prompting the state police to begin "high-visibility patrols" along the coast, including the popular tourist spots of Bondi and Manly.
Controversial British commentator Katie Hopkins will be deported after she posted a video on Instagram joking about answering the door naked and maskless to people delivering meals while she was in quarantine in a Sydney hotel.
"To think that she could think that the measures we are taking to keep our community safe can be treated with such juvenile, imbecile behaviour is mind boggling," NSW state Health Minister Brad Hazzard told reporters.