The number of people forced to flee their homes due to conflict, persecution and human rights abuses has doubled in the past decade to over 82 million at the end of last year, according to the UN Refugee Agency.
It says nearly 70% of those affected are from just five countries - Syria, Venezuela, Afghanistan, South Sudan and Myanmar.
Of the 82.4 million people now living as refugees and asylum seekers, or those internally displaced within their own countries, the report found nearly half are children.
Overall, numbers have risen by close to 40 million compared to 2011, leaving a full one percent of humanity uprooted and displaced.
82.4 million people forced to flee.

The world must show more compassion, but more than anything else, willingness to end this deadly and heartbreaking trend. https://t.co/1kVjb8Jbm8 pic.twitter.com/2MO5pGE5Rj

— UNHCR, the UN Refugee Agency (@Refugees) June 18, 2021
The fact that the numbers rose for the ninth straight year was all the more devastating because Covid-19 restrictions had been expected to limit displacement.
The UN High Commissioner for Refugees, Filipp Grandi said today: "In a year of Covid, in a year in which movement was practically impossible for most of us - We were locked down, confined, blocked - three million more people have been forcibly displaced. This proves, unfortunately, the tremendously negative power of war and violence."
The UNHCR report found that last year, just 34,400 refugees were resettled globally - one-third of the previous year.
Many asylum seekers have been either trapped in conflict zones or in hotspot migrant camps, with little chance for their asylum applications to be processed.
Amid a rise in populism and nationalism in global politics, Filipp Grandi called on world leaders to "stop demonising people" that are forced to move.
He said: "Not only this is wrong, but it is also not useful. To say that the only way to address these population flaws is by building walls or pushing people back at sea is morally despicable or unspeakable. These are human beings. Whatever the motive for the flight or for the movement, they are human beings that deserve full dignity like everybody else."
The increase in those uprooted from their homes was partly fuelled by new flash points, including northern Mozambique, West Africa's Sahel and Ethiopia's Tigray region.
The United Nations is also preparing for a likely further displacement of civilians in Afghanistan after US and international troops leave the country in September.
Médecins Sans Frontières/Doctors Without Borders (MSF) said that despite the growing numbers of displaced people seeking refuge, the pandemic has made it harder for applications to be processed, as governments around the world have tightened border controls and slowed down applications due to the pandemic.
The organisation is calling on EU leaders to completely change their approach: "It is not too late for compassion and common sense. The EU and its member states should end policies of containment and ensure people arriving in Europe have access to urgent assistance, facilitate access to protection and relocation to safe reception and integration in communities across Europe," said Reem Mussa, MSF humanitarian advisor on migration and one of the authors of the report 'Constructing Crisis at Europe's Borders', which was published this week.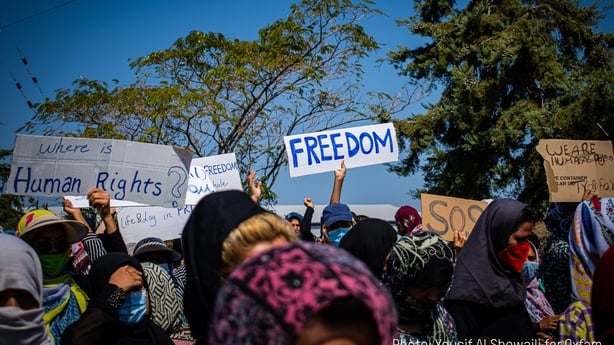 Today 400 migrants disembarked from the MSF ship 'Geo Barents' as it docked at the Italian port of Augusta in Sicily, more than a week after the first rescues were carried out in the Mediterranean sea.
Of the people rescued, who are mainly from Africa, some 100 are minors, according to MSF.
Around 40 of them had been affected by fuel burns, dehydration, hypothermia and infected scabies.
They were rescued off the Libyan coast on 10 June and will now face 14 days of coronavirus quarantine on the 'Aurelia' ship docked nearby, ahead of an uncertain future.
For years, Italy was the primary route into Europe for hundreds of thousands of asylum seekers and other irregular migrants, but after a crackdown in Libya against smugglers, the numbers making the perilous journey across the Mediterranean fell.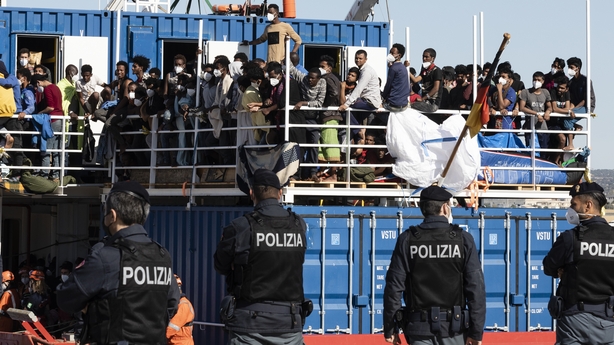 Prime Minister Mario Draghi's unity government has pursued similar restrictive migration policies to the previous administration, impounding several charity rescue boats and supporting Libyan efforts to stop illegal migrant departures.
However, there has been a pick-up in arrivals this year, with 18,170 people reaching Italy so far against 5,696 in the same period of 2020, according to data from the country's interior ministry.
Apart from MSF's boat, there is just one other civilian 'Search and Rescue' vessel now operating in the area.
MSF is calling for a European state-led proactive search and rescue plan for the region.
It said that since the beginning of this year, at least 677 people have died attempting to cross the Mediterranean, three times higher than the same period in 2020.
"Today's global displacement figures are an epic failure of humanity," the head of the Norwegian Refugee Council Jan Egeland said, pointing out that "far more people are on the move today than anytime during World War II.
"Yet despite the staggering statistics, world leaders have been inept to resolve the greatest emergency of our generation."
Additional reporting: AFP