US President Joe Biden, in a phone call with Israeli Prime Minister Benjamin Netanyahu, expressed his "grave concern" over the flare-up of violence in Israel and Gaza, the White House announced.
Speaking on the sixth day of Israeli-Palestinian clashes that has left scores dead or wounded, Mr Biden expressed his "strong support" for Israel's right to defend itself against rocket attacks by "Hamas and other terrorist groups".
But he also raised concerns about the safety of journalists after Israeli planes flattened a building in Gaza housing The Associated Press and other media outlets, according to the statement.
President Biden, in his first call with Palestinian leader Mahmud Abbas, stressed the need for Hamas "to cease firing rockets into Israel".
Mr Biden also "underscored his strong commitment to a negotiated two-state solution as the best path to reach a just and lasting resolution of the Israeli-Palestinian conflict" the White House said.
Benjamin Netanyahu, in a televised address today, blamed Hamas for starting nearly a week of hostilities by firing rockets at Israel.
He said Israel will continue to strike in Gaza as long as necessary and do its utmost to avoid civilian casualties.
"The party that bears the guilt for this confrontation is not us, it's those attacking us," Mr Netanyahu said.
"We are still in the midst of this operation, it is still not over and this operation will continue as long as necessary.
"Unlike Hamas, which deliberately intends to harm civilians while hiding behind civilians, we are doing everything, but everything, to avoid or limit as much as possible harming civilians and to directly strike terrorists instead."
Earlier, an Israeli strike on a three-storey building in the Shati refugee camp killed 10 members of an extended family - two mothers, who were related, and their four children each.
Israel's army said the building was used by "Hamas terror organisation senior officials".
The 13-storey Jala Tower block, where Associated Press and Qatar-based broadcaster Al Jazeera journalists worked, was evacuated after its owner was warned of an impending Israeli missile strike.
Jawad Mehdi said an Israeli intelligence officer told him he had just one hour to ensure evacuation of the building. It also contained a number of apartments and other offices.
Al Jazeera broadcast footage showing the building collapsing to the ground after the Israeli air strike, sending up a huge mushroom cloud of dust and debris.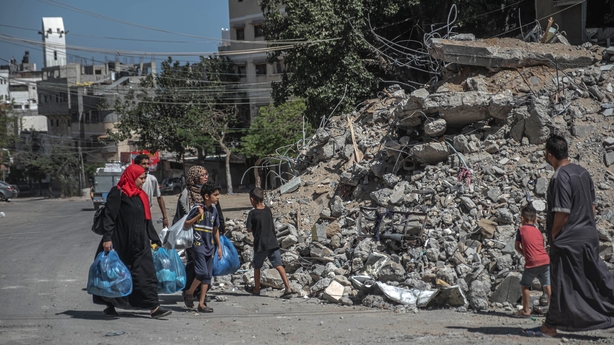 ''It is clear that those who are waging this war do not only want to spread destruction and death in Gaza, but also to silence media that are witnessing, documenting and reporting the truth of what is happening in Gaza,'' said Walid al-Omari, Al Jazeera's Jerusalem bureau chief.
''But this is impossible,'' he said on air shortly after the 13-storey Jala Tower in Gaza was obliterated.
''This is a crime among a series of crimes perpetrated by the Israeli army in the Gaza Strip.''
A 13-storey Gaza tower block housing the offices of the US-based Associated Press and Qatar-based broadcaster Al Jazeera has been destroyed by Israel's air force. | Read more: https://t.co/otdEipJReI pic.twitter.com/rc0FxkKJ0s

— RTÉ News (@rtenews) May 15, 2021
AP President and CEO Gary Pruitt said he was "shocked and horrified that the Israeli military would target and destroy the building".
He said the Israeli military "have long known the location of our bureau and knew journalists were there".
In a statement, he said AP are seeking information from the Israeli government and are engaged with the US state department following the "incredibly disturbing development."
Mr Pruitt added that a dozen AP journalists and freelancers were inside the building when a warning to evacuate came, and they "narrowly avoided a terrible loss of life".
"The world will know less about what is happening in Gaza because of what happened today," he added.
US Secretary for Israel-Palestinian Affairs Hady Amr is due to meet Israeli leaders in Jerusalem before heading to the occupied West Bank for talks with Palestinian officials.
He wants to encourage a "sustainable calm", a US State Department spokeswoman said.
Israeli planes renewed air strikes on Gaza, while Hamas militants fired rockets into Israel.
Palestinian health officials said at least 12 people were killed in the overnight Israeli attacks.
Palestinian officials said at least 139 people have been killed in Gaza since Monday, including 39 children, and 1,000 other people have been wounded.
The Minister for Foreign Affairs has condemned the deaths of children in Gaza as "not acceptable".
Simon Coveney, posting on Twitter, also urged the United Nations Security Council to "hold those responsible to account".
Israel, which is also trying to contain an outbreak of internal Jewish-Arab violence, is facing a conflict in the Palestinian territories unlike any in its recent history.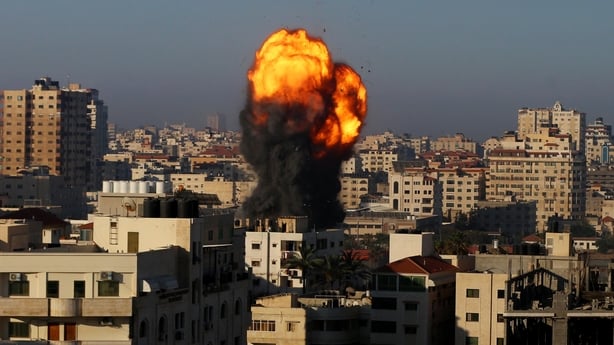 Its bombardment of Gaza began Monday in response to rocket fire towards Jerusalem from Hamas and other Palestinian armed groups in the enclave.
More than 2,000 rockets have been fired at Israel since Monday.
Israel's response has seen it hit nearly 800 targets, including a massive assault yesterday on a Hamas tunnel network dug under civilian areas.
People have taken part in protests in support of Palestinians in many cities around the world, including in Dublin city centre.