Tens of thousands of protesters marched in support of Palestinians in all major European cities including London, Berlin, Madrid, Rome and Paris.
Here in Ireland, demonstrations took place in Dublin, Cork and Galway.
A spokesperson for the Ireland Palestine Solidarity Campaign said it held "a socially distanced and masked event, forming a square of flag-waving supporters, from the Ha'penny bridge to O'Connell Bridge" in the capital.
The spokesperson said there were 15 people on each of the four sides of the two bridges.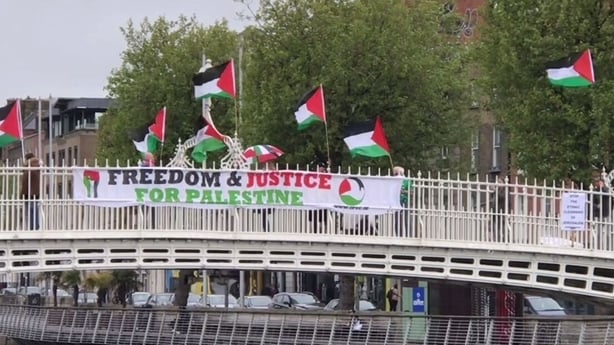 The Chair of the IPSC, Fatin Al Tamimi, said: "We wanted to show our support for Palestinians, who are being evicted from their homes in East Jerusalem, attacked with stun grenades at prayer in the Al aqsa Mosque, and now being bombed indiscriminately in Gaza.
"Whole families including children have been killed in their homes with no mercy. The occupation of Palestine, and its illegal settlements, has got to end, and freedom and human rights be restored to the Palestinian people."
A separate protest, featuring several hundred people, took place outside the Israeli Embassy in Dublin. The crowd marched there after meeting at the Spire in O'Connell Street.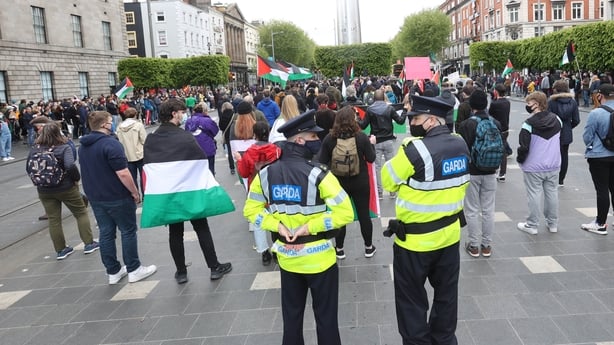 In a statement, gardaí said it would carry out an investigation into "the organiser or organisers of this protest" adding that "public health regulations in relation to organised outdoor gatherings of a certain size (current limit is 15 people) are in place".
An Garda Síochána said no arrests were made at the event and all attendees dispersed peacefully.
The statement said gardaí have "no role in permitting or authorising protest marches or gatherings. There is no permit/authorisation required for such events".
In Paris, police officers used tear gas and water cannon to try and disperse a pro-Palestinian rally held despite a ban by authorities, who fear a flare-up of anti-Semitic violence during the worst fighting between Israel and Hamas in years.
Thousands of people converged in the heavily immigrant Barbes neighbourhood in the north of the French capital, defying orders issued by loudspeakers that the march was illegal.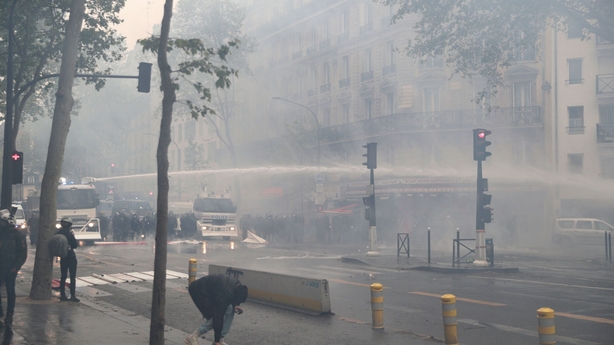 In London, several thousand protesters carrying placards reading "Stop Bombing Gaza" and chanting "Free Palestine" converged on Marble Arch, near Hyde Park, to march towards the Israeli embassy.
Former British Labour leader Jeremy Corbyn told the crowd that international action provides "succour, comfort and support" to those suffering in the conflict.
"Think what it's like being a mother or father and seeing a building bombed in front of you, knowing your family is in there, and you can do nothing," he said.
A Metropolitan Police officer received treatment for a head injury following the protest in central London.
Writing on Twitter, the force said: "Two people were arrested and subsequently de-arrested. One officer is receiving treatment after suffering a head injury."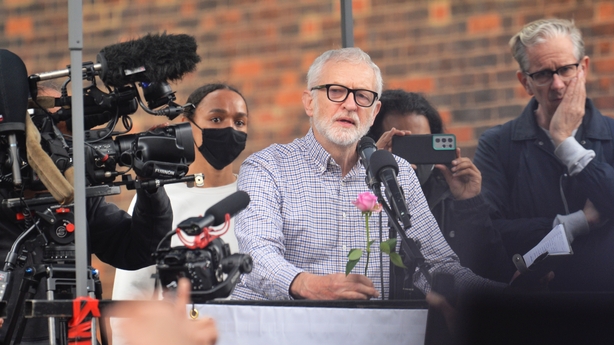 "It's our global voices that will give succour, comfort and support in those settlements alongside Gaza and all over the West Bank, East Jerusalem who are suffering at this time.
"End the occupation now. End all the settlements now and withdraw then. End the siege of Gaza now."
In Madrid, some 2,500 people, many of them young people wrapped in Palestinian flags, marched to the Puerta del Sol plaza in the city centre.
"This is not a war, it's genocide," they chanted.
Thousands marched in Berlin and other German cities following a call by the Samidoun collective.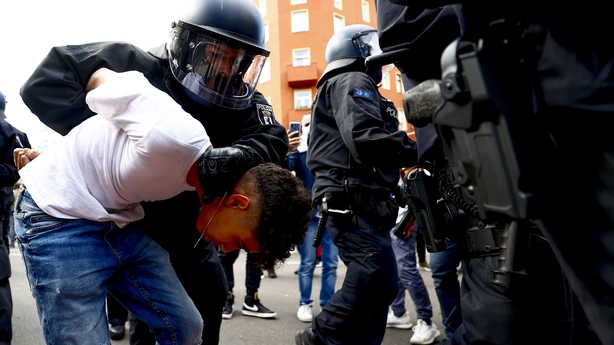 Three marches were authorised in Berlin's working class Neukoelln southern district, home to large numbers of people with Turkish and Arabic roots.
The protesters shouted "Boycott Israel" and threw paving stones and bottles at the police, leading to several arrests. Other protests were held in Frankfurt, Leipzig and Hamburg.
Also today, the Minister for Foreign Affairs condemned the deaths of children in Gaza as "not acceptable".
Simon Coveney, posting on Twitter, also urged the United Nations Security Council (UNSC) to "hold those responsible to account".
He said: "32 children killed since Monday in Gaza by Israeli fire - that's approx 1/4 of all fatalities.
"It's not acceptable! Israel has an international legal obligation to protect children in conflict and are not doing so! Ireland will speak forcefully again at UNSC tomorrow."
He later responded to a tweet by the UNICEF charity that stated "last night, another eight Palestinian children were killed in the Gaza Strip. The youngest 4 years old, the oldest 15.
"Since escalation began 5 days ago, 40 children were killed in the Gaza Strip & 2 in Israel. These are children. This is a grave violation."
Mr Coveney replied: "This cannot be acceptable to the international community. The UN Security Council needs to speak with one voice to hold those responsible to account."
He also said: "I have repeatedly condemned Hamas for firing rockets into Israel. Both sides need to be held to account by international community."