Brazil's government has been in talks since 13 March about potentially importing excess Covid-19 vaccines from the United States, the Brazilian Foreign Ministry has said.
The Foreign Ministry and the Brazilian Embassy in Washington, in cooperation with the Health Ministry, are negotiating with the US government, according to the ministry's tweet.
The White House yesterday announced plans to "loan" four million AstraZeneca shots that have already been produced in the United States to Canada and Mexico.
The US, which has stockpiled a total of seven million doses of the two-dose vaccine, will send 2.5m to Mexico and 1.5m to Canada.
Since March 13, the Brazilian Government, through Itamaraty and the Embassy in Washington, in coordination with the Ministry of Health, has been negotiating with the US Government to make it possible for Brazil to import vaccines from the surplus available in the United States.

— Itamaraty Brazil 🇧🇷 (@Itamaraty_EN) March 20, 2021
The White House has no plans to loan doses to other countries, according to an administration official.
Yesterday, Taoiseach Micheál Martin said that in his St Patrick's Day meeting with US President Joe Biden, Mr Biden made it clear that he is going to vaccinate his own people first, before he contemplates selling excess vaccines to Ireland or to anybody else.
Brazil is facing the world's second-deadliest outbreak of Covid-19 after the US, that has worsened with a new wave in recent weeks pushing the hospital system to the brink of collapse.
On Friday, the Health Ministry reported a daily record of 90,570 new cases in the prior 24 hours, as well as the second deadliest day since the pandemic began.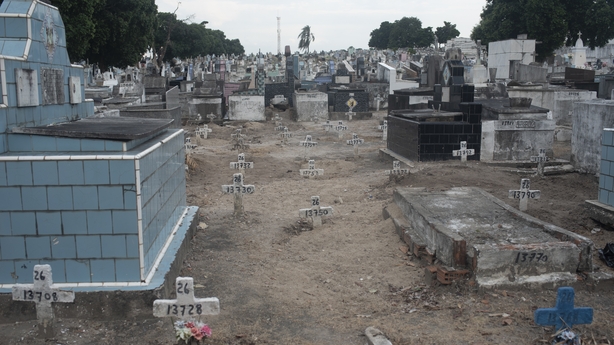 The country has been struggling to secure enough vaccines for its 212 million people.
It has so far issued at least one dose of vaccine to around 5.4% of the population - far off pace to reach the health ministry's target of vaccinating all adults by the end of the year.
Brazil is currently using both the AstraZeneca vaccine and Chinese-developed CoronaVac.
Some local governments in the country have had to halt immunizations at various points due to lack of supplies.
More than 290,000 people have died of Covid-19 in Brazil, second only to the United States.