Taoiseach Micheál Martin has said he will not speculate beyond what he has already said on whether restrictions will continue after 5 April, or will be relaxed at that point.
Mr Martin was responding to indications from Deputy Chief Medical Officer Dr Ronan Glynn that restrictions may remain in place for some months, possibly into June.
Speaking in Cork, Mr Martin said the Government will map out for the public in advance of 5 April what will happen from that point on.
"We do understand and get it that people are fed up," Mr Martin said.
"I am not going to speculate, but we will give people clear indications in advance of April 5th as to how we see April panning out and I don't believe in speculating beyond that."
Mr Martin said the big concern remained Covid-19 variants, which were "more transmissable and more deadly".
The leader of the Labour Party has said the Government should be considering the use of all Covid-19 vaccines, including the Russian Sputnik vaccine, once they have been approved by the European Medcines Agency.
Speaking on RTÉ's Six One News, Alan Kelly said people want urgency from the Government regarding how vaccines are acquired and how they will be rolled out.
Mr Kelly said lives are lost every day that passes where there is not the required volume of supply.
He said he can not understand why the resumption of the administration of the AstraZeneca vaccine took so long following yesterday's decision from the EMA.
He said many other countries had resumed use of this vaccine straight away after the EMA announcement.
Mr Kelly said it will take days, if not a week, to catch up on the 30,000 people who had not been vaccinated due to the temporary suspension of AstraZeneca.
We need your consent to load this rte-player contentWe use rte-player to manage extra content that can set cookies on your device and collect data about your activity. Please review their details and accept them to load the content.Manage Preferences
---
Read more:
Latest coronavirus stories
---
Biden to vaccinate US population before selling vaccines
The Taoiseach said US President Joe Biden made it clear to him during their discussions on St Patrick's Day that he is going to vaccinate his own people first, before he contemplates selling excess vaccines to Ireland or to anybody else.
Mr Martin was responding to questions about whether he had explicitly asked President Biden to send vaccines to Ireland during their meeting.
It has been reported that the US is to send four million AstraZeneca vaccines to Canada and Mexico.
The AstraZeneca vaccine is approved for use in both Canada and Mexico, but it is not yet approved for use in the US, which has a stockpile of that company's vaccines.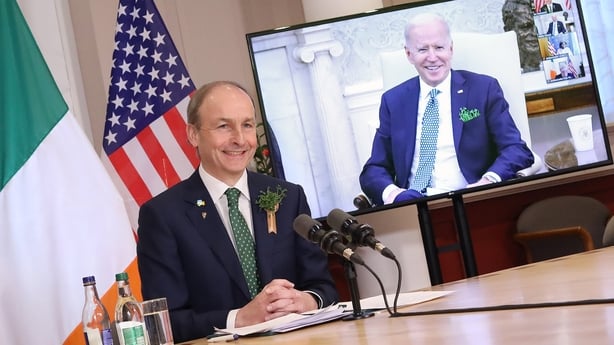 The Taoiseach said President Biden had referenced sending vaccines to Canada and Mexico during their meeting, and he and his European counterparts were aware of "the lie of the land" in advance.
"The president made it very clear as well that it would be by the end of May that they would be in a position to see what they would do with excess vaccines.
"He wanted to make absolutely sure that he would have a sufficiency of supply by the end of May to vaccinate the American population and, again, that dovetails with what some of the companies have been saying to me as well," Mr Martin told RTÉ News.
Glynn apology for those upset by restrictions comments
Meanwhile, Deputy Chief Medical Officer Dr Ronan Glynn has apologised to anyone who feels frustrated or angered by a suggestion that coronavirus restrictions could remain in place until June.
He admitted that NPHET "could improve our messaging. We're not media professionals".
"Equally though I would ask anyone who feels like that to look at the entirety of the press conference last night," he said.
"The theme of the press conference was gratitude too from the National Public Health Emergency Team to the millions of people who complied with public health measures on St Patrick's Day.
"We have sought over and over again over the past year to acknowledge the fatigue, the frustration, the exhaustion that people are feeling with these measures.
"We know how difficult it is for people in this country, we do not make recommendations lightly."
Deputy CMO Dr @ronan_glynn says he regrets that headlines about yesterday's NPHET briefing focused on the 'demoralising' idea that restrictions may be extended further. He said the theme of the briefing was gratitude to the vast majority of people who are doing the right thing pic.twitter.com/g8doxPETId

— RTÉ News (@rtenews) March 19, 2021
Dr Glynn said that despite having made good progress over the past ten weeks, Ireland remains in a "precarious position" in terms of the coronavirus pandemic.
"As a result of that I simply said that we need to be cautious over the next two months because none of us want a fourth wave, we all remember what happened as a result of Christmas and New Year, and none of us want to see that happen again," he said.
"I would ask people, all parts of society, to stick with the key messages over the coming weeks which is that there is hope - eight out of ten people will receive the vaccine by the end of June.
"We can all look forward collectively to much brighter days."
Call for limited outdoor sporting activity
Meanwhile, a professor of immunology at Maynooth University has said that low-risk outdoor activities, including sport and outdoor socialising, should be permitted as there is no evidence these lead to the large scale transmission of the Covid-19 virus.
Prof Paul Moynagh told RTÉ's Today with Claire Byrne that there is no "zero-risk way" to move forward and that proper risk management combined with rapid antigen testing could allow a prudent reopening of safe activities.
He said that the current lockdown has done as much as it can to achieve lower Covid-19 case numbers and we have to be realistic about how we move forward.
He said the expectation to try to get down to really low numbers "is going to be a major, major challenge", especially as the weather improves.
Prof Moynagh said all major studies indicated there were no "super-spreading" outdoor events, so therefore limited outdoor sporting activity should be proactively encouraged as well steps taken towards permitting outdoor socialising and outdoor dining.
He said that "anything that gives people hope" and shows we are moving towards reopening is a good thing.
Prof Moynagh said that it is really disappointing that "a year in" to the pandemic there has been no clarity given on the use of rapid antigen testing.
He said "without doubt" we should be using these tests and embracing all the technologies and innovations available to combat the virus.
Prof Moynagh said the frequency of use is key to the success of rapid antigen testing and if used frequently it can pick up cases, especially highly-infectious cases.