Britain's Queen Elizabeth and her family have said they are saddened to learn of the experiences of Prince Harry and his wife Meghan, saying they will address issues around race that were raised by the couple in an interview with Oprah Winfrey.
"The whole family is saddened to learn the full extent of how challenging the last few years have been for Harry and Meghan," Buckingham Palace said in a statement.
"The issues raised, particularly that of race, are concerning. Whilst some recollections may vary, they are taken very seriously and will be addressed by the family privately.
"Harry, Meghan and Archie will always be much loved family members," the statement added.
It was issued after the Duke and Duchess Of Sussex lifted the lid on life within the British royal family in an explosive interview that reverberated around the world.
With revelations of suicidal thoughts, a racist relative, and an heir-to-the-throne trapped by tradition, the sit-down with Ms Winfrey was the most startling since Harry's late mother Princess Diana's own bombshell revelations in 1995.
Harry described feeling "really let down" by his father Prince Charles, who had stopped taking his phone calls for a time.
Both Charles, the queen's heir, and Harry's elder brother William were "trapped" by the conventions of the monarchy, he said.
"They don't get to leave. And I have huge compassion for that", Harry said in the interview, which was broadcast on RTÉ 2 last night, explaining the couple's exit from royal life last year.
Meghan, a former actress, described herself as "naively" unprepared for life in the royal family.
She said she was denied help for a mental health crisis and said there was even official concern about the colour of their unborn son's skin.
"I ... just didn't want to be alive anymore," she told Oprah.
---
Duchess of Sussex says British royals worried about her son's skin tone
Key talking points from Meghan and Harry interview
Watch the interview here
---
Meghan, 39, also told of "concerns" about "how dark" Archie's skin would be, saying Harry revealed to her conversations over their baby's appearance ahead of his birth in May 2019.
The couple both declined to name the royal involved but Oprah said that Harry had told her the queen, 94, and her 99-year-old husband, Prince Philip, were not part of the conversations.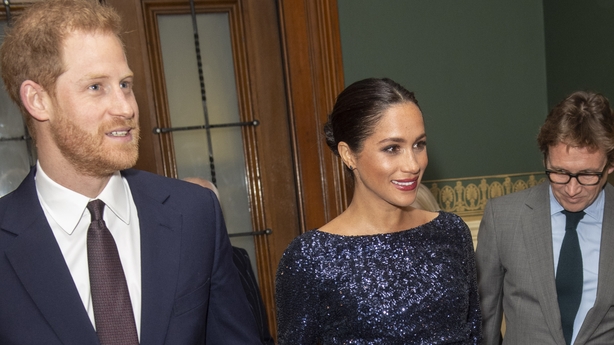 The revelations have triggered a storm of reaction on both sides of the Atlantic, particularly the explosive claims about racism.
Harry himself has faced accusations of using a racist slur against a former military colleague and was once pictured wearing a Nazi soldier's uniform at a fancy dress party.
He has said Meghan had made him confront the issue.
Anti-monarchy group Republic said the revelations showed the institution was facing "its worst crisis since the abdication in 1936", referring to Edward VIII's decision to step down to marry American divorcée Wallis Simpson.
Amid political calls for a full investigation, British Prime Minister Boris Johnson declined to comment.
As he made his first public appearance since the interview, the Prince of Wales chuckled when he was asked if he had watched the programme.
As Charles left a vaccine clinic in a London church, a reporter asked, "Sir, what did you think of the interview?"
Charles turned to see who had called out, but chuckled and carried on walking.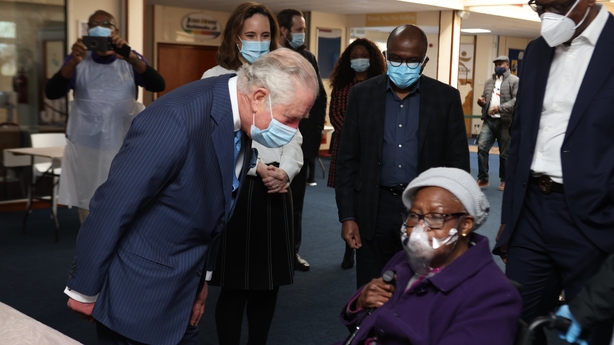 'Toxic' allegations
Meghan won plaudits for her no-holds-barred interview, but the couple also face mounting criticism at home as Prince Philip recovers from a heart procedure in hospital.
Conservative tabloid the Daily Mail asked "What have they done?", describing the couple's accusations as "toxic".
A snap YouGov poll of 2,111 adults in Britain indicated 47% thought the couple's interview was "inappropriate", with 21% in favour.
Chris Ship, royal editor at ITV, said the couple "effectively loaded up a B-52 bomber, flew it over Buckingham Palace and then unloaded their arsenal right above it, bomb by heavily-loaded bomb".
Meanwhile, Good Morning Britain presenter Piers Morgan stormed off the set on Tuesday morning during a discussion about the Duchess of Sussex with his colleague, Alex Beresford.
The eloquence of @alexberesfordTV speaks volumes as #piersmorgan walks off @GMB (returned later). pic.twitter.com/nKJ0PEGbA3

— Jon Williams (@WilliamsJon) March 9, 2021
Harry, 36, said the pair, who have secured lucrative deals with Netflix and Spotify, had to find a way to make money as "my family literally cut me off financially".
In one rare light-hearted moment, the couple disclosed that their second baby, due later this year, will be a girl.
Following the interview, the couple released a photograph, labelled a "blissful portrait" by British tabloid Metro, of the pregnant Duchess with Harry and Archie.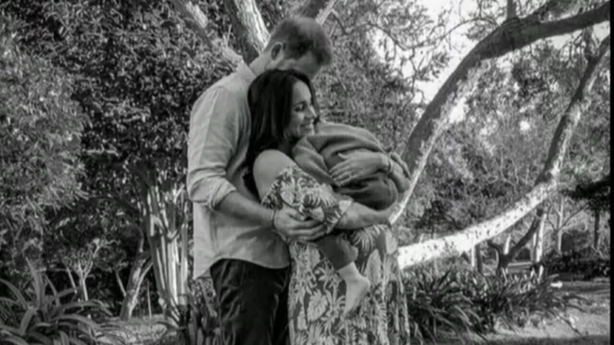 'Character assassination'
Meghan has been portrayed in some British newspapers as headstrong, calculating and spoiled, and the couple reckless and selfish for quitting royal life.
She flatly denied reports she made Prince William's wife Kate cry before her wedding to Harry.
But despite Kate apologising, the rumour was allowed to persist, Meghan added, calling the claims "the beginning of a real character assassination".
She also accused sections of the British press of racism in its coverage of her and Harry's engagement, saying the discrimination was a "large part" of why the couple chose to leave Britain.
In a statement late last night, the Society of Editors, a guild of senior British newspaper journalists, rejected the accusations.
"It is not acceptable for the Duke and Duchess to make such claims without providing any supporting evidence," said Ian Murray, the group's executive director.
"The UK media has never shied away from holding a spotlight up to those in positions of power, celebrity or influence.
"If sometimes the questions asked are awkward and embarrassing, then so be it, but the press is most certainly not racist."
---
'When they decide to talk to me I'll stop talking to the press'
Thomas Markle, the Duchess of Sussex's father, has said he is "disappointed" after seeing his daughter's interview with Oprah Winfrey.
Meghan has been estranged from her father since her wedding, but Oprah Winfrey was not seen questioning her about their relationship in the main programme.
In clips released later, Meghan said she found it difficult to discuss his actions, adding: "I genuinely can't imagine doing anything to intentionally cause pain to my child."
Asked about the interview, he told ITV's Good Morning Britain: "I'm very disappointed about it. I've apologised about this thing, what happened, at least 100 times or so.
"The bottom line is I've never heard back from Meghan or Harry in any way shape or form. When they say that I'm taking advantage of the press, well basically what I do, because I haven't heard from them is, I'll do a story for the press.
"If I don't hear from them in 30 days then I'll do another story for the press."
He added: "When they decide to talk to me I'll stop talking to the press."
Thomas Markle reacts to bombshell Oprah interview in GMB world exclusivehttps://t.co/DN185hhPmc

— Good Morning Britain (@GMB) March 9, 2021
Mr Markle told of his regret at staging paparazzi photographs ahead of Meghan and Harry's wedding.
"I wish I hadn't done the whole thing," he said.
"But here's the other side of the coin. No one took any time to protect any member of our family. We were attacked by the press every day."
He continued: "Nobody was there to care for us, nobody looked after us."
Mr Markle added: "No one helped us. Then I saw a headline saying they recommended ... to Harry and Meghan that someone come and help me, someone come and take care of me and Meghan and Harry denied that and said, 'don't do it,' so I was left out to dry.
"And in spite of all that, I still apologised, I'm apologising today again... I also said we all make mistakes... but I've never played naked pool and I've never dressed up like Hitler."
Asked about Meghan's suicidal thoughts while she was pregnant, he said: "It really did upset me ... It would have been easy for her to reach out to me."
He added: "But the other thing is, I would think she could turn to her husband."
Asked about the timing of the Duke and Duchess of Sussex's interview, Thomas Markle said: "They went way over the top with it, these stories with Oprah, and should have waited.
"Considering the Queen's age and Philip's age, they certainly should have waited or tried to wait."
He said Harry and Meghan are living "probably about 70 miles from me now".
He added: "I'm available any time we can get together. I'd love to get together. I'd certainly like to see my grandson."
---
CBS presents Oprah with Meghan and Harry is available to watch on the RTÉ Player