Russian opposition leader Alexei Navalny has urged people there to stage mass anti-government protests during a court hearing after his arrest on arrival in Moscow from Germany.
"Do not be silent. Resist. Take to the streets - not for me, but for you," the 44-year-old anti-corruption campaigner said in a video posted on YouTube from the police station where the hearing was hastily convened.
Mr Navalny, 44, was detained at Moscow's Sheremetyevo airport after he returned to Russia from Germany for the first time since he was poisoned with a nerve agent last August.
The makeshift court ruled today that the activist, who blames his poisoning attack on President Vladimir Putin, will be held in custody for 30 days pending further court hearings and could face years in jail.
The Kremlin has denied any involvement in the poisoning.
A spokesperson for Angela Merkel said the German Chancellor condemns the 'arbitrary' arrest of Alexei Navalny by the Russian authorities, and is demanding his release.
Russia's FSIN prison service said yesterday that it had detained Mr Navalny for violating the terms of a suspended sentence he was given in 2014 on fraud charges he says were politically motivated.
In his new video, Mr Navalny quipped about his detention, summing it up from the Kremlin's point of view: "We tried to kill you, you didn't die, this was an insult to us and for that, we're jailing you."
Leonid Volkov, a prominent aide of Mr Navalny, called on protesters to take to the streets nationwide on 23 January.
We need your consent to load this rte-player contentWe use rte-player to manage extra content that can set cookies on your device and collect data about your activity. Please review their details and accept them to load the content.Manage Preferences
---
Alexei Navalny: From poisoning to prison
---
Minister for Foreign Affairs Simon Coveney said he condemned Mr Navalny's detention and called for his "immediate release".
Minister Coveney said: "Having survived an attempted poisoning on Russian soil, Mr Navalny chose to return home of his own free will. His detention immediately upon arrival raises serious questions around the rule of law and the protection of fundamental rights.
"I reiterate the call for Russia to carry out a transparent investigation into the poisoning of Mr Navalny in full cooperation with the Organisation for the Prohibition of Chemical Weapons."
Earlier, Mr Navalny said his treatment was beyond a "mockery of justice" after he was brought before a hastily organised court a day after his arrest.
With calls growing in the West for Mr Navalny's release, he was taken to a courtroom set up at a police station in Khimki on the outskirts of Moscow where he is being held.
In a video, Mr Navalny called for the hearing to be open to all journalists, after only pro-Kremlin media were allowed to attend.
"I demand that this procedure be as open as possible, so that all media have the opportunity to observe the amazing absurdity of what is happening here," he said.
About 100 people, mostly journalists, had gathered in the snow outside the police station and several police vans were waiting nearby with their engines running.
Russia's FSIN prison service said that it had detained Mr Navalny for violating the terms of a suspended sentence he was given in 2014, on fraud charges he says were politically motivated.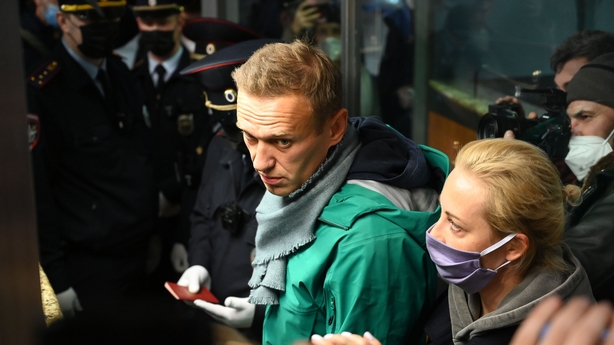 He is also facing potential new criminal charges under an inquiry launched late last year by Russian investigators who say he misappropriated over $4 million worth of donations.
The leading Kremlin critic emerged a decade ago with his Anti-Corruption Foundation publishing anti-graft investigations that often reveal the lavish lifestyles of the Russian elite.
He has repeatedly led large-scale street protests against Mr Putin, most recently in the summer of 2019, and was gearing up for another challenge to authorities during elections to the lower house State Duma in September.
He was evacuated to Germany after falling violently ill on a flight over Siberia in August from what Western experts eventually concluded was a poisoning with Soviet-designed nerve agent Novichok.
Mr Navalny accused Mr Putin of ordering the attack, a claim the Kremlin vehemently denies. Russian police have not opened an investigation citing a lack of evidence.