20 August
Alexei Navalny, a 44-year-old lawyer and anti-corruption campaigner, is hospitalised in the Siberian city of Omsk after losing consciousness while on a flight.
His entourage says he has been poisoned, while Russian doctors treating him say they have found "no trace" in his blood or urine.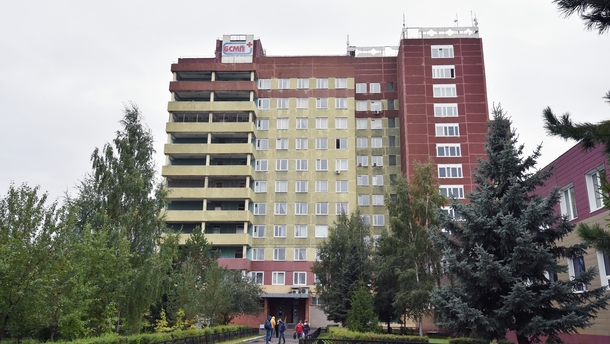 .
22 August
After being put into a medically induced coma, Mr Navalny is transferred two days later to the Charite hospital in the German capital at his family's request.
The Russian medical team treating him had initially refused the move.
German doctors say tests indicate poisoning.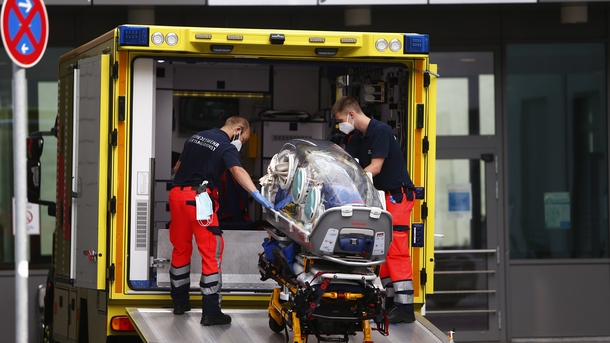 .
27 August
The Russian judiciary announces a preliminary probe but says there is no proof of a poisoning.
2 September
Germany says medical tests carried out by a German army laboratory yielded "unequivocal evidence" that Mr Navalny was a victim of poisoning by Novichok, a Soviet-era chemical weapon.
German Chancellor Angela Merkel seeks clarification from the Russian government.
NATO and the European Union also demand an investigation.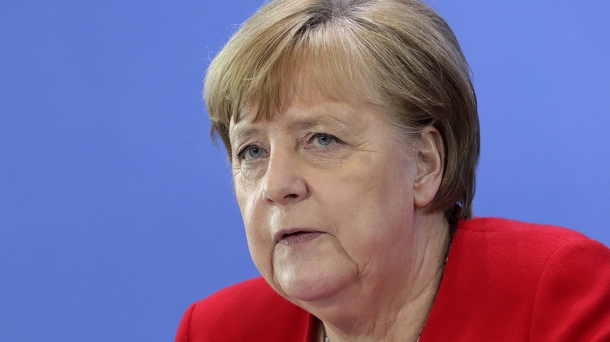 .
3 September
The Kremlin rejects claims that Russia was behind the poisoning.
The following day Russian toxicologist says Mr Navalny's health could have deteriorated because of dieting, stress or fatigue, insisting no poison had been found.
NATO Secretary General Jens Stoltenberg demands Russia reveal its alleged Novichok programme to the global chemical weapons watchdog.
Germany, which holds the rotating presidency of the EU, says it will discuss possible sanctions against Russia.
7 September
Mr Navalny emerges from the coma and is responsive.
14 September
Laboratories in France and Sweden confirm Germany's findings that Mr Navalny was poisoned with a Novichok nerve agent.
French President Emmanuel Macron urges Russian leader Vladimir Putin to shed light on the "attempted murder".
Mr Putin condemns "unsubstantiated" accusations.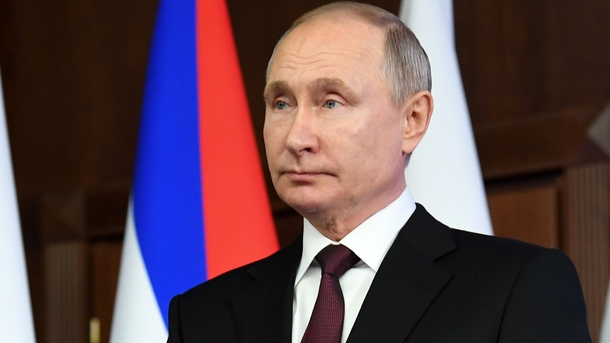 .
15 September
Mr Navalny posts a message on Instagram saying he is able to breathe unaided, appearing with his wife Yulia and two children, sitting up in bed looking gaunt.
Two days later aides of Mr Navalny say they have discovered traces of a Novichok nerve agent on a bottle taken from the hotel in Siberia where he stayed before falling ill.
21 September
Mr Navalny says Western laboratories have found traces of Novichok in and on his body and he demands Russia return his clothes from the day he fell ill.
The next day he is discharged and the Berlin hospital says a "complete recovery is possible".
The Kremlin says Navalny is welcome to return to Moscow.
His spokeswoman says Russia froze his assets while he was in a coma.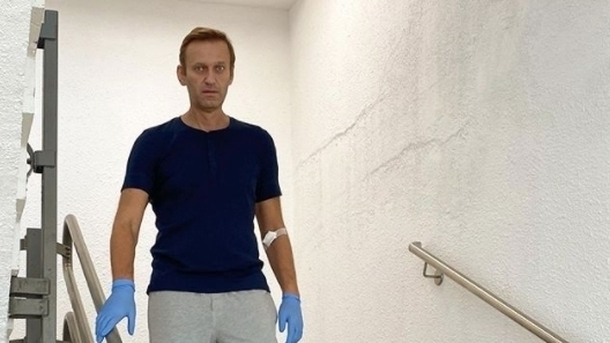 .
1 October
Mr Navalny accuses Mr Putin of being behind his poisoning, and says he will not give the Russian president the pleasure of being in exile.
Mr Putin's spokesman Dmitry Peskov accuses Mr Navalny of working for the CIA and calls his claims "groundless and unacceptable".
December
Mr Navalny releases a recording of him tricking a Russian Federal Security Service agent into confessing that he tried to kill him by putting poison in his underpants.
Mr Navalny posed as a top security chief demanding answers as to why the poisoning had failed.
The furious FSB describes the phone call as a "provocation aimed at discrediting" the agency.
17 January
After posting a video on Instagram announcing plans to return home despite a threat of jail from Russian authorities, Mr Navalny flies from Berlin to Russia.
"It was not my choice to come to Germany... What bad thing can happen to me in Russia?" he joked.
He is arrested shortly after landing at Sheremetyevo airport after his flight is redirected at the last minute from another Moscow airport to avoid protests by his supporters.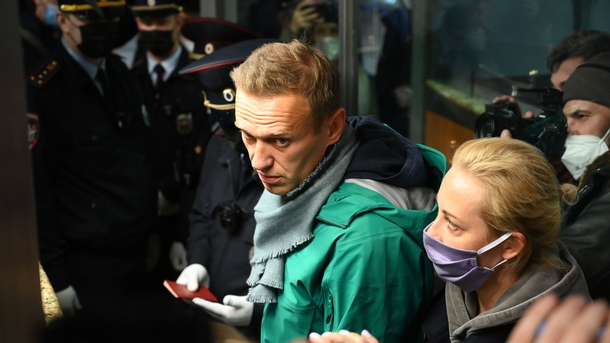 .
20 January
A Moscow court postpones the start of Mr Navalny's trial on charges of defaming a World War II veteran, his lawyers said.
Olga Mikhailova told journalists the court pushed back the trial until 5 February because the opposition figure is currently in virus quarantine after returning from Germany on Sunday and being immediately put behind bars.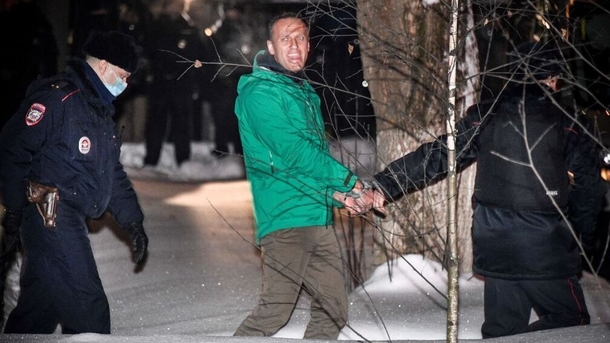 .
28 January
A court orders that Mr Navalny to be kept in jail and rejected his appeal against his detention.
Mr Navalny was remanded in custody for 30 days on 18 January for alleged parole violations that he denies.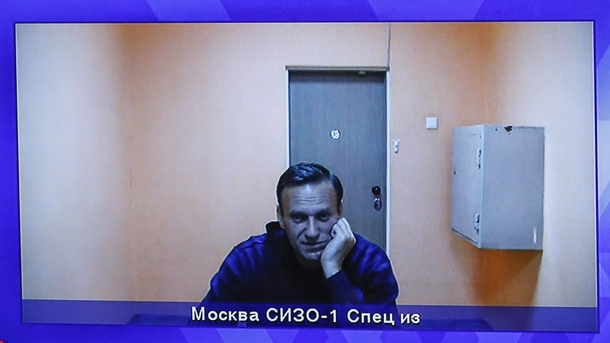 .
31 January
Police detain more than 4,400 people across Russia and blocked off the centre of Moscow in a massive clampdown on protests demanding the release of Mr Navalny.
Thousands of protesters defied government warnings to rally from Vladivostok to Saint Petersburg in a second weekend of mass demonstrations over the arrest of President Vladimir Putin's most prominent opponent.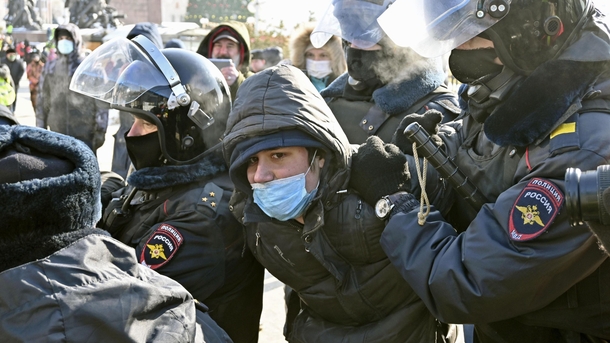 .
2 February
Moscow court orders Alexei Navalny to be jailed for three-and-a-half years, triggering immediate calls for protests and condemnation in the West.
The decision to turn a 2014 suspended sentence into real jail time will see Mr Navalny serve a lengthy prison term for the first time.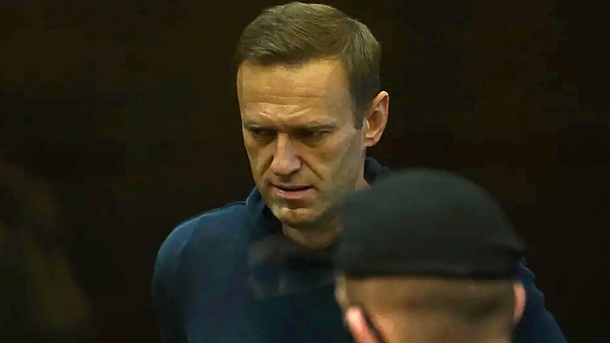 .