Indonesian authorities have retrieved a black box from the Sriwijaya Air plane that crashed into the Java Sea three days ago, Kompas TV reported today, showing footage of the recording device being loaded onto a ship.
It was being transported to Jakarta port, the television reports said.
It also emerged today that the Sriwijaya Air Boeing 737-500 plane had passed an airworthiness inspection last month, according to Indonesia's transport ministry.
The plane with 62 people on board plunged into the sea on Saturday, four minutes after taking off from Jakarta's main airport.
The Transport Ministry said in a statement that the plane, which had been grounded between March and December last year during the pandemic, passed an airworthiness inspection on 14 December.
Indonesian divers have returned to a wreckage-littered seabed with some 3,600 personnel taking part in the recovery effort, assisted by dozens of boats and helicopters.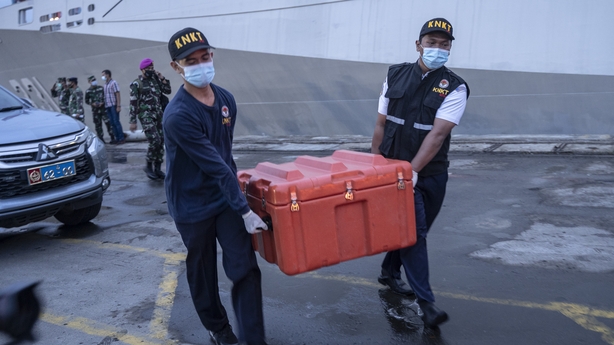 Underwater images from Indonesia's navy showed divers plumbing the murky depths as they combed through twisted wreckage.
Authorities have so far been unable to explain why the 26-year-old plane crashed just minutes after takeoff.
Initial findings by Indonesia's National Transportation Safety Committee (KNKT) showed a jet engine was running when it hit the water, based on damage seen on parts retrieved from the sea.
"The damage on the fan blade showed that the engine was still working on impact," KNKT chief Soerjanto Tjahjono said in a statement.
"This is consistent with the hypothesis that the plane's system was still working at an altitude of 76 metres," he said, noting the plane was transmitting data at that altitude.
Indonesia retrieves black box of crashed plane. I Read more: https://t.co/omFnKND4JW pic.twitter.com/KYZOVACloC

— RTÉ News (@rtenews) January 12, 2021
---
---
Indonesian police made the first identification of a victim from the crash yesterday. Flight attendant Okky Bisma was identified by his fingerprints, said a police official.
"My super kind husband ... Heaven is your place ... Until we meet again darling," Mr Okky's wife, who is also a flight attendant, wrote on her Instagram account.
In a separate post, she wrote that she was lucky to have met Okky who "always pampered me", along with a picture of them together with a sunset in the background.
The plane was headed on a domestic flight to Pontianak on Borneo island, about 740km from Jakarta, before it disappeared from radar screens.
It was the second major air crash in Indonesia since 189 passengers and crew were killed in 2018 when a Lion Air Boeing 737 MAX also plunged into the Java Sea soon after taking off from Jakarta
The jet that crashed on Saturday is a largely different design.