US President Donald Trump has walked out of the Walter Reed Medical Center after being treated for Covid-19 and tweeted he would be "back on the campaign trail soon".
Wearing what appeared to be a white surgical mask, Mr Trump pumped his fist and gave a thumbs up as he walked to a limousine that took him to the Marine One helicopter for the short flight to the White House.
He replied to a shouted question by a reporter about how many people are infected with coronavirus at the White House by saying: "Thank you very much".
Mr Trump was later seen on the balcony of the White House posing for photos without his mask on. He saluted and waved to onlookers.
US President @realDonaldTrump has walked out of Walter Reed Hospital and is making his way by car to the presidential helicopter Marine One. @rtenews pic.twitter.com/fibV0HZg9z

— Brian O'Donovan (@BrianOD_News) October 5, 2020
In an earlier tweet, he told Americans - whose country has a Covid-19 death toll of 210,000 - they had "nothing to worry about".
Mr Trump's Twitter statement, declaring himself rejuvenated and telling his fellow citizens "don't be afraid of Covid", came hours after his own chief spokeswoman tested positive for the virus, the latest in an outbreak raging within the White House.
On his return to the @WhiteHouse, @realDonaldTrump walked to the balcony, removed his mask and posed for photos. @rtenews pic.twitter.com/19XkmvazJP

— Brian O'Donovan (@BrianOD_News) October 5, 2020
"Don't be afraid of Covid. Don't let it dominate your life. We have developed, under the Trump Administration, some really great drugs & knowledge. I feel better than I did 20 years ago!" he tweeted.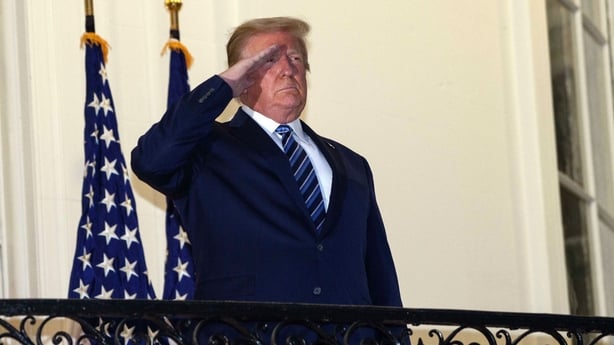 The 74-year-old Republican, who faces an uphill re-election battle against Democrat Joe Biden in less than a month, has been doing everything to try to project strength and confidence since his hospitalisation on Friday after being infected with Covid-19.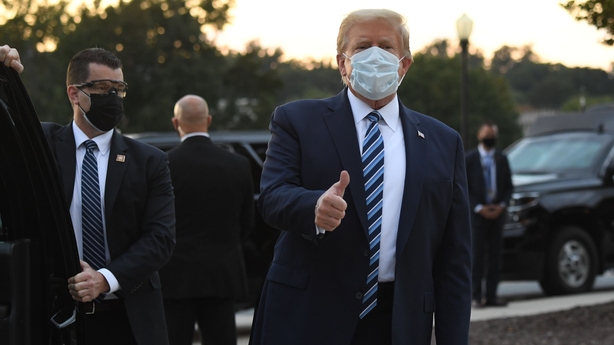 A crowd of Mr Trump's supporters gathered outside the Walter Reed military hospital to cheer him as he emerged.
The scene outside Walter Reed Medical Centre right now where supporters of @realDonaldTrump have gathered to see the president leave hospital and return to the @WhiteHouse. @rtenews pic.twitter.com/NZ72nkOO7z

— Brian O'Donovan (@BrianOD_News) October 5, 2020
Earlier, the president's physician Sean Conley told a press briefing that Mr Trump has met or exceeded all standard hospital criteria to be discharged, and while he is not yet out of the woods, he is able to go home.
I will be leaving the great Walter Reed Medical Center today at 6:30 P.M. Feeling really good! Don't be afraid of Covid. Don't let it dominate your life. We have developed, under the Trump Administration, some really great drugs & knowledge. I feel better than I did 20 years ago!

— Donald J. Trump (@realDonaldTrump) October 5, 2020
"Over the past 24 hours ... he's met or exceeded all standard hospital discharge criteria", Mr Conley told a news conference, saying it had been more than 72 hours since Mr Trump's last fever and that his oxygen levels were normal.
We need your consent to load this rte-player contentWe use rte-player to manage extra content that can set cookies on your device and collect data about your activity. Please review their details and accept them to load the content.Manage Preferences
"Though he may not entirely be out of the woods yet, the team and I agree that all our evaluations, and most importantly, his clinical status, support the president's safe return home, where he will be surrounded by world-class medical care 24/7", Dr Conley said.
Trump defends decision to drive-by fans during treatment
Earlier, President Trump responded to complaints about his decision to "drive by" fans outside the medical centre in Bethesda, Maryland.
He sparked an angry backlash with a protocol-breaking visit to supporters outside the hospital.  He was masked as he waved from inside his bulletproof vehicle during the short drive-by yesterday evening.
Mr Trump said in a video on Twitter just before his outing that he had "learned a lot about Covid" by undergoing treatment.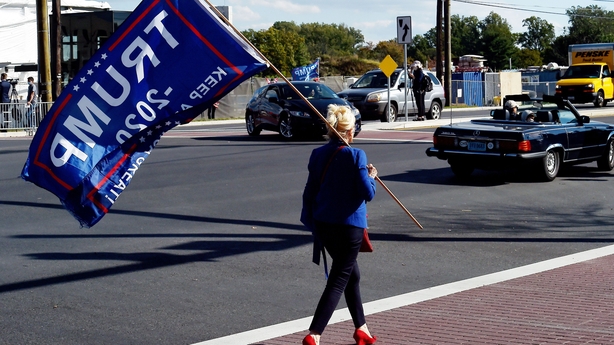 Experts complained he had broken his own government's guidelines requiring patients to isolate while they are in treatment and still shedding virus and had also endangered his Secret Service personnel. 
"Every single person in the vehicle during that completely unnecessary presidential 'drive-by' just now has to be quarantined for 14 days," said James Phillips, chief of disaster medicine at George Washington University. 
"They might get sick. They may die. For political theatre. Commanded by Trump to put their lives at risk for theatre. This is insanity." 
But Mr Trump tweeted: "It was reported that the media is upset because I got into a secure vehicle to say thank you to the many fans and supporters who were standing outside of the hospital for many hours, and even days, to pay their respect to their President. If I didn't do it, Media would say RUDE!!!"
Meanwhile, White House Press Secretary Kayleigh McEnany revealed she had tested positive for Covid-19, adding that she would begin quarantining.
The White House medical unit does not list any members of the press as close contacts.
October 5, 2020
"Moreover, I definitively had no knowledge of Hope Hicks' diagnosis prior to holding a White House press briefing on Thursday," Ms McEnany said in a statement, referring to Mr Trump's adviser whose positive test results were revealed last Thursday.
Conflicting official updates since Mr Trump's hospitalisation on Friday had created confusion over his health, but his chief of staff said his condition had improved overnight. 
Mr Trump's Covid-19 diagnosis has upended the White House race less than a month from polling day and cast a spotlight on the president's much criticised management of the pandemic which has claimed over 200,000 American lives. 
Eager to portray himself as in charge despite his sickness, he sent 15 block-capital tweets in 30 minutes, appealing to voters by claiming a record of successes in his first term including tax cuts and stock market highs, and protecting gun rights and religious liberties.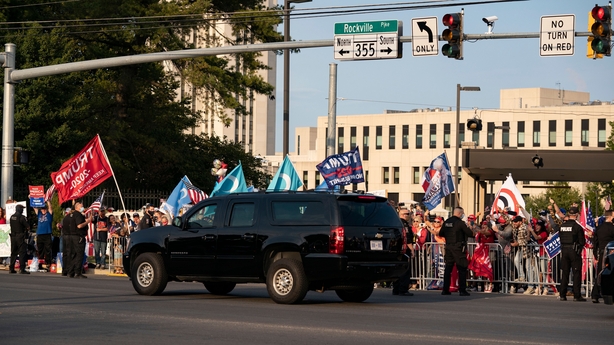 The US President was flown to Walter Reed with a high fever on Friday after a "rapid progression" of his illness, with his oxygen levels dropping worryingly low, Dr Conley said. 
Dr Conley admitted that he had kept from the public the fact that the president had been given extra oxygen, in a bid to reflect an "upbeat attitude". 
Democratic candidate Joe Biden, who announced on Sunday his latest negative test for the virus, is flying out this week to key swing state Florida.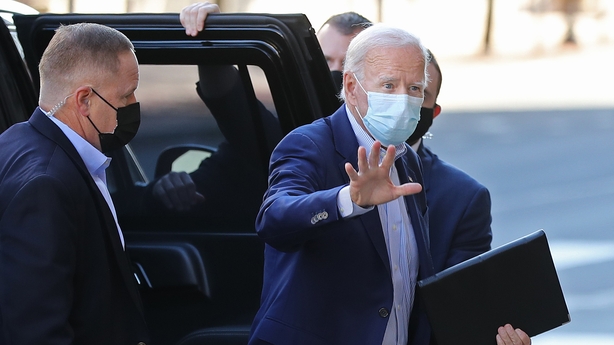 Recent polls give Mr Biden a significant lead among registered voters. 
Controversy has been mounting over the possibility that Mr Trump might have exposed numerous others to Covid-19.
A timeline provided by his advisers and doctors suggested he met more than 30 donors on Thursday in Bedminster, New Jersey, even after learning that aide Hope Hicks had the virus and just hours before he announced his own positive test. 
As well as Mr Trump and Ms Hicks, numerous White House insiders and at least three Republican senators have contracted Covid-19, along with First Lady Melania Trump, who has not experienced severe symptoms.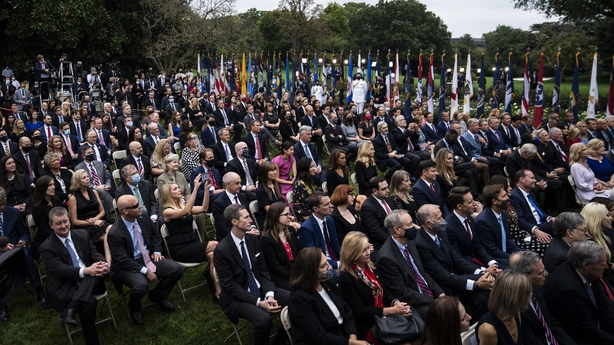 Public health experts have expressed alarm at the "White House cluster" that has been linked to the 26 September Rose Garden celebration of conservative judge Amy Coney Barrett's nomination to the Supreme Court.