The US President, Donald Trump, now appears to have secured enough support in the Republican-controlled Senate to push ahead with his controversial plan to name his own pick for the Supreme Court, ahead of November's presidential election.
Five female candidates are up for consideration to replace the liberal stalwart Ruth Bader Ginsburg, who died on Friday at the age of 87.
If he is successful in this political manoeuvre, this will shift the highest court in the US even further to the right, as its nine members can serve for life or until they retire.
Mr Trump is set to make a decision by this weekend or possibly even as early as Friday, after memorial services for the late Justice Ginsburg are completed.
So who are the five women candidates under consideration and who has the edge?
Amy Coney Barrett
The 48-year-old from the Chicago-based 7th US Circuit Court of Appeals, she was appointed in 2017 and is widely considered a favourite for the job. She is reported to have met with the President at the White House yesterday, a source familiar with the situation told Reuters.
She was previously considered as a finalist for Trump's second nomination to the high court, which eventually went to Justice Brett Kavanaugh.
The mother of seven is a devout Roman Catholic and supported by religious conservatives.
Many liberals fear she could help overturn the landmark Roe v. Wade decision which legalised abortion across the US.
She has also voted in favour of one of Trump's hardline immigration policies and shown her support for expanding gun rights.
Like many of the other candidates, her young age means she could potentially spend decades at the Supreme Court, cementing its 6-3 conservative majority.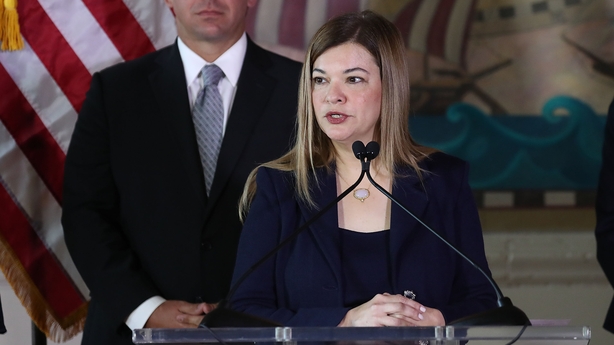 Barbara Lagoa
Barbara Lagoa is also considered a front-runner.
The Cuban-American daughter of exiles who fled the regime of Fidel Castro, she was appointed to the Florida Supreme Court last year by a close ally of the President, Republican Governor Ron DeSantis.
She took part in a major ruling reversing a judge's decision striking down a Florida law that requires people who have past serious criminal convictions to pay fines and legal fees before regaining the right to vote.
A victory in Florida is seen as crucial for Trump's re-election chances and choosing a Hispanic judge from the state potentially could give him a boost.
Kate Comerford Todd
As Deputy White House counsel, the 45-year-old's close connection to the Trump administration could give her an advantage in terms of support but also leave her open to attack from Democrats due to a perceived lack of independence. She is also the only person on the list who has never served as a judge.
Britt Grant
Britt Grant is a judge on the Atlanta-based US 11th Circuit Court of Appeals, a position to which Trump also nominated her in 2018.
A former justice on the Supreme Court of Georgia, she has been on Trump's list of potential U.S. Supreme Court nominees since 2017.
The 42-year-old is close to Brett Kavanaugh, who was the president's second Supreme Court appointee.
Joan Larson
President Trump is reported to have said of his shortlist that "a great one from Michigan" was one of the women under consideration.
51-year-old Judge Joan Larsen spent much of her career as a law professor and currently sits on the United States Court of Appeals, Sixth Circuit where she was appointed by Mr Trump in 2017.
Hopes of postponing the election dashed
Earlier this afternoon, the Democrat's hopes about postponing this nomination until after the election were further dashed when Republican Senator Mitt Romney, a regular critic of Mr Trump, said he would consider the President's nominee for the US Supreme Court.
Some Democrats had hoped the Republican party's 2012 presidential nominee would hold out on this issue but in a statement he said: "I intend to follow the Constitution and precedent in considering the president's nominee."
Republicans hold a 53-47 majority in the Senate, and they can afford few defections after two of their members, Alaska's Lisa Murkowski and Maine's Susan Collins, said the Senate should not consider a nominee this year.
Ms Collins faces a strong challenge from a Democrat aiming to oust her in the November election, when control of the Senate is at stake, along with the White House race.
Democrats accuse Republican politicians of hypocrisy, pointing out that they refused to even consider Democratic President Barack Obama's nominee to fill a vacant Supreme Court seat in 2016 because it was an election year.
However Mr Romney said that was not a concern for him, as Washington was split between a Democratic president and a Republican Senate that year, while this year Republicans control both.
"My liberal friends have over many decades gotten very used to the idea of having a liberal court. And that's not written in the stars," he told reporters.
Additional reporting Reuters