The European Union has declared that the Belarus presidential election that returned authoritarian president Alexander Lukashenko to office had been "neither free nor fair".
And, in a statement from EU chief diplomat Josep Borrell on behalf of EU members, the bloc threatened "measures on those responsible for the observed violence, unjustified arrests, and falsification of election results".
Belarus went to the polls on Sunday against a backdrop of large-scale opposition protests against Mr Lukashenko's rule, but the official electoral commission declared him the winner.
Street demonstrations that have since broken out were met with a forceful police crackdown, and opposition candidate Svetlana Tikhanovskaya fled to Lithuania, saying she was fearful for her children.
"During the electoral campaign, the people of Belarus have demonstrated the desire for democratic change," Mr Borrell said in the statement drawn up after consultations with the 27 EU member states.
"State authorities deployed disproportionate and unacceptable violence causing at least one death and many injuries," he said, his language echoed in a tweet by EU Commission President Ursula von der Leyen.
"The people of Belarus deserve better," he said, demanding the release of the thousands of alleged opposition activists rounded up during the protests.
---
Timelines of election unrest in Belarus
Police and protesters clash for a second day in Belarus
In pictures: Protests against Belarusian election
---
Brussels previously had wider sanctions against figures linked to Mr Lukashenko's government, but lifted many of them in 2016 after the release of a previous batch of political prisoners.
There is still a ban on exports of weapons and equipment that could be used to repress the population, and four Belarusians are subject to an EU travel ban and asset freeze.
The European Union's foreign ministers will meet on 27 and 28 August in Berlin, and could prepare new measures against Minsk for the approval of their leaders when they meet at a 24 September summit in Brussels.
Minister for Foreign Affairs Simon Coveney said the Government is closely monitoring developments in Belarus following the elections, "which have regrettably led to the loss of life, injury and indiscriminate detainment of civilians".
"I am deeply concerned by this disproportionate and unacceptable level of violence against peaceful protesters along with the arbitrary restrictions placed on mass media," he said.
"I am conscious too of the long-standing people-to-people connections between Ireland and Belarus and that the escalation of events in Belarus is of deep concern to people here," added the minister.
Mr Coveney said he strongly supports the statements by Josep Borrell and Commissioner Olivér Várhelyi who, on behalf of the EU, called on authorities in Belarus to "respect the fundamental right of peaceful assembly and immediately release all those civilians unjustly detained".
"The people of Belarus deserve to have their democratic principles and freedoms respected, and for elections to be free and fair with due regard for human rights," added Mr Coveney.
More than 2,000 people have been detained following protests in the city of Minsk against the contested re-election of Mr Lukashenko.
The interior ministry said 21 police and security service personnel had been injured, with five taken to hospital.
One man died in the protests as thousands took to the streets, saying Mr Lukashenko had stolen the election from Ms Tikhanouskaya to take a sixth term.
Police used rubber bullets, stun grenades and tear gas but demonstrators fought back with stones and fireworks and built makeshift barricades, in chaotic scenes of defiance.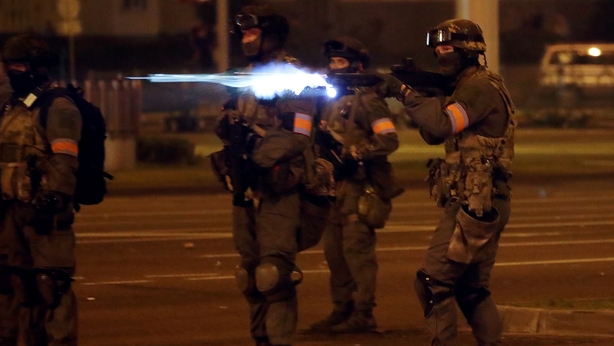 Ms Tikhanouskaya urged fellow citizens not to oppose the police and to avoid putting their lives in danger.
Earlier, she said she had fled to neighbouring Lithuania for the sake of her children.
EU and NATO member Lithuania, which was also once part of the Soviet Union, has a history of granting refuge to Belarusian and Russian opposition figures.
We need your consent to load this rte-player contentWe use rte-player to manage extra content that can set cookies on your device and collect data about your activity. Please review their details and accept them to load the content.Manage Preferences
"She is resting with her children", Lithuania's foreign ministry spokeswoman told Reuters.
Ms Tikhanovskaya said in a video today that she had made a difficult decision to leave her country for Lithuania.
"I have made a very difficult decision," a distressed-looking Ms Tikhanovskaya said in a short address carried by a Belarusian media outlet.
"Children are the most important thing we have in life", she said.
Svetlana #Tikhanovskaya is safe. She is in #Lithuania. pic.twitter.com/6f9U2meoX0

— Linas Linkevicius (@LinkeviciusL) August 11, 2020
Ms Tikhanovskaya entered the election race after her blogger husband who intended to run was jailed.
Her rallies drew some of the biggest crowds since the fall of the Soviet Union in 1991.
A former English teacher, she was initially reluctant to stand, saying she had received an anonymous threat of having her children taken away.
She had moved them abroad during the election campaign.
Ms Tikhanovskaya was a frequent visitor to Ireland in her youth.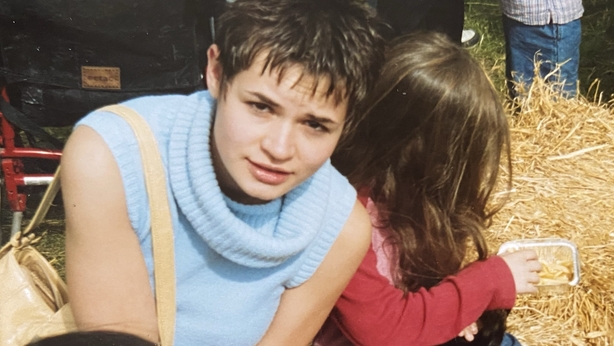 Speaking on RTÉ's News at One yesterday, Henry Dean from Co Tipperary said that Ms Tikhanovskaya spent many summers in Roscrea with his family.
He said she first came to Roscrea as a 12-year-old, where she received respite following the Chernobyl disaster.
Mr Dean described her as an intelligent and fun-loving child and said her visits continued during her school breaks.