Belarusian police have clashed with protesters in Minsk for the second evening in a row after President Alexander Lukashenko was declared the winner in a highly contested election.
Police were seen dragging protesters out of a crowd and beating them with batons.
One man died and more than 30 people were detained during the protests, where police fired tear gas and rubber bullets.
Police said a protester died when an explosive device went off in his hand, confirming the first casualty of the post-election protests.
Separately, the head of the Belarusian state security service said it had prevented an attempt on the life of Mr Lukashenko's main opponent, Svetlana Tikhanouskaya, the ONT television channel reported.
Figures from the election commission this morning said Mr Lukashenko had won 80% of the vote in yesterday's election.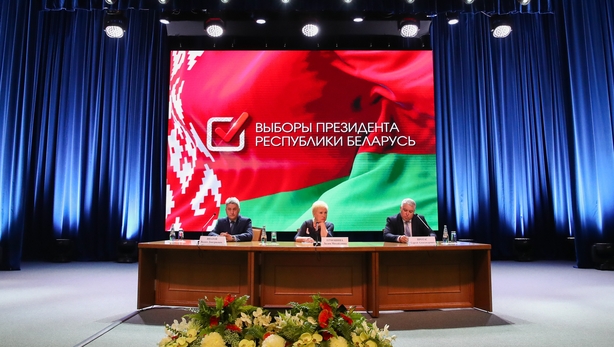 Ms Tikhanouskaya, a former English teacher who emerged from obscurity to become his main rival, won 9.9% of the vote, the data showed.
Ms Tikhanouskaya refused to recognise official results, telling reporters that she considered herself the election winner and not Mr Lukashenko and demanded authorities transfer power to the opposition.
"Yesterday the voters made their choice but the authorities did not hear us, they have broken with the people," Ms Tikhanovskaya told a news conference.
She said the election had been massively rigged. Her aides said the opposition wanted a vote recount at polling stations where there were problems.
---
In pictures: Protests against Belarusian election
---
Foreign observers have not judged an election to be free and fair in Belarus since 1995, and the run-up to the vote saw authorities jail Mr Lukashenko's rivals and open criminal investigations into others who voiced opposition.
Mr Lukashenko has ruled the country since 1994, but is facing his biggest challenge in years to keep his grip on power amid disenchantment in some quarters over his handling of the Covid-19 pandemic, the economy and his patchy human rights record.
The country's interior ministry said 3,000 people during protests after the polls closed on Sunday.
The ministry said in a statement that 1,000 of the detentions were in Minsk and the rest in other parts of the country.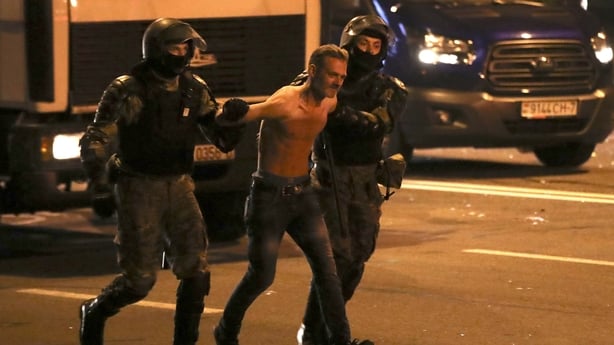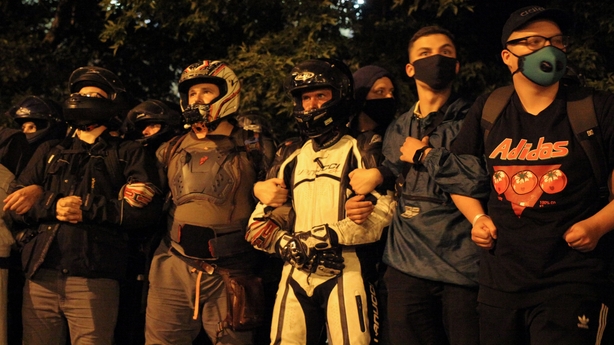 Ms Tikhanouskaya entered the race after her blogger husband who intended to run was jailed.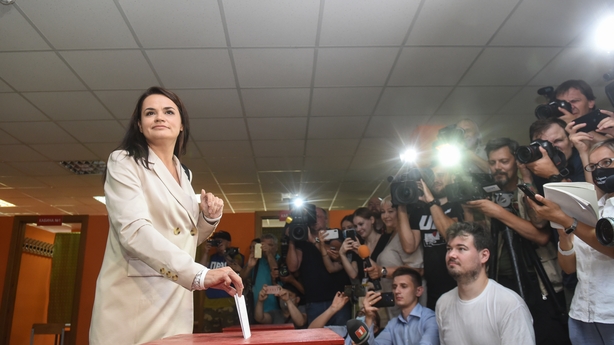 Her rallies have drawn some of the biggest crowds since the fall of the Soviet Union in 1991.
---
We need your consent to load this rte-player contentWe use rte-player to manage extra content that can set cookies on your device and collect data about your activity. Please review their details and accept them to load the content.Manage Preferences
Henry Dean of Co Tipperary has spoken of how Ms Tikhanovskaya spent many summers in Roscrea with his family.
Speaking on RTÉ's News at One, Mr Dean said that she first came to Roscrea as a 12-year-old girl, where she received respite following the Chernobyl disaster.
He described her as an intelligent and fun-loving child and said her visits continued during her school breaks.
He explained that her English came on so much in that time, that he brought her back for casual work in a local factory, which paid for her accommodation, education and clothing and other needs.
Mr Dean said they provided respite for many children but remembers Ms Tikhanovskaya as someone who was not afraid to speak openly about the disillusionment that people in Belarus felt about the political situation there.
---
Mr Lukashenko's attempts to crack down on protests could hurt his wider effort to mend fences with the West amid fraying ties with traditional ally Russia, which has tried to press Belarus into closer economic and political union.
Human rights groups say more than 1,300 people were detained in the crackdown ahead of the election, including independent election observers and members of Ms Tikhanouskaya's campaign team.
After casting his vote, Mr Lukashenko denied imposing repressive measures as "fake news or far-fetched accusations".
EU chief urges Belarus vote be counted 'accurately'
The president of the European Commission called for Belarus to publish accurate results for its presidential election.
"Fundamental rights in Belarus must be respected," Ursual von der Leyen tweeted. "I call on the Belarusian authorities to ensure that the votes in yesterday's election are counted and published accurately."
She also criticised the crackdown on opposition supporters protesting the result of the election.
"Harassment and violent repression of peaceful protesters has no place in Europe," she said.
A separate EU statement declared that "election night was marred with disproportionate and unacceptable state violence against peaceful protesters."
Mr Lukashenko's Russian neighbour President Vladimir Putin has congratulated him on his win, but several EU member states have protested and the German government has voiced "strong doubts" about the conduct of the poll.
The president of the European Council, which represents the 27 member state governments in Brussels, Charles Michel, has received a letter from Poland's Prime Minister Mateusz Morawiecki calling for an emergency EU summit.
Initially, however, the crisis will be put on the agenda of a meeting of EU foreign ministers due in Berlin at the end of the month, and may be added to the agenda of a full EU leaders' summit planned for 24-25 September.