Lebanon's president has said that a cataclysmic port blast was caused either by negligence or a missile attack, but rejected widespread calls for an international probe.
The explosion that killed more than 150 people and wounded at least 5,000 on Tuesday could have been "negligence or foreign interference through a missile or bomb," Michel Aoun told reporters.
It was the first acknowledgement by a Lebanese official of the possibility that the blast may have been caused by an attack.
Authorities had said a fire at the port had ignited tonnes of ammonium nitrate stored for years in a warehouse.
Lebanese nationals, advocacy groups and foreign heads of state had called for an international investigation into the blast to ensure impartiality, but Aoun rejected such an initiative.
When asked by a journalist during a televised interview if he thought an international probe would obscure the truth, the president answered "of course".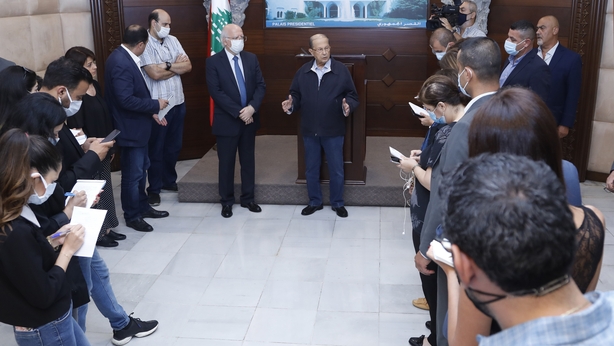 Moments later on his Twitter account, Aoun spelled out his position further, saying: "the goal behind calls for an international investigation into the port issue is to dilute the truth".
The ageing president did call for "swift justice," vowing the government's probe would spare neither top-level officials nor regular employees.
He confirmed that 20 suspects were being interrogated already.
We need your consent to load this rte-player contentWe use rte-player to manage extra content that can set cookies on your device and collect data about your activity. Please review their details and accept them to load the content.Manage Preferences
WHO appeals for $15m in aid after Beirut blast
The World Health Organisation is appealing for $15 million (€13m) to cover emergency health needs in Lebanon following the explosion that happened amid an economic crisis and rising coronavirus cases.
The blast also destroyed 17 containers holding WHO medical supplies including personal protective equipment, the agency said.
Five hospitals in the area affected by Tuesday's blast are either not functioning or partially functioning, and early reports indicate that many health centres and primary care facilities are also damaged or out of action, it said.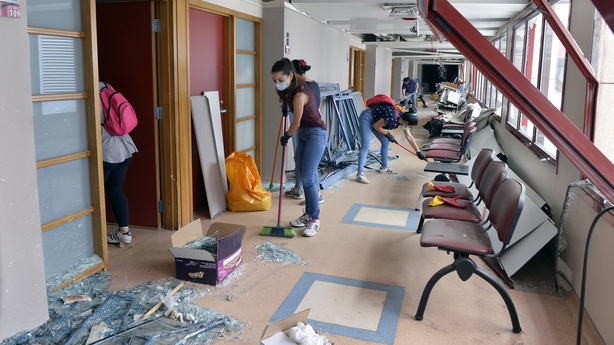 Damage to hospitals has removed 500 beds from the healthcare system, according to the WHO.
Up to 300,000 people have been displaced from their homes and need food or shelter, which "also risks accelerating the spread of Covid-19 and the outbreak of other diseases," said Iman Shankiti, WHO Representative to Lebanon.
The WHO added that, together with the American University of Beirut, it is planning an environmental assessment on the impact of the fumes caused by the explosion of ammonium nitrate.
Officials say UN agencies are scrambling to support victims of the blast.
---
Read more:
Police fire tear gas to disperse anti-government protesters in Beirut
Sixteen detained over Beirut blast - prosecutor
What is ammonium nitrate, the chemical that exploded in Beirut?
Lebanon - small Mideast country mired in tragedies
---
EU chief Michel heading to Beirut on Saturday
The president of the European Council is heading to Beirut tomorrow, ahead of a major donors conference to raise funds for Beirut.
"Shocked and saddened, we stand with all those affected and will provide help," Charles Michel tweeted, announcing meetings with President Aoun, parliamentary speaker Nabih Berri and Prime Minister Hassan Diab. His message was also tweeted in Arabic.
After his trip, Mr Michel - whose council represents the 27 EU leaders - will take part in a video conference organised by French President Emmanuel Macron to gather support for rescue operations.
European Commission spokesman Eric Mamer initially said the conference would take place on Sunday, but a commission source said later that the French presidency had not set finalised the date, and would announce it later.
Mr Mamer said Mr Michel and the president of the commission, Ursula von der Leyen, had Mr written to the 27 member states urging them to step up support for Lebanon.
At Sunday's video conference, the EU executive will be represented by the commissioner for crisis management and humanitarian aid, Janez Lenarcic.
The European Commission says it has coordinated the dispatch of 300 rescue experts to Beirut and has made available €33m for initial emergency needs, including medical aid.
Meanwhile, the United States has pledged over $17m (€14m) in initial disaster aid for Lebanon, according to the US embassy.
In a statement it said the aid included food assistance, medical supplies and financial assistance for the Lebanese Red Cross.
"Announcements of additional aid and assistance are forthcoming," it added.