Lebanese rescue workers have been searching for survivors in the wreckage of buildings following a powerful warehouse explosion that shook the capital Beirut yesterday, killing at least 135 people.
Around 5,000 people were injured in the explosion at Beirut port and up to 250,000 were left without homes fit to live in after shockwaves damaged buildings and shattered windows kilometres inland.
The death toll is expected to rise from a blast that officials blame on a huge stockpile of highly explosive material stored for years in unsafe conditions at the port.
The explosion was the most powerful to rip through Beirut, a city still scarred by civil war that ended three decades ago as well as experiencing an economic meltdown and a surge in coronavirus infections.
The blast rattled buildings on the Mediterranean island of Cyprus, about 160km away.
We need your consent to load this rte-player contentWe use rte-player to manage extra content that can set cookies on your device and collect data about your activity. Please review their details and accept them to load the content.Manage Preferences
Lebanon's President Michel Aoun said 2,750 tonnes of ammonium nitrate, used in fertilisers and bombs, had been stored at the port, without safety measures, for six years after it was seized.
He said in a national address the government was "determined to investigate and expose what happened as soon as possible, to hold the responsible and the negligent accountable."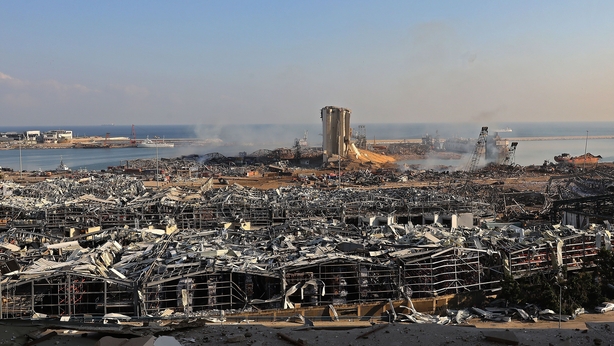 One official blamed the incident on "inaction and negligence", saying"nothing was done" by committees and judges involved in the matter to order the removal of hazardous material.
The cabinet ordered port officials involved in storing or guarding the material since 2014 to be put under house arrest, ministerial sources said.
The cabinet also announced a two-week state of emergency in Beirut.
The national defence council declared Beirut a disaster zone.
President Aoun declared three days of mourning, and announced he would release 100 billion lira (€56 million) of emergency funds, while offers of international support have poured in.
The health minister told Al Manar television that the death toll had risen to 135, with some 5,000 wounded and many more still missing, as the hunt for victims continued after shockwaves from the blast threw some of the victims into the sea.
Relatives gathered at the cordon to Beirut port seeking information on those still unaccounted for. Many of those killed were port and custom employees, people working in the area or those driving nearby during rush hour.
---
In pictures: Beirut blast aftermath
---
The Red Cross is coordinating with the Health Ministry to set up morgues as hospitals are overwhelmed.
"What we are witnessing is a huge catastrophe," the head of Lebanon's Red Cross George Kettani told broadcaster Mayadeen. "There are victims and casualties everywhere."
Beirut Governor Marwan Abboud told broadcaster LBC the blast had caused billions of euro worth of damage, and left up to 250,000 people without homes.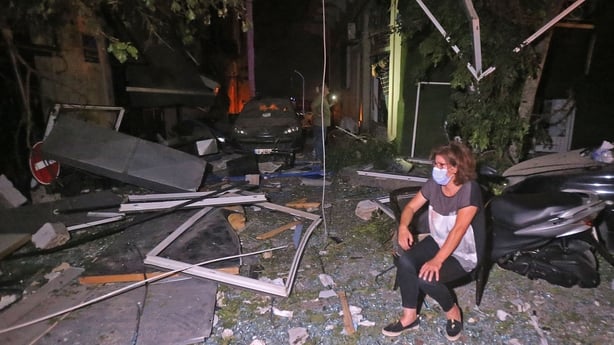 For many, it was a dreadful reminder of the 1975-1990 civil war that tore Lebanon apart and destroyed swathes of Beirut, much of which had since been rebuilt.
"This is a catastrophe for Beirut and Lebanon," Beirut Mayor Jamal Itani said while inspecting damage.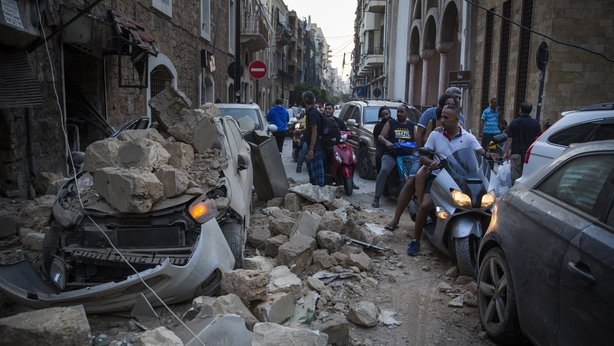 Officials did not say what caused the initial blaze at the port that set off the blast.
A security source and media said it was started by welding work being carried out on a warehouse.
Beirut driver Abou Khaled said ministers "are the first that should be held accountable for this disaster. They committed a crime against the people of this nation with their negligence."
The port district was left a tangled wreck, disabling the country's main route for imports needed to feed its more than six million people.
Lebanon has already been struggling to house and feed refugees fleeing conflict in neighbouring Syria and has no trade or other ties with its only other neighbour Israel.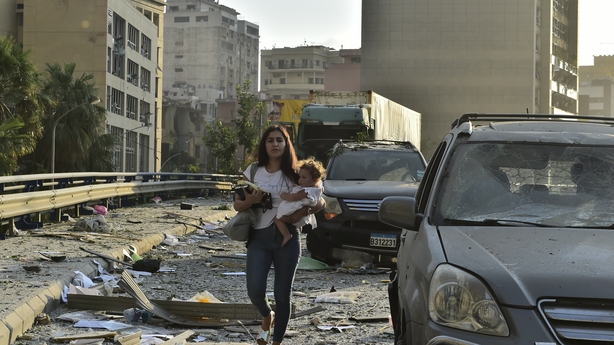 "On a scale, this explosion is scaled down from a nuclear bomb rather than up from a conventional bomb," said Roland Alford, managing director of British explosive ordnance disposal firm Alford Technologies.
"This is huge."
Footage of the explosion shared by residents on social media showed a column of smoke rising from the port, followed by an enormous blast, sending a white cloud and a fireball into the sky.
Those filming the incident from high buildings 2km from the port were thrown backwards by the shock.
Bleeding people were seen running and shouting for help in clouds of smoke and dust in streets littered with damaged buildings, flying debris, and wrecked cars and furniture.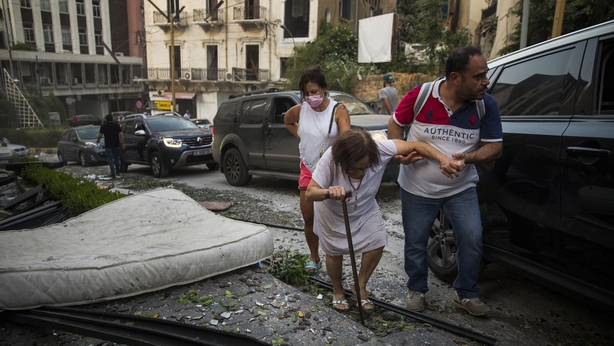 Irishwoman Niamh Fleming Farrell, who owns a café bookshop in Beirut, where she has lived since 2009, described the situation in the city as "chaos".
Speaking on RTÉ's News At One Ms Fleming Farrell, who is from Co Laois, said she was in a popular restaurant area of the city to pick up some items when she heard a sound which "sounded like the sound barrier being broken".
She said she was "thrown backwards" by the blast, and experienced "significant bruising".
"All of our windows came in, bookshelves were knocked over, the whole place is chaos," she said.
"Its incredible how far this thing has extended, every single building and shop has their windows and everything blown off, everything is mangled in the street."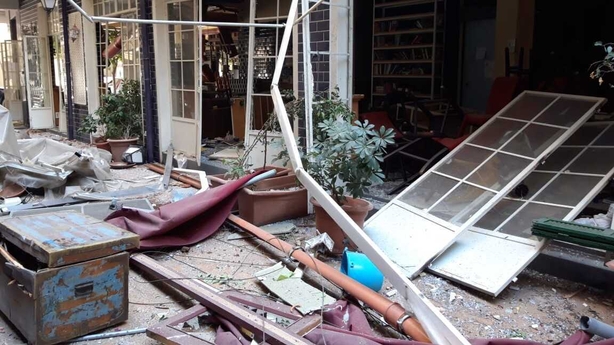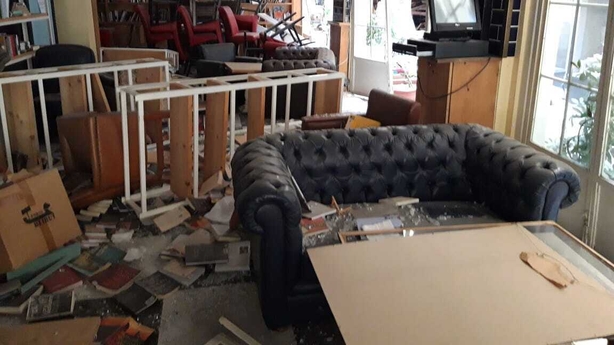 The blast came three days before a United Nations-backed court delivers a verdict in the trial of four suspects from Iranian-backed Shia Muslim group Hezbollah over a 2005 bombing that killed former prime minister Rafik al-Hariri and 21 others.
Mr Hariri was killed by a big truck bomb on another part of the Beirut waterfront, about 2km from the port.