A former US national security advisor has said President Donald Trump's lack of focus made it difficult to have coherent, sustained and long-term policies.
But John Bolton added that Mr Trump's attention span was "infinite" when it came to the subject of his re-election.
Speaking on RTÉ's Today with Sarah McInerney, he said they would often come together to discuss one subject, but end up discussing several other issues.
People simply gave up over time, he said, and most senior advisors felt there was no point in trying to focus things.
Mr Bolton said he had a professional relationship with the President Trump, who said could be "cordial and gracious" at times.
Prior to the election, his meetings with Mr Trump involved "lengthy discussions" about policy issues. At first, he thought stories about the president had been exaggerated, he said, but after a while it became "clearer and clearer that Trump was Trump".
He described the impeachment as a "partisan affair" and said the Democrats' biggest mistake was failing to convict.
This meant they did not deter President Trump's future conduct, he said, but rather enabled it.
Mr Bolton also said he did not see evidence of racism in anything that Mr Trump said to him.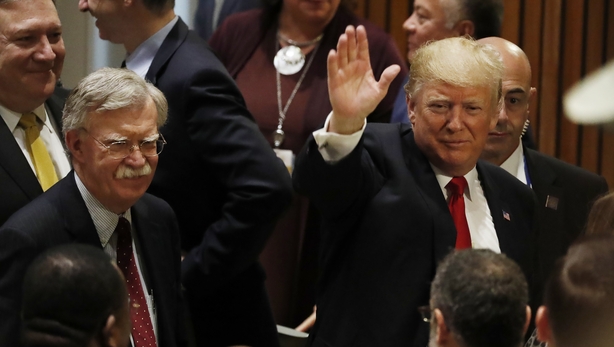 When asked about a recent video that the president retweeted, in which a supporter shouted "white power", Mr Bolton said people should not underestimate the possibility that the US president did not pay any attention to the video.
"... that he saw the sign on the golf cart and stopped right there and didn't even listen to the whole tape".
---
Read more:
Biden raises more funds than Trump for second month
US sees record 52,000 new virus cases in 24 hours
---
Mr Bolton's comments come as an appeals court judge in New York has lifted a temporary ban on the publication of a potentially explosive book by Donald Trump's niece, court documents showed.
The ruling issued yesterday allows publisher Simon & Schuster to print and distribute the 240-page book by Mary Trump, who dubs the president "the world's most dangerous man".
His brother, Robert Trump, had asked for the restraining order, arguing that Ms Trump was violating a non-disclosure agreement signed in 2001 after the settlement over the estate of Fred Trump - the father of Donald and Robert and of Mary's father Fred Trump Jr.
The judge postponed addressing whether the author had violated the non-disclosure agreement preventing her from revealing family secrets by writing the book, titled "Too Much and Never Enough: How My Family Created the World's Most Dangerous Man".
Nevertheless Simon & Schuster "is not a party to the agreement," so the block of their publication of the book "is vacated," he ruled.
In a statement, Mary Trump's attorney Ted Boutrous said the lifting of the prior restraint against the publisher was "very good news".
In the book, Ms Trump, a clinical psychologist, recounts what she witnessed of the "toxic family" in the home of her grandparents, according her publisher.
It was reported earlier that the book will reveal that Mary Trump was the crucial source for explosive New York Times reporting on President Trump's finances, which suggested the billionaire paid little in tax for decades.