When British protesters pulled down a statue of slave trader Edward Colston and Belgian officials did the same to King Leopold II, they were engaging in a symbolic act with many precedents.
Those events took place in the wake of African American George Floyd's killing by white police officers.
In Ireland today, People Before Profit called on local authorities in Galway to remove monuments, which the party claims glorify slavery and racism.
It wants a monument to Christopher Columbus in Galway to be taken down and is also seeking the removal of a plaque in Tuam, honouring Major Richard (Dick) Dowling, who served with the Confederate army in the US.
Here are some of the most notable examples of historical and political figures being unceremoniously toppled.
The United States
In August 2017, anti-slavery demonstrators toppled a statue of a Confederate soldier - a symbol of the defence of slavery during the Civil War of 1861-1865 - in Durham, North Carolina.
This was in response to the killing two days earlier of a woman in Charlottesville, Virginia, by a neo-Nazi during a protest over the planned removal of a statue (below) of top Civil War general for the south, Robert E Lee.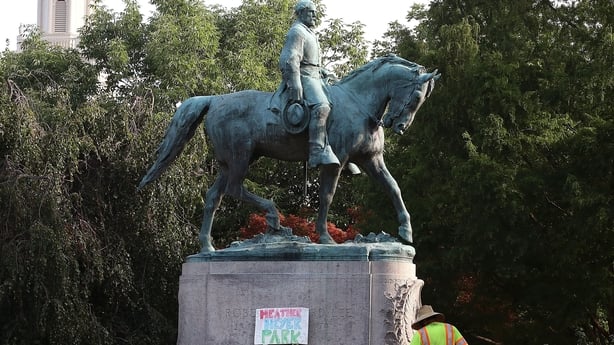 Similar demonstrations took place in Florida, Maryland, Texas and Louisiana.
In 2020, amid outrage over the Floyd killing, several memorials to the slave-holding Civil War South have been dismantled and others scheduled for removal, including that of confederate general Williams Carter Wickham in Virginia on Saturday.
Middle East
On April 9 2003, a giant effigy of toppled Iraqi dictator Saddam Hussein was wrenched off its plinth with the help of US Marines (below), confirmation for jubilant onlookers that his two-decade rule had also come crashing down.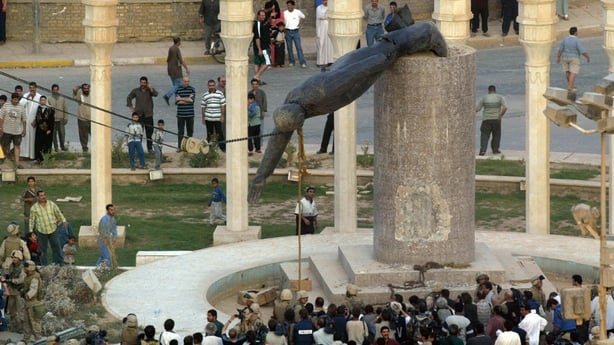 In March 2011, in the Syrian city of Daraa, a statue of President Bashar al-Assad's father Hafez al-Assad was toppled, marking the start of an uprising that turned into a full-scale war.
In March 2018, also in Syria, Turkey-backed fighters who captured Afrin from the Kurds stamped their authority by toppling a statue of a lesser-known symbol, Kawa the blacksmith, a Kurdish hero and symbol of resistance.
Soviet icons toppled
The dismantling of the Soviet bloc saw many of its former leaders knocked from their pedestals.
In November 1989, youths in Warsaw applauded when a statue of Soviet secret police founder Felix Dzerzhinsky was taken down. As a crane lifted the piece, the lower part fell and shattered, the chunks carried off as souvenirs of the fall of communism.
Another statue of Dzerzhinsky, whose service was the precursor of the feared KGB, was brought down in Moscow in August 1991 after a failed coup against president Mikhail Gorbachev and his democratisation policy.
It took workers nearly three days in March 1990 to fell a 12-tonne bronze of revolutionary Vladimir Lenin in a Bucharest square, as Romanians sought the removal of symbols of Soviet domination.
Dozens of masked protesters tore down another representation of Lenin in the Ukraine capital in December 2013 at the start of a massive uprising that eventually toppled the Moscow-backed government of president Viktor Yanukovych.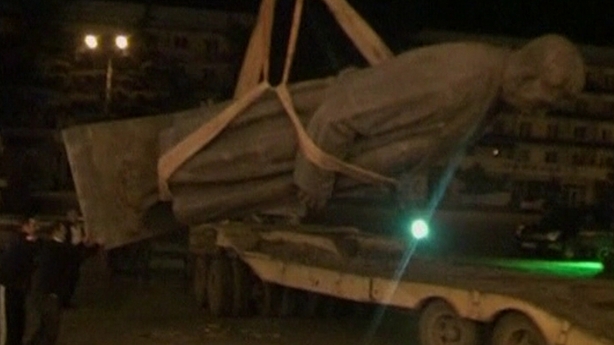 Georgia however waited nearly 20 years after its secession from the Soviet Union to dismantle a statue of Joseph Stalin (above) in the dictator's birth town of Gori. The 2010 removal was carried out in a clandestine night-time operation. But it was reinstalled three years later.
Napoleon felled in Paris
In 1871, the revolutionary Paris Commune movement brought down a huge bronze statue of Napoleon I that stood atop a column more than 40 metres (130 feet) high in Place Vendome.
The "Communards" were leading an uprising following Napoleon III's humiliating defeat against Prussia the previous year.
Celebrated painter Gustave Courbet was jailed for six months for organising the venture and made to pay for a new statue, erected in 1873.
Nelson's column destroyed in Dublin
In 1966, Nelson's Pillar on Dublin's O'Connell Street was bombed by Republicna dissidents. The top half of the monument was destroyed in the blast (below).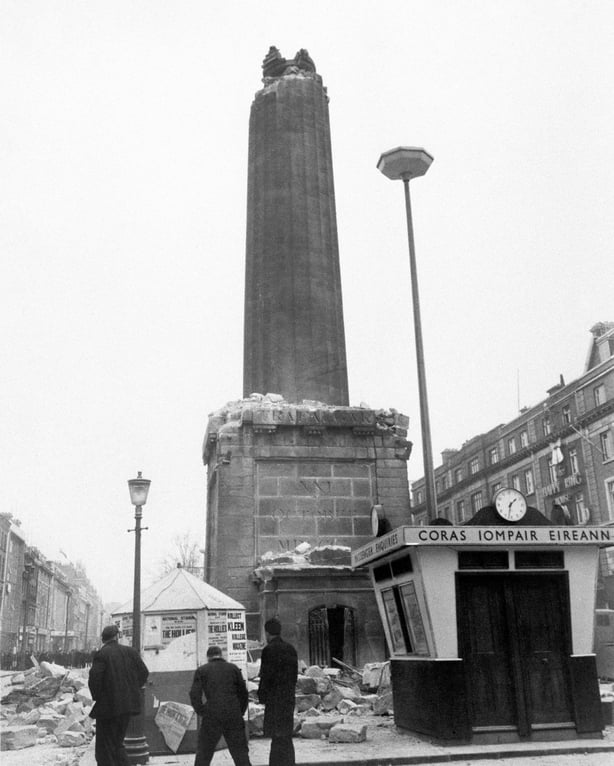 The remainder of the monument was blown up by Army engineers two days later.
Nelson's Pillar was erected to commemorate the Battle of Trafalgar - it consisted of a long column with a statue of British Admiral Nelson on top. The foundation stone was laid on 15 February 1808.  
The Spire is now in its place.