Pope Francis has called for national reconciliation in the United States, saying that while racism is intolerable, the street violence that has broken out is "self-destructive and self-defeating".
Francis broke his silence on the tensions in the US, calling the death of George Floyd "tragic".
He said he was praying for all who died as a result of the "sin of racism", including Mr Floyd.
Floyd died after a white policeman pinned his neck under a knee for nearly nine minutes in Minneapolis on 25 May, reigniting the explosive issue of police brutality against African Americans five months before the November presidential election.
The officer who knelt on Floyd, 44-year-old Derek Chauvin, has been charged with third-degree murder and second-degree manslaughter.
Three other officers involved were fired but have not been charged.
"My friends, we cannot tolerate or turn a blind eye to racism and exclusion in any form and yet claim to defend the sacredness of every human life," Pope Francis said.
"At the same time, we have to recognise that the violence of recent nights is self-destructive and self-defeating. Nothing is gained by violence and so much is lost," he said.
The Pope asked Americans to implore God for "the national reconciliation and peace for which we yearn".
The Dáil observed a minute of silence today for those impacted by racism around the world.
Ceann Comhairle Seán Ó Fearghaíl said it was a demonstration of TDs' abhorrence and rejection of racism and an indication of their solidarity with people who have died on foot of "vile" racist attacks.
"It is all the more shocking given that freedom of expression and of the media are fundamental principles in the US" - Michelle Bachelet
The United Nations High Commissioner for Human Rights slammed "structural racism" in the US and the "unprecedented assault" on journalists covering the protests in fresh comments today.
"The voices calling for an end to the killings of unarmed African Americans need to be heard. The voices calling for an end to police violence need to be heard. And the voices calling for an end to the endemic and structural racism that blights US society need to be heard," Michelle Bachelet said.
Bachelet voiced particular alarm at reports that at least 200 journalists had been attacked or arrested while covering the protests, despite having press credentials clearly visible.
"What has been happening is an unprecedented assault on journalists," she said, pointing out that "in some cases they have been attacked or even arrested while on air."
"It is all the more shocking given that freedom of expression and of the media are fundamental principles in the US, central to the country's identity. Reporters must be able to do their important work free from attacks or repression."
Australian diplomats are investigating after two reporters were assaulted live on air by police who clubbed reporter Amelia Brace with a truncheon and hit cameraman Tim Myers with a riot shield and punched him in the face.
Russia also said one of its journalists had been hurt in the protests, the foreign ministry demanding "urgent measures to prevent journalists from becoming targets of police impunity".
Watch the shocking moment #7NEWS reporter @AmeliaBrace and our cameraman were knocked over by a police officer LIVE on air after chaos erupted in Washington DC. pic.twitter.com/R8KJLnfxPN

— Sunrise (@sunriseon7) June 1, 2020
EU High Representative Josep Borrell said Europe was "shocked and appalled" by Floyd's death.
"This is an abuse of power and this has to be denounced, has to be combatted, in the States and everywhere," he added.
And in Britain, Prime Minister Boris Johnson said he was "sickened and appalled" by Floyd's death.
"My message to President Trump, to everybody in the United States... is that racism, racist violence has no place in our society," he said.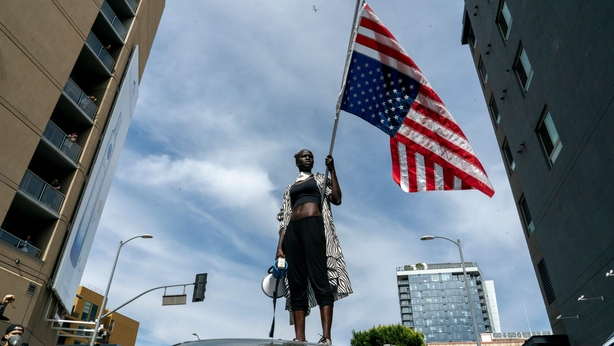 In the US, tens of thousands of people took to the streets of cities yesterday for an eighth consecutive night of protests over the death of a black man in police custody.
Large marches and rallies were also held in Los Angeles, Philadelphia, Atlanta and Seattle.
In Washington, DC, protests were held near the park where demonstrators were cleared out by police on Monday to make a path for President Donald Trump so he could walk from the White House to a historic church for a photo.
Although rallies on behalf of George Floyd and other victims of police brutality have been largely peaceful during the day, after dark each night crowds have turned to rioting, vandalism, arson and looting.
On Monday night, five police officers were hit by gunfire in two cities.
Outside the US Capitol building yesterday afternoon a throng took to one knee, chanting "silence is violence" and "no justice, no peace," as officers faced them just before the government-imposed curfew.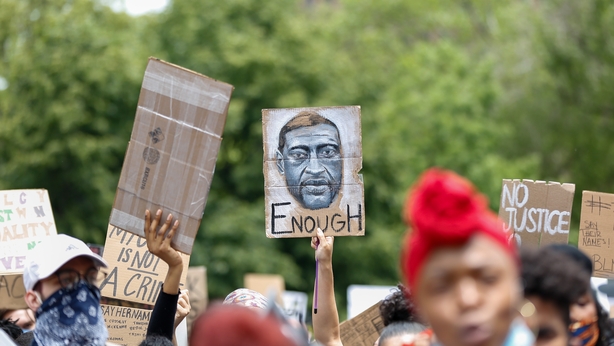 The crowd remained in Lafayette park and elsewhere in the capitol after dark, despite the curfew and vows by President Trump to crack down on what he has called lawlessness by "hoodlums" and "thugs", using National Guard or even the US military if necessary.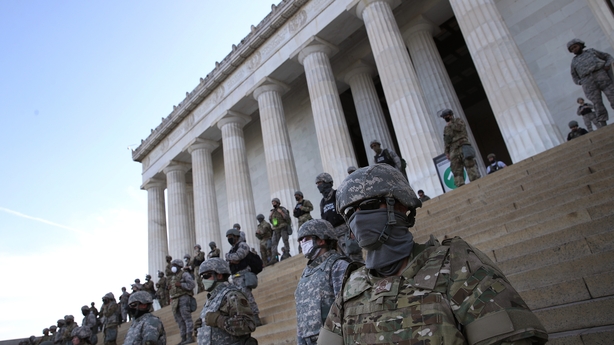 Dozens of National Guard troops lined up on the steps of the Lincoln Memorial behind black crowd-control barriers.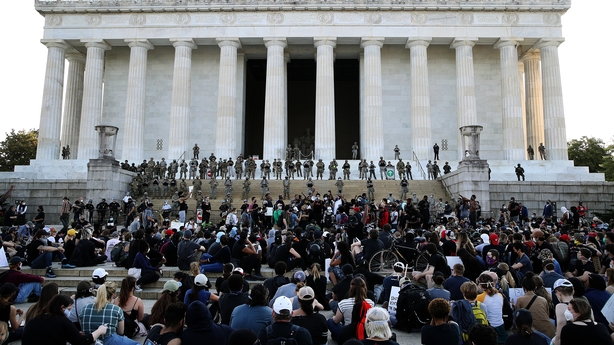 In New York City, thousands of chanting and cheering protesters ignored an 8pm curfew to march from the Barclays Center in Flatbush towards the Brooklyn Bridge as police helicopters whirred overheard.
The crowd, halted at an entrance to the Manhattan Bridge roadway, chanted at riot police: "Walk with us! Walk with us."
On Hollywood Boulevard in Los Angeles, hundreds of people filled the street from curb to curb, marching past famous landmarks of the film centre.
Others gathered outside Los Angeles Police Department headquarters downtown, in some cases hugging and shaking hands with a line of officers outside.
Los Angeles was the scene of violent riots in the spring of 1992, following the acquittal of four policemen charged in the beating of black motorist Rodney King, that saw more than 60 people killed and an estimated $1 billion in damage.
Hundreds of protesters also gathered in Denver and Seattle but remained peaceful as darkness fell in the West.
---
Analysis: Trump - In God he trusts
UN: 'Endemic racial discrimination' exposed in US
---
A Reuters/Ipsos poll released yesterday found a majority of Americans sympathise with the protests.
The survey conducted on Monday and yesterday found 64% of American adults were "sympathetic to people who are out protesting right now," while 27% said they were not and 9% were unsure.
More than 55% of Americans said they disapproved of Mr Trump's handling of the protests, including 40% who "strongly" disapproved, while just one-third said they approved – lower than his overall job approval of 39%, the poll showed.
In Minneapolis, Roxie Washington, mother of Floyd's six-year-old daughter, Gianna, told a news conference he was a good man.
"I want everybody to know that this is what those officers took from me ... " she said, sobbing. "Gianna does not have a father. He will never see her grow up, graduate."
We need your consent to load this rte-player contentWe use rte-player to manage extra content that can set cookies on your device and collect data about your activity. Please review their details and accept them to load the content.Manage Preferences
Defense secretary against deploying troops to protests
Mr Trump has threatened to use the military to battle violence that has erupted nightly, often after a day of peaceful protests.
He has derided local authorities, including state governors, for their response to the disturbances.
The head of the US National Guard said yesterday 18,000 Guard members were assisting local law enforcement in 29 states.
The Pentagon said it has moved about 1,600 US Army troops into the Washington, DC, region.
Trump has raised the possibility of invoking the rarely used Insurrection Act to deploy active duty soldiers against protesters but his Pentagon chief came out firmly against the move today.
"I've always believed and continue to believe that the National Guard is best suited for performing domestic support to civil authorities in these situations in support of local law enforcement," US Defense Secretary Mark Esper Esper said at a briefing.
"The option to use active duty forces in a law enforcement role should only be used as a matter of last resort and only in the most urgent and dire of situations," he said. "We are not in one of those situations now. I do not support invoking the Insurrection Act."
Trump also denied media reports that he was rushed for his safety to the White House bunker while protests raged in the streets outside.
Killing shows 'true face' of US - Ayatollah
Iran's supreme leader Ayatollah Ali Khamenei said today that killing of Mr Floyd shows the "true face" of the United States and its oppression of the peoples of the world, including its own.
"The fact that a policeman has cold-bloodedly pressed his knee on the throat of a black man until he died and that other policemen watched on without doing anything is nothing knew," Khamenei said in a televised speech.
"It is the true face of America, it's what it has always done all over the world - in Afghanistan, Iraq, Syria and other countries, and before that in Vietnam.
"It is the normal course of action of the United States, it's the true face of their regime," Khamenei said.
"These are realities that have always been camouflaged or hidden, but they are not new," he said in a speech on the 31st anniversary of the death of his predecessor,