Japan has lifted its nationwide state of emergency over the coronavirus, after new cases slowed to a crawl in the country with the world's third-biggest economy.
Japan Prime Minister Shinzo Abe told a nationally televised news conference: "We had very stringent criteria for lifting the state of emergency. We have judged that we have met this criteria.
"Today we will lift the state of emergency nationwide," he said.
Compared to hard-hit areas in Europe, the United States, Russia and Brazil, Japan has been spared the worst of the pandemic, with 16,581 cases in total and 830 deaths.
Yet with infections threatening to run out of control, Mr Abe declared an initial state of emergency for Tokyo and six other regions on 7 April - later expanding it to cover the entire country.
Businesses and schools were urged to shut and people were requested to remain home but Japan's "lockdown" was far softer than in other parts of the world and there was no punishment for anyone flouting the rules.
Citizens largely heeded the orders, with most of Tokyo's famously packed streets falling quiet, and the number of new infections has fallen from a peak of around 700 per day to just a few dozen nationally.
Mr Abe said that Japan had managed to get the coronavirus infection under control in just one and a half months, in its own way, and that this showed the strength of the "Japan model".
He promised that a stimulus from two economic packages would exceed 200 trillion yen but said it would still take considerable time to get back to normal life while controlling infection risks.
There does not appear to be one single reason why the pandemic has hit Japan less hard than other comparable countries.
High levels of hygiene and general health, removing shoes indoors, widespread mask wearing, bowing as a greeting rather than shaking hands or kissing: all have been advanced as possible reasons but analysts agree there has been no silver bullet.
---
---
Several of Japan's top soccer clubs, including Andres Iniesta's Vissel Kobe, have begun training while two Japanese baseball teams held intra-squad practice games as the Nippon Professional Baseball league nears a return from the Covid-19 shutdown.
The Legoland theme park in Nagoya has also reopened.
Japan had come under fire for a relatively low level of testing with around 270,000 carried out, the lowest per capita rate in the group of seven advanced economies.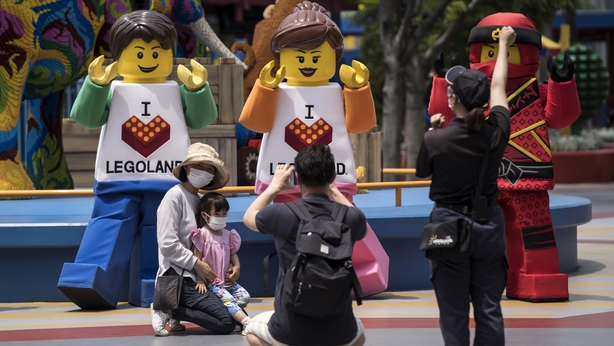 But Japanese authorities insisted that mass testing was never their strategy, as cases remained low enough to rely on aggressive contact tracing to contain clusters.
Nevertheless, testing has been ramped up in recent weeks as authorities warn of a possible next wave of the virus that could overwhelm their previous strategy.
Although the human toll has been less severe in Japan than in other parts of the world, the economy - already struggling from the effects of natural disasters and a consumption tax hike - has suffered.
The world's third-largest economy has plunged into its first recession since 2015, data published last week showed, shrinking by 0.9% in the first quarter.
Tokyo stocks closed higher today. The Nikkei 225 index rose 1.73% or 353 points to end at 20,741.