Lesbos is simmering with tension. Some 20,000 refugees and migrants live in camps on the Greek island, making up around a fifth of the population. 
Back in 2015, Lesbos saw as many as 3,000 to 5,000 refugees arriving by boat daily, many of them fleeing the continuing war in Syria. At first, that prompted a huge humanitarian response from locals, many of whom are themselves descended from refugees who arrived in 1922 following the Greco-Turkish war.  
But five years on, and with the main Moria camp hosting six times as many people as it was built for, some locals have had enough.  
Last week, riots broke out after the Government tried to press ahead with plans to build more permanent migrant detention centres on the island. 
On Thursday, islanders mounted a 24-hour strike as part of their ongoing opposition to the plans, shutting down their shops and businesses and marching in protest.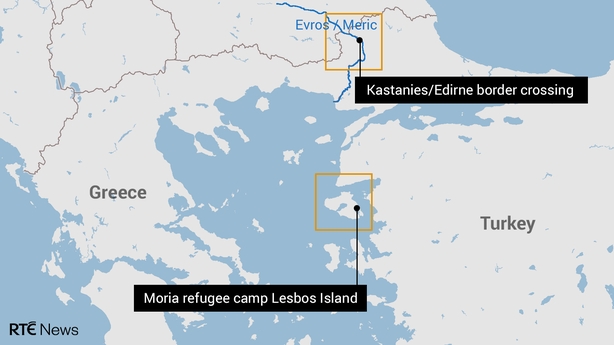 It followed two days of clashes between protesters and riot police brought in to guard construction works on the planned site for the new centres. They are designed to receive migrants arriving to the islands and determine their status. 
Meanwhile, migrants living in the existing camps are being transferred to the Greek mainland. But islanders fear the new centres will become permanent and swell like the camps have done. 
Police reinforcements have since left the island, in an effort to de-escalate tensions. But an Irish aid worker, who's lived on Lesbos for four years, says tensions have now spilled over into other areas. 
Last Monday, RTÉ spoke to two doctors working on Lesbos, who'd been attacked during the course of their work.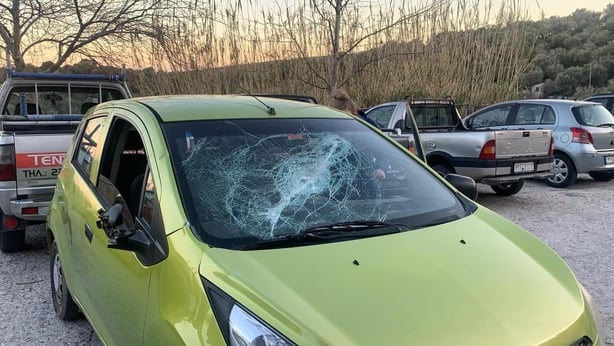 Many NGOs are now removing their staff from the island as the situation escalates. 
Andrew Foley works for an NGO working with children on Lesbos. He spoke on condition that we not name his organisation, for fear of reprisals. 
Since last week's rioting, he says the mood among some locals has darkened, leading to coordinated attacks on NGOs and their staff. 
There have also been attacks on boats carrying refugees attempting to land on the Greek island, which is just 10km off mainland Turkey. 
Having met with Irish consular officials in Athens, Andrew says he and his colleagues are actively monitoring the situation. 
The Department of Foreign Affairs has recently updated its travel advice to Lesbos, saying:
"There have been incidents of unrest and violence on the island of Lesvos (Lesbos) following protests there in recent weeks. If you are on the island, you should avoid any demonstrations, protests or related large gatherings, monitor news reports, and follow the advice and directions of the local authorities. If you are involved in humanitarian activity on the island, you should be particularly vigilant at this time."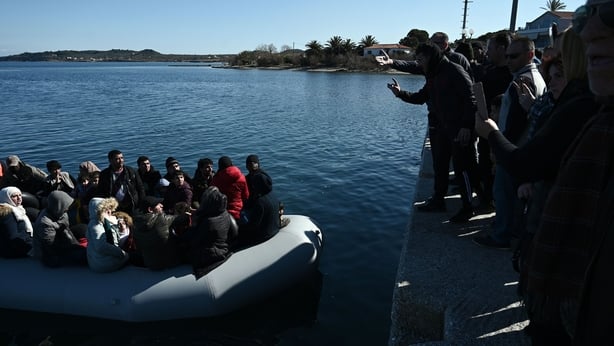 Andrew says that his organisation has relocated its international staff to Athens, but local workers will stay on the island. He plans to return to Lesbos later in the week to continue his work, but admits that the security risks are very high. 
In fact, he recently organised for a close family member, who works for another NGO, to leave the island for her safety.
While many NGOs continue to maintain their presence on the island, Andrew says that nobody is able to conduct their aid work or continue their activities, as staff have been told to stay at home and reduce their visibility. 
One reason Andrew wanted to not name his organisation is that he and his colleagues feel that local extremist groups who've attacked NGOs are emboldened by their decision to scale down their work. He believes that if the far-right groups knew what individual charities' plans were, they'd be encouraged to increase violent attacks on aid workers.
Andrew says that the recent focus on migrants gathering at the Turkish border with Greece has contributed to the anti-emigrant sentiment.
He says some Greek media have described migrants and refugees as a "tool of war", being used by Turkey as it seeks European support for its campaign in Syria, as well as further funding for the millions of refugees living in Turkey.
Andrew says this is the first time he's seen such sustained tension in Lesbos.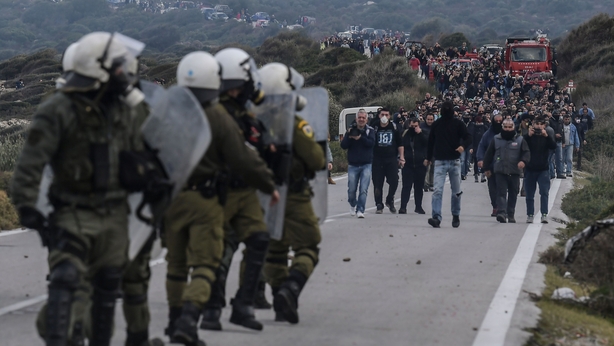 In April 2018 there were migrant protests in the capital, Mytilene, where a number of people went on hunger strike to protest at the dire conditions in camps. Groups affiliated with the far-right extremist group Golden Dawn travelled to Lesbos and staged counter protests. This culminated in a night of rioting, but as Andrew says, it was just one night. 
Now, he fears the sustained level of anger – coupled with what he describes as a lack of help from authorities. He says some of the attacks are being condoned by religious figures and some local mayors. Conversely, a previous mayor of west Lesbos put out a statement condemning the protests. 
Indeed residents of the tiny town of Sykaminia, which has received the highest number of refugees, say they completely reject attacks against NGOs. But Andrew says he's since seen extreme comments reacting to that appeal for calm. He says there's a huge push back against anyone who condemns the violence.
Has Andrew been able to continue his work with children on Lesbos? He says some of its services have had to cease after targeted attacks on the buildings it uses. 
Asked if his work can continue, he says they're monitoring the situation, but fears what will happen if attacks are sustained for three or four weeks, saying "we'll have to shift our response completely." 
Andrew says they have to continue some of their work, but for now, they're mostly in a holding pattern and providing consultation to other aid agencies on the island. He says some organisations want to stay in place, while others are taking a more conservative approach –– so they're not exposed to too much risk. "Hopefully the situation will change, but there's lots of uncertainty." 
Some 500km away, at another frontier, Greek riot police and troops used water cannon and tear gas on hundreds of migrants attempting to cross the Turkish border on Wednesday. Soldiers also fired warning shots into the air. 
Video footage showed teargas canisters being thrown over razor wire towards Greek police, but it was unclear who was throwing them. A Greek army vehicle equipped with loudspeakers informed the migrants in Arabic and other languages that the border is shut. 
More than 10,000 migrants have been trying to breach the border at numerous points since Turkey said last Thursday it would no longer abide by a 2016 deal with the European Union to halt illegal migration flows to Europe in return for billions of euros in aid.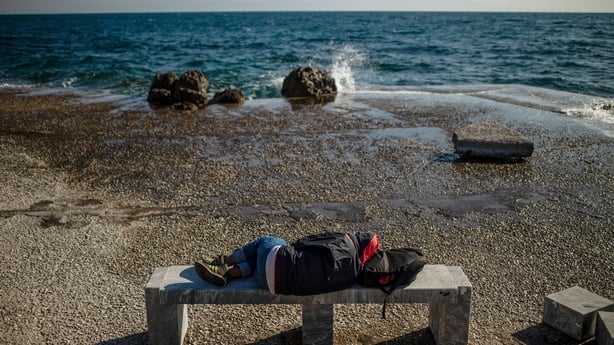 Greece and the EU accuse Turkey of goading on the migrants in an effort to "blackmail" Brussels into offering more money or supporting Ankara's strategy in the Syrian conflict.
On Wednesday, Turkish President Recep Tayyip Erdogan warned that the emergency could only be resolved if Europe supports its efforts in Syria. Speaking in Ankara, President Erdogan said Europe must support Turkey's "political and humanitarian solutions in Syria" if it wants to resolve the situation.
Turkey already hosts nearly four million refugees, most of them Syrians, and has been fighting the Syrian government in a bid to prevent another influx from Idlib, the jihadist-dominated region that has been under attack by Damascus since December. 
Close to one million people in Idlib have been displaced by the government assault, which is backed by Russian air power, though they are currently blocked from entering Turkey. 
EU foreign policy chief Josep Borrell and Council President Charles Michel met with Mr Erdogan and other top officials in Ankara on Wednesday, promising an additional 170 million euros in aid for vulnerable groups in Syria. 
Mr Borrell said the EU recognised the "difficult situation Turkey is facing" but that Turkey's decision to open the way for migrants could "only make the situation worse". 
Despite being on opposing sides of the nine-year war in Syria, NATO-member Turkey and Russia have kept lines of communication open. 
But the relationship has been heavily strained as more than 50 Turkish soldiers have died in Idlib in recent weeks. 
Erdogan said he hoped a ceasefire would be "swiftly established" when he meets his counterpart Vladimir Putin in Moscow on Thursday.