A Co Donegal doctor said "her life was at risk" during an attack by group of men in Lesbos in Greece.
Victoria Bradley was one of a number of Irish doctors volunteering in the Moria refugee camp who were attacked by a group of up to 50 men yesterday.
The men were armed with makeshift weapons, as violent clashes continue to spread across the island.
Dr Bradley told RTÉ's News at One that the attackers do not want Non-Governmental Organisations on the island, as she said they believe that this is encouraging refugees to come to Lesbos.
"Our car was stopped by about 60 men. They were carrying sticks, some with nails sticking out of them. They wouldn't let us pass."
Dr Bradley was a passenger in one of eight cars travelling in convoy.
"They kicked my window in and tried to kick me in the head. All hell broke loose, they were hitting car with rocks, and our windscreen smashed," she said.
She said her's was one of three cars that "managed to stay together and got back to the refugee camp".
She added that the other cars had to drive around "for about two hours because they couldn't find anywhere safe to stop".
Dr Bradley said she is one of a number of doctors who have decided to leave the camp for their personal safety. However she said the natives of the island "have lost their livelihoods".
"The situation is not tenable. About 20,000 refugees are now in Lesbos; 400 arrived yesterday. The local people have lost their livelihoods. It's wrong what happened yesterday but the islanders are overwhelmed. They can't cope with the refugees. The refugees have no choice but to leave where they're leaving."
Dr Bradley said she "feels guilty" about leaving, because she said they are "leaving the refugees with no doctors" but she said if the protesters had got her and her colleagues out of their cars yesterday, "it would have been difficult to say the least".
She said they have made the decision to come home now, as they are concerned that protesters will block roads to the airport.
"Yesterday they blocked roads and stopped cars to see if the people inside were Greek. And if you weren't, there was trouble."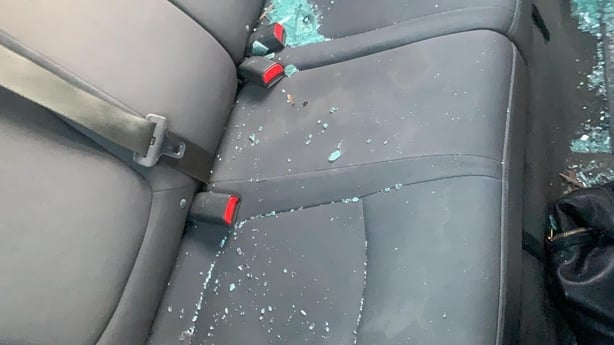 Meanwhile, fellow Irish doctor Nicola Cochrane said the situation is volatile and the advice given to volunteers is to stay indoors.
She explained that trouble erupted yesterday afternoon while she was working in the camp's clinic, so volunteers from other NGOs arranged to drive doctors from the clinic to their accommodation.
She said five rental cars were being driven down country roads when they were attacked by groups with planks of wood, who shattered the windscreens of the cars.
Dr Cochrane said there is a lot of anger about the ongoing refugee crisis on the island, where locals have been dealing with the refugee crisis for ten years.
Speaking on RTÉ's Today with Sean O'Rourke, she said local people were initially welcoming the refugees but as the numbers have grown the island has been overwhelmed.
She said the tourism industry has collapsed and local people are living in extreme hardship.
Dr Cochrane said she can understand the emotions but there is a right-wing element emerging.
She estimated that there are around 14,500 people living in poor conditions in the refugee camp and they are also angry at the way they are being looked after.
She said she felt safe in the camp during the day but there have been violent incidents at night, including stabbings.
We need your consent to load this rte-player contentWe use rte-player to manage extra content that can set cookies on your device and collect data about your activity. Please review their details and accept them to load the content.Manage Preferences