The European Commission has pledged €700 million to Greece to deal with the growing migrant crisis at its border.
Commission President Ursula von der Leyen made the pledge at a news conference in Greece flanked by European Council President Charles Michel, European Parliament President David Sassoli and Greek Prime Minister Kyriakos Mitsotakis.
The EU delegation travelled to Greece's border with Turkey to survey the scene, which Ms von der Leyen described as a "tense, difficult situation".
She said the European border patrol unit, Frontex, was preparing to deploy to the Greek border to assist local efforts to stop a wave of people entering Greece.
Around 10,000 migrants from Syria, Afghanistan and other Middle Eastern countries have been gathering at the frontier with Europe since Turkish President Recep Tayip Erdogan cleared the way for them to enter Greece.
There have been tense scenes between migrants, border patrol and Greek police.
Ms von der Leyen said she had compassion for the migrants who have been "lured by false promises into these desperate situations".
Frontex is to send an additional 100 border guards to Greece to assist local authorities. The agency will also deploy a ship, six coastal patrol units, two helicopters and one aircraft.
Half of the €700m in funding will be transferred to Greece immediately to deal with migration management generally.
We need your consent to load this rte-player contentWe use rte-player to manage extra content that can set cookies on your device and collect data about your activity. Please review their details and accept them to load the content.Manage Preferences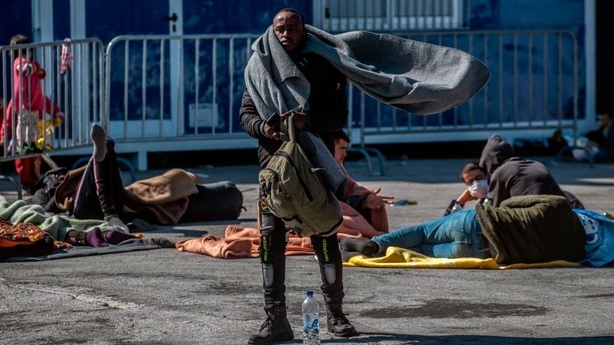 Ms von der Leyen said those who seek to test European unity will be disappointed.
"The situation at our border is not only for Greece an issue to manage it is the responsibility of Europe as a whole," she told the news conference.
Mr Mtsotakis said the crisis on the border is an asymmetrical threat to the frontiers of the EU.
He said he hoped the crisis would serve as a wake up call for Europe to assume its responsibilities.
Turkey, alarmed by the prospect of another wave of refugees fleeing war in northwest Syria, said last week it will no longer uphold a 2016 deal with the EU to keep hundreds of thousands of migrants on its soil in return for aid money.
Since then, about 10,000 migrants, mostly from Syria, other Middle Eastern states and Afghanistan, have reached Turkey's land borders with Greece and Bulgaria. Greek security forces have used tear gas to stop them from crossing.
---
Read more:
Greece blocks 10,000 migrants and refugees at Turkey border
Migrants, police clash at Turkey-Greece border
Turkey says it will let refugees into Europe
---
A war of words between Greece and Turkey over the crisis escalated after Turkey's foreign minister said Greek soldiers had killed three migrants attempting to enter the country, a claim denied by Greece.
"We have been seeing that they (Greek forces) are shooting at the migrants, three migrants were killed. They are shooting them in the back as they are running away," Turkish Foreign Minister Mevlut Cavusoglu told a news conference in Ankara alongside his British counterpart.
He provided no evidence for the assertions.
Yesterday, Turkish President Recep Tayyip Erdogan said Greek forces had killed two migrants and wounded a third one, something Greece angrily denied.
"We dismissed this as misinformation yesterday via our government spokesman. How can there be a third fatality when there weren't any at all yesterday?" a Greek foreign ministry spokesman said today.
Mr Mitsotakis has again accused Turkey of deliberately encouraging migrants to head to the border and branded the country "an official migrant trafficker".
Separately, a Turkish security official said that a Syrian person had died while being transferred to a hospital in Turkey's Edirne province near the Greece border. An initial examination showed his body had bullet and rubber pellet marks, the source said.
Turkey, which already hosts 3.6 million refugees from Syria's civil war and faces another big influx after an escalation in fighting in Syria's Idlib region, has said it cannot take in any more migrants.
Mr Cavusoglu also accused Greek security forces of "distributing hunting guns to farmers at the border" to target the migrants. He did not give evidence for the claim.
Turkish authorities said that more than 130,000 migrants have left Turkey from Edirne to cross to Greece.
Turkey, Russia face off in Syria as fighting escalates
Turkey has shot down a Syrian government warplane over northwest Syria, where fighting has intensified in recent days, bringing Turkish and Russian forces close to direct conflict in the battle over the last swathe of Syria still held by rebels.
It is the third Syrian warplane that Turkey has shot down since Sunday in an escalating campaign against President Bashar al-Assad's forces.
NATO-member Turkey supports the rebels, while Mr Assad relies on his ally Russia.
With more than one million refugees amassing since December on the Turkish border, the battle for Syria's Idlib province has brought what the United Nations fears might be the worst humanitarian crisis of the nine-year-old Syrian civil war.
"This relief operation has been overwhelmed. There needs to be more of everything. The first thing is money," UN Under-secretary General for Humanitarian Affairs Mark Lowcock told reporters at a trans-shipment point for supplies in southern Turkey.
Additional reporting Reuters