The number of confirmed coronavirus cases in the UK has risen to 36 after 12 new patients were identified in England and the first case was confirmed in Scotland.
This evening, the Scottish government said a person has been diagnosed with coronavirus in the country.
The patient, who is a resident of the Tayside area, recently travelled from northern Italy, the government said.
Scottish First Minister Nicola Sturgeon said: "Our first thoughts must be with the patient diagnosed with coronavirus, I wish them a speedy recovery."
Chief Medical Officer Professor Chris Whitty said three of the English patients were close contacts of a known Covid-19 case that was transmitted within the UK - believed to be a Surrey resident.
Another new patient, from Essex, has no relevant travel to an affected area, Prof Whitty said this afternoon.
He added investigations were ongoing as to whether the patient had contracted it "directly or indirectly" from an individual who had recently travelled abroad.
Of the eight remaining cases, six had recently travelled from Italy, while two had been in Iran.
These patients are from London, West Yorkshire, Greater Manchester, Hertfordshire and Gloucestershire.
All of the newly identified cases are being investigated and health officials have begun tracing anyone who had close contact with them.
Meanwhile, Iran's death toll from the virus has reached 54, a Health Ministry spokesman told state TV, adding the number of those infected had reached 978.
"There were 385 new cases of infected people in the last 24 hours, increasing the total number to 978. The death toll is 54," the spokesman said and called on Iranians to avoid any unnecessary trips and stay at home.
The country's elite Revolutionary Guards have allocated facilities across the country to help eradicate the new coronavirus, a Guards commander told a televised news conference.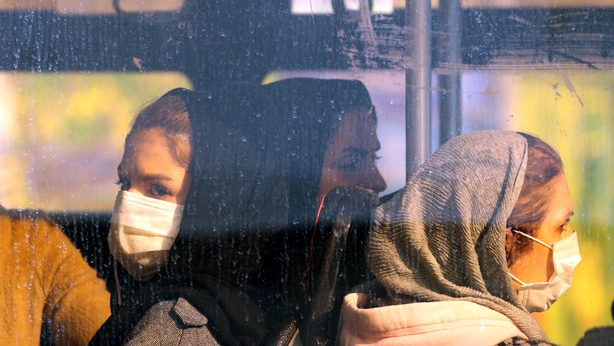 "We have set up centres across the country to help people to tackle the virus ... we need national cooperation to tackle this crisis. People should follow our health officials' advice,"said the commander.
Earlier, mainland China reported 573 new coronavirus infections yesterday, up from 427 the previous day, for the highest daily increase in a week, national health authorities have said.
The new cases were concentrated in the central city of Wuhan, where the virus emerged late last year, with 565 infections, or nearly 99% of yesterday's total.
The death toll of 35 was February's second lowest daily total and was down from 47 the previous day. The tally of deaths in mainland China is now 2,870, the National Health Commission said.
Of the deaths, 34 were in the province of Hubei, whose capital is Wuhan and the epicentre of the outbreak.
Hubei accounted for 570 of the new cases.
The three new cases outside Hubei are the lowest number since the National Health Commission began tracking daily figures on 20 January.
A total of 41,625 patients have been discharged, the commission said, or 52% of total mainland infections, though officials have warned that some could again develop symptoms.
---
Read More:
Search for contacts as first virus case confirmed in Republic
Coronavirus: Eight weeks that have shaken the world
Latest Coronavirus stories
---
To cushion the economic impact of the epidemic, China has ordered districts to be classified into "high-risk","medium-risk" and "low-risk", with the latter expected to end traffic curbs and let everyone resume work.
Yesterday, Hubei said 11 of its 103 counties had reported no new cases for at least 14 days, meeting the "low-risk" criteria. But as many as 58 of its counties are still deemed "high-risk".
Despite some positive changes, the situation was still at a critical stage, and Hubei could not yet ease curbs on outbound travel, the provincial general secretary of the ruling Communist Party, said.
China will take steps to bring back citizens from high-risk countries if necessary, a foreign ministry spokesman said, adding that it has arranged 10 flights to bring home 1,314 so far, but he did not name any countries.
As many as 53 countries have now reported cases, the World Health Organization said, with Ireland, Mexico and San Marino the latest additions.
It said there were 6,009 cases outside China, an increase of 1,318 from the previous day.
In Britain, Health Secretary Matt Hancock said the country is planning for the coronavirus epidemic to get worse, describing the outbreak as a "very, very significant challenge".
"We've got a clear strategy for dealing with coronavirus - a very, very significant challenge," Mr Hancock told Sky News.
"We're also planning in case this gets worse, much worse."
Mr Hancock said the UK government had not "ruled out" bringing in more stringent measures to deal with the spread of the virus, should matters deteriorate.
But he noted that stopping all flights from China, as pushed by some, had not proved successful for Italy, which is the worst affected country in Europe.
Australia and the US both confirmed fatalities from the virus yesterday.
We've taken the most aggressive actions to confront the coronavirus," US President Donald Trump said at a hastily arranged White House press conference.
"Our country is prepared for any circumstance... There is no reason to panic at all."
The fatality occurred in Washington state's King County, which includes Seattle, a city of more than 700,000 people, health officials said.
The victim was in his 50s and had "underlying health conditions," officials added, as they also announced a possible outbreak in a Washington state nursing home, where a health worker and a resident in her 70s were both confirmed sick with the virus.
Australia also reported the first death on its soil - a 78-year-old man who had been evacuated from the coronavirus-stricken Diamond Princess cruise ship in Japan.
Churches were closed in South Korea with many holding online services instead as authorities fought to rein in public gatherings, with 586 new coronavirus infections taking the tally to 3,736 cases.
That came a day after the biggest daily jump of 813 cases in South Korea's battle with the largest virus outbreak outside China, the Korea Centers for Disease Control and Prevention (KCDC) said. The death toll rose to 18.