All eight airports on Spain's Canary Islands reopened this morning a day after a sandstorm shrouded the archipelago, forcing their closure, the transport ministry said.
"The overnight improvement in the weather has allowed the resumption of air traffic in all airports in the Canary Islands," the ministry tweeted.
ENAIRE, the public body that manages Spanish airspace, said flights had resumed after "an improvement in the haze".
Air travel was disrupted on the archipelago on Saturday after strong winds carrying red sand from the Sahara shrouded the tourist hotspot in a murky haze.
It forced the cancellation or diversion of flights to and from the islands of Gran Canaria and Tenerife.
Some flights briefly resumed yesterday morning before Spanish airport operator AENA was forced to close all of the islands' eight airports, the three in Gran Canaria and Tenerife, as well as five others, including in Lanzarote.
"Air transport professionals don't remember seeing such adverse weather conditions for air transport in the Canary Islands," Transport Minister Jose Luis Abalos tweeted on Sunday.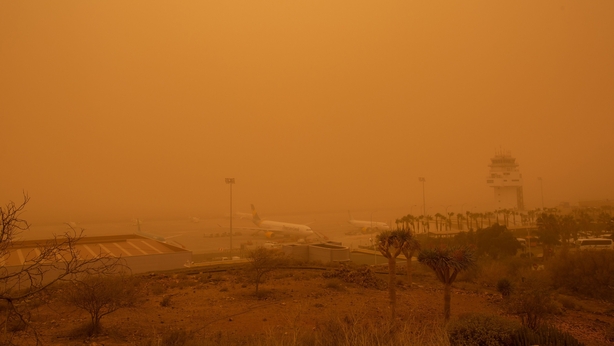 Located off the coast of Morocco, the Canary Islands are a popular tourist destination for northern Europeans seeking winter sunshine.
They received 13.1 million foreign visitors last year, according to national statistics institute INE figures, making it Spain's third most visited region.
Meanwhile, an Irish woman stranded in Gran Canaria has said she was hopeful they would be able to fly home this afternoon.
Susan Gibney said the skies currently "look like Irish skies except it's all sand and a mixture of cloud".
Ms Gibney told RTÉ's Morning Ireland that some hotels were telling guests to stay indoors, but they were not given that warning.
She said that she and her husband went for a walk last night and saw many people out wearing masks.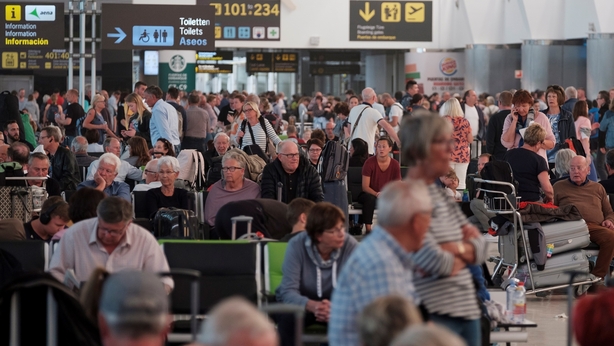 Four flights to Dublin Airport were cancelled, along with an Aer Lingus flight from Gran Canaria to Cork Airport.
Aer Lingus said: "All affected guests have been kept updated, provided with overnight accommodation where necessary and will be accommodated on the next available services.
"Aer Lingus would like to apologise to guests for the disruption to their travels."