Hundreds of flights to and from Spain's Canary Islands were diverted or cancelled after a sandstorm from the Sahara hit the archipelago, coating the islands with orange dust and limiting visibility.
More than 140 flights were affected, a spokeswoman for airport operator AENA said.
Almost all of the stranded tourists will be able to return home today as the weather clears.
Flights from Gran Canaria, Lanzarote, La Palma and North Tenerife Airports will be able to take off.
However, those departing South Tenerife continue to be grounded, AENA said.
Four flights to Dublin Airport were cancelled, along with an Aer Lingus flight from Gran Canaria to Cork Airport.
The cancelled flights to Dublin included Aer Lingus and Ryanair services from Lanzarote, as well as Aer Lingus flights from Tenerife and Gran Canaria.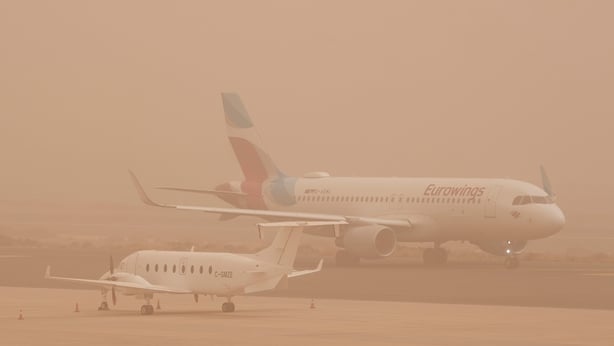 Known as "calimas", the sandstorms form when strong winds whip up dense clouds of sand from the Sahara and carry them across the 85km gap to the Canaries.
This latest storm has hit at a particularly bad time, coinciding with school holidays in Ireland and the UK, when thousands of holidaymakers descend on the islands in search of winter sun.
On Saturday night, the storm complicated efforts to quell a wildfire on Gran Canaria as firefighters were unable to deploy aircraft to tame the blaze, the island's government said.
The Canaries regional government declared a state of alert and advised people to keep doors and windows closed, while some of the carnival celebrations for which the islands are renowned were cancelled.
Located off the coast of Morocco, the Canary Islands are a popular tourist destination for northern Europeans seeking winter sunshine.
The archipelago received 13.1 million foreign visitors last year, according to national statistics institute INE figures, making it Spain's third most visited region.