The Department of Foreign Affairs has clarified that there is no change to its overall travel advice for Italy.
It comes as Italy reported its seventh death from the coronavirus.
The Department says mainland China is the only country it is advising people to avoid non-essential travel to, due to coronavirus.
In an update on its website, it says there has been an increase in the number of confirmed cases of coronavirus in Italy.
As a result of this, it says the Italian government has placed travel restrictions on the towns of Codogno, Castiglione d'Adda, Casalpusterlengo, Fombio, Maleo, Somaglia, Bertonico, Terranova dei Passerini, Castelgerundo and San Fiorano. 
The Department says that for the moment, therefore, it is advising citizens not to travel to these towns.
Italy now has the most confirmed cases in Europe.
There are no details yet on the seventh fatality, however Italian media reported that the sixth fatality was a cancer patient in the northern town of Brescia.
The five people who died earlier of the illness were elderly and at least three of them had underlying health problems.
Villages in Lombardy have been put on lockdown and security measures enforced in a bid to stem the spread of the disease, the region's health department said.
Prime Minister Giuseppe Conte has said that residents could face weeks of lockdown in an effort to sit out the virus.
The president of the Lombardy region Attilo Fontana said 165 people had now tested positive in the region, the worst-hit zone in Italy.
"The number is still rising, but we are sure that the measures taken will prevent it spreading further," Mr Fontana said.
Eleven towns are under lockdown, with some 50,000 residents prohibited from leaving.
Regional authorities have ordered gathering spots, such as bars, restaurants and discos to close.
The spread of the virus has disrupted high profile events, including Milan Fashion Week and the Venice Carnival, while Serie A football matches have been postponed.
Operas have also had to be cancelled at Milan's famed La Scala. Churches are being kept open, but all masses have been cancelled.
---
Read More:
Wuhan revokes announcement easing virus lockdown
Benetton-Ulster postponed due to coronavirus outbreak
'Largest public health emergency' since China founded - Xi
WHO says window of opportunity to stem coronavirus 'narrowing'
---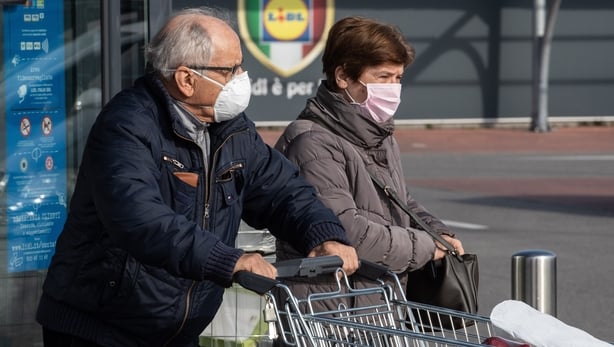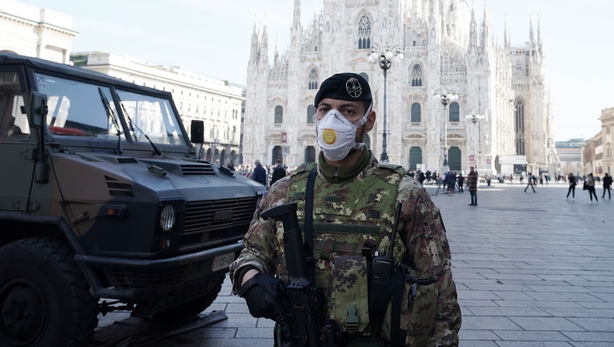 European Union health commissioner Stella Kyriakides said possible travel restrictions in the Schengen border-free area should be proportionate and co-ordinated among EU states.
"For the moment WHO has not advised imposing restrictions on either travel or trade," Ms Kyriakides told reporters, adding that a mission of the World Health Organization will go to Italy tomorrow to assess the situation.
---
A small town in northern Italy which had the first confirmed #coronavirus case of the country's surging outbreak is now on effective lockdown. | https://t.co/qLbgNc5Q4v pic.twitter.com/59OMNx2Vu0

— RTÉ News (@rtenews) February 24, 2020
Most of the cases in Italy are in Lombardy and can be traced back to a 38-year-old man whom authorities have called "patient one".
Investigators are reconstructing minute by minute the man's movements over the past few weeks, where he slept, ate, walked, in an attempt to trace everyone he could have come into contact with.
The man had not travelled to China and doctors failed to treat him with the necessary precautions. The man initially believed to have given him the virus after returning from Shanghai later tested negative.
"We still do not know who brought the coronavirus to Codogno," infectious disease expert Massimo Galli said, referring to another small town.
Mr Fontana urged residents to stay calm and stop panic buying, saying "rushing to stock up on food doesn't make any sense. There are enough supplies".
Schools have been closed as a precaution in Lombardy, Veneto, Piedmont, Emilia Romagna and Friuli Venezia Giulia.
Trains and metros into and out of Milan were running half empty at rush hour, with passengers using face masks or covering their mouths and noses with scarves.
Bus passengers from Italy blocked in France in coronavirus scare
Passengers who arrived by bus in Lyon in southeast France from Milan were kept onboard after the driver was hospitalised with symptoms similar to those caused by the new coronavirus, security sources said.
Police erected a security cordon around the bus at Lyon's Perrache station and ordered the passengers to remain onboard, a spokeswoman for the Lyon area's public security department said.
No information was given as to how many people were on the bus.
The LyonMag news site reported that an Italian bus driver was taken to hospital for tests because he had a bad cough.
The regional health authority was not immediately available for comment.
Low-cost operator FlixBus said the bus had stopped off in the Italian city of Turin and the French city of Grenoble on the way to Lyon.
Meanwhile, Ireland's matches with Italy, the weekend after next, are to go ahead as scheduled.
The under-20s are set to play on Friday, 6 March; the men's team is to play on 7 March; and the women on 8 March.  The IRFU says it will follow Government advice on such fixtures.
Dr Cillian De Gascun, Director of the National Virus Reference Laboratory in UCD, has said good hand hygiene, covering your cough, and staying away from people who are overtly unwell are the best things people can do to protect themselves from Covid-19.
Speaking on RTÉ's Six One, Dr De Gascun, who is the chair of the new Expert Advisory Group tasked with providing advice on the coronavirus to the Health Service Executive and National Public Health Emergency Team, said: "We are still learning about this virus and how transmissible it is."
He said standard precautions which have been deployed in other countries, such as personal protection equipment and good hygiene, have proven successful in containing the spread of the virus.
He said the recent rise in cases in Italy "does raise the question about whether we should be doing more broad surveillance."
Authorities here await more detail from the European Centre for Disease Prevention (ECDC) he said, over the next 48-72 hours on the next steps in the containment phase of this virus.
He said a small number of case reports from China have shown that some people who are infected with the virus have not shown any symptoms, which Dr De Gascun said could pose a challenge to health authorities.
Earlier, the Chief Medical Officer at the Department of Health Dr Tony Holohan said Ireland remained in a containment phase and as things stand enforced quarantine is not part of the plans of the Health Service Executive.
He said the most likely scenario is that cases will appear in small numbers and hospitals are ready and prepared to deal with that. So far, 79 tests have been reported negative. 
Dr Holohan said that the best chance of identifying the disease is for those who have travelled from an area with coronavirus and have symptoms is to report those symptoms and feel free to do so.
Specialist centres in north of England
In the UK, four Britons evacuated from a cruise ship in Japan are being treated at specialist centres in the north of England after testing positive for the illness.
Confirmation of the cases brings the total number of people to be diagnosed with the Covid-19 strain in the UK to 13.
The four, the first diagnoses in people brought back to the UK on repatriation flights, had been on the Diamond Princess cruise ship, which had been stationed off the coast of Japan for more than two weeks amid the outbreak.
They were among a group of 30 Britons and two Irish citizens who arrived at a quarantine block at Arrowe Park Hospital in Merseyside on Saturday, but yesterday NHS England confirmed the positive diagnoses.
The Covid-19 disease has killed nearly 2,600 people and infected around 77,000, the majority in China.
Elsewhere, Afghanistan has detected its first novel coronavirus case, the country's health minister said, a day after Kabul announced it would suspend air and ground travel to Iran, where 12 people have died from the outbreak.
Kuwait and Bahrain confirmed their first novel coronavirus cases, health ministries in the two Gulf states announced, adding all had come from Iran.
Kuwait reported three infections and Bahrain one.