The Department of Foreign Affairs has confirmed there are Irish citizens on board a cruise ship in Japan where 454 cases of coronavirus have been diagnosed.
Asked whether there were any plans to evacuate them, a spokesperson said the department is "examining its options".
An additional 99 people have tested positive for coronavirus on the Diamond Princess cruise ship, Japanese media said this morning, citing new figures from the health ministry.
Meanwhile, more than 300 Americans rescued from the cruise ship arrived back in the US today to begin a further two-week period of quarantine.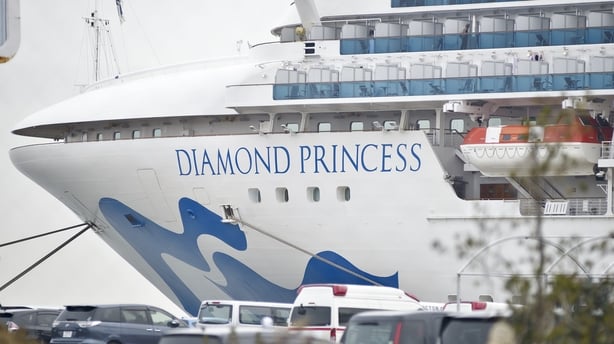 The first US flight touched down at an air force base in California late last night, followed by the second early morning flight to an air force base in Texas.
Before they boarded the flights, US officials were informed that 14 of the passengers tested days earlier had received positive results. Authorities allowed them to fly but isolated them from other passengers in a "special containment area".
All those on board will undergo a further two-week quarantine period on US soil.
"Every precaution to ensure proper isolation and community protection measures are being taken, driven by the most up-to-date risk assessments by US health authorities," said a joint statement from the US State Department and the US Department of Health and Human Services. "We continue all possible efforts to protect the welfare of US citizens."
"I am happy and ready to go," American traveller Sarah Arana said before leaving the ship. "We need a proper quarantine. This was not it."
---
Read More:
Chinese tourist in France dies from coronavirus
Exporters call for support to offset coronavirus impact
'Way too early to say' if coronavirus has peaked - WHO
---
We need your consent to load this rte-player contentWe use rte-player to manage extra content that can set cookies on your device and collect data about your activity. Please review their details and accept them to load the content.Manage Preferences
More than 600 people are already in quarantine in the United States, evacuated earlier from Wuhan, the Centers for Disease Control and Prevention said.
Australia became the latest country to order its citizens evacuated from the ship, with Prime Minister Scott Morrison saying more than 200 Australians still on board would be rescued on Wednesday.
New cases outside Wuhan in China, which is the centre of the outbreak, have been declining for the last 13 days. There were 115 fresh cases outside the central province announced today, sharply down from nearly 450 a week ago.
Chinese authorities have pointed to the slowing rise in cases as proof their measures are working, even as the death toll climbed to 1,770 with more than 11,000 recovering.
But World Health Organization head Tedros Adhanom Ghebreyesus has warned it is "impossible to predict which direction this epidemic will take".
Concerns remain about global transmission, especially on cruise ships, which appear to have become especially virulent breeding grounds.
A US cruise operator is working to track down hundreds of passengers who disembarked a luxury liner in Cambodia after one traveller was later diagnosed with the virus.
The Westerdam was at sea for two weeks during which it was barred from Japan, Guam, the Philippines, Taiwan and Thailand over fears it could be carrying the virus, which originated in China.
Cambodia allowed the ship to dock last Thursday at its southern coastal town of Sihanoukville, with authorities carrying out temperature checks on passengers before they left the ship to catch flights home.
But one traveller was stopped late Saturday on arriving in Malaysia after airport staff detected a fever. She was later diagnosed with the coronavirus.
The 83-year-old American woman is under observation at a hospital while her husband, 85, is also being monitored.
Some 137 passengers from the Westerdam who also took the Malaysia flight with the American have now left on commercial flights for other destinations.
Organisers of the Tokyo marathon say the amateur part of the race is being cancelled affecting around 38,000 runners.
"We reached the conclusion that unfortunately it is difficult to organise the event... after several cases (of the virus) were confirmed in Tokyo," the Tokyo Marathon Foundation said in a statement.
The marathon is scheduled for 1 March.