Minority Asian communities in cities around the world have reported discrimination they believe is linked to the coronavirus outbreak.
Ethnic Asians, many of whom were born where they live, have reported what they see as racist incidents in cities around the world, including Manchester, Sheffield, Paris, Bordeaux and Toronto.
Dublin is not immune either. Individuals have spoken about being shunned on public transport, and businesses have reported a drop in trade, which they trace back to the epidemic which has gripped China and spread to dozens of other countries.
However, they point out the novel coronavirus - also known as COVID-19 - can impact anyone.
We need your consent to load this rte-player contentWe use rte-player to manage extra content that can set cookies on your device and collect data about your activity. Please review their details and accept them to load the content.Manage Preferences
Jun Ni, a lecturer at the Technological University Dublin, said a man in a department store covered his mouth and nose when she and a Chinese friend passed by him.
She also said a man she sat beside on a bus strained to turn away from her, despite the fact that she was not displaying any symptoms of coronavirus or flu, and has not been in China for four years.es.
Ms Ni took issue with a recent headline in the Irish Sunday Mirror, which referred to the threat of 'China Virus' at Dublin Airport.
While the virus originated in Wuhan in China, cases of the infection have been reported in dozens of countries and nationalities around the world.
She was happy to secure a clarification from the newspaper after she started a petition asking them to consider their language.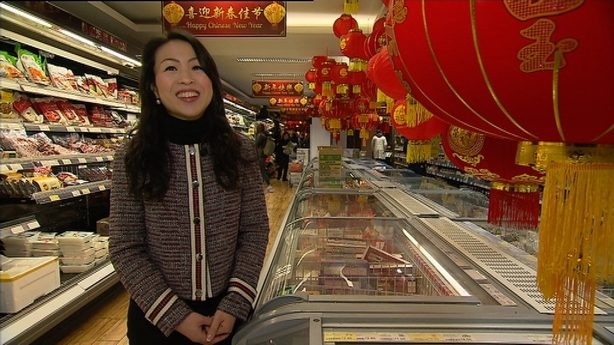 That headline was also noted by Eva Pau, commercial director of the Asia Market in Dublin.
Ms Pau, who grew up in Dublin, said it is unfair to link the virus with Asian people.
Asia Market's wholesale division supplies many Asian restaurants and takeaways, some of whom have reported a significant drop in trade.
Ms Pau said some of her clients have seen a fall of 50-60% in business, especially over the Lunar New Year period, which coincided with the outbreak of the coronavirus in China.
She also noticed that New Year festivities in-store were quieter than usual this year, but said some of that could be down to a drop in tourists from China.
Some customers have been asking about buying face masks, she said, which the shop does not stock.
However, she said they did send a consignment of face masks to Wuhan to help re-stock supplies in the city, which is at the centre of the virus.
Any Chinese staff in the shop who travelled home for New Year or in the recent past were asked to self-quarantine for two weeks before returning to work, as a precaution.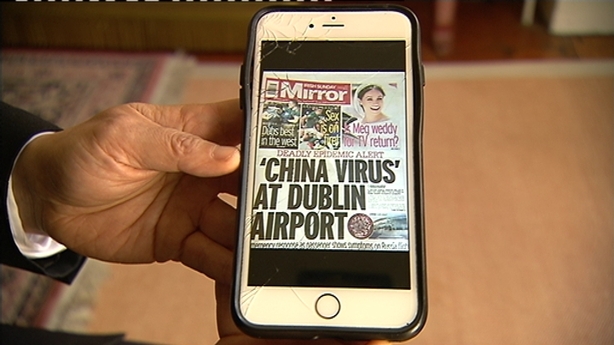 There have also been some reports of Asian children being teased in connection with the virus.
RTÉ News has seen a letter sent to parents by a south Dublin school, advising them that some children are being excluded from playtime activities "because a small group of children have received misleading information relating to the spread of the virus".
The school pointed out that there has been no confirmed case of infection in Ireland, and reminded parents that they are extremely unlikely to catch the coronavirus.
In the event that they have been to China or been in contact with anyone with the virus, they are asked to contact their local health authority, in line with advice from the Health Service Executive.
Asked if she felt there was an increase in racism because of the coronavirus, Ms Ni said she still felt Irish people were very welcoming and friendly, but expressed shock at the level of racism linked to the coronavirus in some countries, notably in France.
Members of the Irish Asian community have reported being discriminated against due to the coronavirus outbreak | Read more: https://t.co/sEDRqmzsaf pic.twitter.com/hEuURi4VR2

— RTÉ News (@rtenews) February 13, 2020
Anecdotal evidence points to a spike in hostile behaviour targeting France's Asian community, from comments in the playground to suspicious glances in the street, and anti-racism campaigners are crying foul.
The 13th district of Paris is a hub for the city's Asian community, with supermarkets, restaurants and the annual Chinese New Year parade, which was cancelled this year by organisers.
Fewer than a dozen people in France have been affected by the virus, but indiscriminate fear of catching it has led people to steer clear of Asian restaurants.
Businesses in the area say they are suffering - even those with no links to China.
One Vietnamese restaurateur told Reuters that nervous customers had been asking staff if they are Chinese, while others were simply staying away.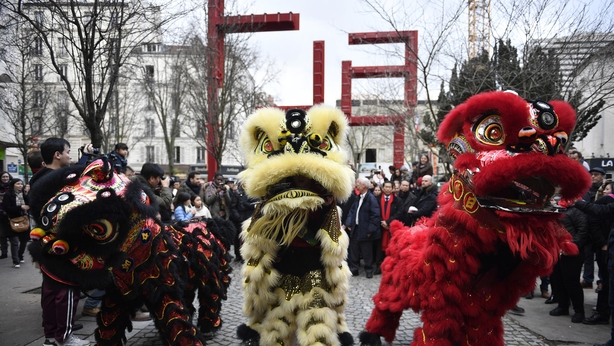 According to the French national statistics office, 155,000 people living in the country in 2018 were born in Cambodia, Vietnam or Laos, and there were 107,000 Chinese immigrants.
Many French people from non-Asian backgrounds said they had been surprised by the uproar.
In response to what many see as ill-treatment, the hashtag: #JeNeSuisPasUnVirus (I am not a virus) has been trending in France, with ordinary people sharing their stories.
A regional newspaper in France was forced to apologise after uproar over a headline reading "Alerte Jaune" (yellow alert).
Cette leçon de racisme décomplexé vous est offerte par le @CourrierPicard #coronavirus pic.twitter.com/jhcoNmsmm5

— Madjid Messaoudene (@MadjidFalastine) January 26, 2020
At the beginning of February, a vast sculpture dubbed the 'Arch of Brotherhood' was installed in Paris's Chinatown, in an effort to counter the misplaced spread of fear.
Paris Mayor Anne Hidalgo said Parisians stood in solidarity with the Asian community during difficult tim