A Derry woman who is challenging a requirement that she renounce her British citizenship before she can legally identify as Irish has taken her campaign to the US.
Emma DeSouza is in Washington today and is meeting members of Congress on Capitol Hill to highlight what she describes as the British government's failure to give domestic legal effect to the birthright provisions of the Good Friday Agreement.
Ms DeSouza is challenging being automatically determined to be a British citizen under UK law rather than having a choice of Irish citizenship.
In October last year, an immigration tribunal ruled that the people of Northern Ireland remain British citizens even if they identify as Irish.
Today, Ms DeSouza met Congressman Richard Neal and Congressman Brendan Boyle on Capitol Hill.
Speaking ahead of the meetings, Ms DeSouza said she was hoping to put as much political pressure as possible on the British government.
"That could be through a letter from members of Congress, a House resolution or it could be that just being here is enough to remind the British government that this issue is not going away and has to be addressed," she said.
Congressman Neal is the Chairman of the powerful House Ways and Means Committee, which will oversee any future trade agreement between the US and the UK.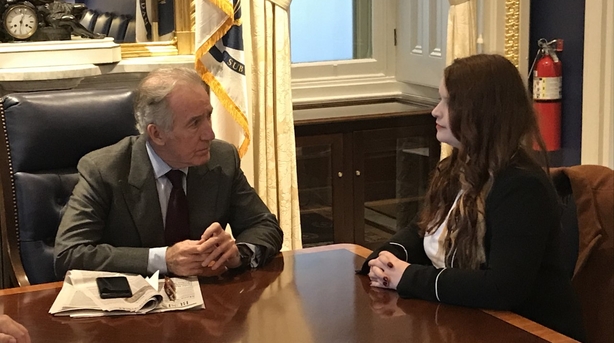 He has previously warned that there will be no deal if the provisions of the Good Friday Agreement are not met.
Today, he said that the DeSouza case could form part of those negotiations.
"It certainly should be part of the conversation because I think identity is a very important part of the national conversation on the island of Ireland," Congressman Neal said.
While in Washington, Ms DeSouza also met the Irish Ambassador to the US Dan Mulhall and members of the Ad Hoc Committee to Protect the Good Friday Agreement.
She will visit New York and Boston in the coming days.
Derry woman Emma DeSouza says she wants US support for the right of people in Northern Ireland to be accepted as Irish, British, or both, as they so choose | Read more: https://t.co/00NmdYf27r pic.twitter.com/sOk47cfCx5

— RTÉ News (@rtenews) February 5, 2020