Pete Buttigieg has taken the lead in the first batch of long-delayed results from the chaotic Iowa Democratic Party caucuses, while former Vice President Joe Biden trailed badly in fourth place with about 62% of precincts reporting.
US Senator Bernie Sanders was in second place and US Senator Elizabeth Warren in third in the first results, released nearly 21 hours after the Iowa public poured into more than 1,600 locations to begin the five-month process of picking a challenger to Republican President Donald Trump.
The first results of state delegate equivalents, the data traditionally reported to determine the winner, Mr Buttigieg, the former mayor of South Bend, Indiana, had 26.9%, Mr Sanders had 25.1%, Ms Warren 18.3% and Mr Biden 15.6%.
Senator Amy Klobuchar was fifth at 12.6%.
Mr Sanders was ahead in the popular vote, which is not used to determine the delegates who will cast ballots at the Democratic National Convention in July.
It was a clumsy start to 2020 voting, after a bad-tempered presidential campaign four years ago was hit by accusations of hacking and disinformation that led to a two-year federal investigation into election meddling by Russia.
Officials blamed inconsistencies related to a new mobile app used for vote counting for the unusual delay in Iowa, the state that traditionally kicks off a US presidential election campaign that culminates this year on 3 November.
The uncertainty enraged Democrats worried it would only strengthen Mr Trump's bid for re-election and prompted some Democratic candidates' campaigns to question whether the results would be legitimate.
"As leader of the party I apologise deeply for this," Iowa State Party Chairman Troy Price told reporters. "We've been working day and night to make sure these results are accurate."
Republicans asked how Democrats could run the country if they could not conduct a caucus, while Trump mocked the Democrats on Twitter, calling the delay an "unmitigated disaster."
Before the results were released, campaign aides for Mr Biden cited gross failures in the caucuses.
"What we're saying is there are some inconsistencies, that the process, the integrity, is at stake. And the Iowa Democratic Party needs to check that data, check it again, check it a third time, check it a fourth time, because it's important to get it right," Biden campaign senior adviser Symone Sanders told reporters.
We need your consent to load this rte-player contentWe use rte-player to manage extra content that can set cookies on your device and collect data about your activity. Please review their details and accept them to load the content.Manage Preferences
President Trump, a Republican, mocked the Democrats, calling the caucus confusion an "unmitigated disaster" in a Twitter post. "Nothing works, just like they ran the Country."
The Democrat Caucus is an unmitigated disaster. Nothing works, just like they ran the Country. Remember the 5 Billion Dollar Obamacare Website, that should have cost 2% of that. The only person that can claim a very big victory in Iowa last night is "Trump".

— Donald J. Trump (@realDonaldTrump) February 4, 2020
Inauspicious start to process
It was an inauspicious beginning for Democrats as the party's 11 contenders began the state-by-state battle to pick a Democratic nominee to face President Trump in the 3 November election.
But Republicans in Iowa have their own history of chaos. On the night of the party's 2012 caucuses, Mitt Romney was declared to have won by eight votes. But the party said two weeks later that Rick Santorum had won by a 34-vote margin. Mr Romney went onto be the nominee.
"Every second that passes undermines the process a little bit," said Roger Lau, campaign manager for Senator Elizabeth Warren.
A source in Mr Buttigieg's campaign said the delay would "delegitimise" the win and dampen the immediate benefits of a strong night. Former US vice president Joe Biden's general counsel, Dana Remus, told state party officials in a letter there were widespread failures in the party's system of reporting results.
After more than a year of campaigning and more than $800m in spending, the results in Iowa were expected to begin to provide answers for a party desperately trying to figure out how to beat Mr Trump.
Voters had to choose whether to back someone with appeal to independents and disaffected Republicans, like moderates Joe Biden, Pete Buttigieg and Senator Amy Klobuchar of neighbouring Minnesota, or someone who energises the party's liberal base and brings out new voters, like progressives Sanders and Warren.
---
Read More:
All eyes on the prize as Iowa takes centre stage
US election: What are the primaries and caucuses?
Key dates you need to know in countdown to US election
---
With no results to celebrate or mourn, the candidates spun their own upbeat view of the outcome. The Sanders campaign released what it said were its internal numbers collected at 40% of precincts, showing him in first, ahead of Mr Buttigieg, Ms Warren and Mr Biden.
"I have a strong feeling that at some point the results will be announced, and when those results are announced I have a good feeling we're going to be doing very, very well here in Iowa," Mr Sanders told cheering supporters.
Mr Buttigieg told his supporters in Iowa that "we don't know the results" but he was looking ahead to the New Hampshire contest.
"By all indications, we are going to New Hampshire victorious," he said.
"Of course we don't know the results yet - minor problem - but we know we did incredibly well," Ms Klobuchar told supporters.
At the caucus sites in Iowa, voters had gathered in groups by candidate preference in a public display of support. If a candidate did not attract 15% of voters - the total needed to be considered viable - that candidates' supporters were released to back another contender, leading to a further round of persuasion.
Even if one candidate eventually wins by a commanding margin in Iowa, Democrats may still lack clear answers as the race moves on to the other three early voting states of New Hampshire, Nevada and South Carolina later this month.
Whoever remains in the race by Super Tuesday on 3 March, when 15 states and territories vote, will also confront billionaire former New York Mayor Michael Bloomberg, who is skipping the early states in favour of focusing on states rich in delegates to the Democratic National Convention in July.
---
Inside an Iowa Caucus 
The Precinct 62 Iowa Caucus was held in a sports hall at Drake University in Des Moines. 
Democratic voters filled the seats that lined the basketball court in the centre of the hall.
The announcer welcomed everyone and paid tribute to the youngest voters in the room, those who had recently turned 18.
There was also a special mention for the oldest voter present, 96-year-old Marie. 
The atmosphere was warm and friendly as the business of the night got under way.
Voters were instructed to move and sit in areas associated with their candidate of choice. Counters then passed through the crowds tallying the numbers.
At this caucus, Senator Elizabeth Warren had the largest number of supporters.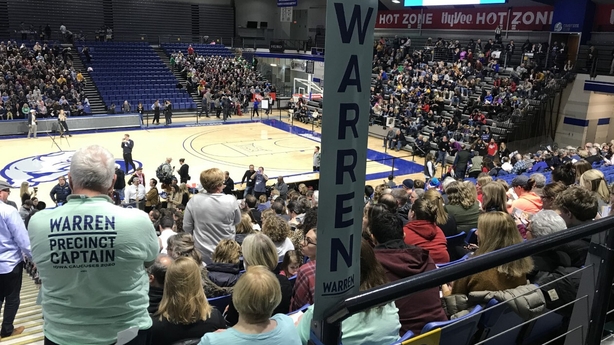 If candidates didn't meet a minimum 15% threshold, their supporters were invited to choose another nominee.
Husband and wife David Fautsch and Elizabeth Talbert were backing different candidates.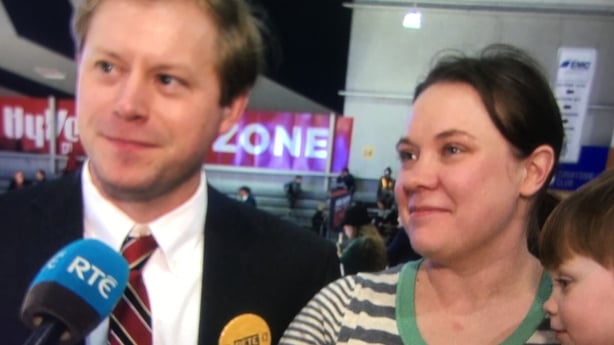 David is a Pete Buttigieg supporter but Elizabeth voted for Senator Warren. 
Does it lead to arguments over the dinner table?
"Not at all, we're a 'beat Trump' family, whoever the candidate is," Elizabeth said. 
Kristine Negron is a Bernie Sanders supporter. 
"He's been consistent as a candidate. His message hasn't changed throughout his entire career and I believe he would be a great president," she said.
The caucus appeared to be well-organised and efficient, a far cry from the chaos and confusion that was to follow. 
Problems reporting data from precincts around Iowa led to massive delays and the voters I met last night are still waiting to find out if their candidate was victorious.
---
Additional Reporting Brian O'Donovan