A group of Irish tradesmen living in Australia are giving up part of their Christmas holidays this year to help deliver water and animal feed to a town devastated by the ongoing bush fires there.
A convoy of trucks departed Brisbane today for the drought-ravaged town of Stanthorpe, which hasn't had proper rain for years.
"We've been told there are banners in the town saying the Irish are coming and that's wonderful to hear," said Richard Lenihan, a father of three, originally from Killarney in Co Kerry.
He has been living in Brisbane for the last 11 years and wanted to help.
So after discussing the situation with friends over a beer, they set up the 'Brisbane Irish SEQLD Drought Run' and they have been overwhelmed by the generous response.
The fundraisers set a target of AUS$10,000 but a massive AUS$45,000 was raised in the last three weeks alone.
"It's a big crop area out there and they've had no rain in over two years, so they can't grow crops really.
"So we're bringing out over 300,000 litres of stock water to give to the animals... and at the moment we've about 195,000 litres of drinking water coming with us and we're still adding every day."

The delivery, just in time for Christmas, was inspired by a similar run from Sydney to northern New South Wales, organised by the Irish community just last month.

Peter McMahon from Derryloughan, Co Tyrone, helped bring together a convoy of over 100 trucks which travelled to the town of Armidale.
He got involved after seeing a farmer crying on TV.
"He had to put his cattle down because he didn't have any water to give them. They were obviously all dying on him. So I just said, well I have to do something here to help."
He recalls the reaction of people in the town as the convoy of trucks loaded with drinking water for people and animals arrived.
"The town people were fantastic towards us. There were even people crying on the side of the road, when we were pulling up.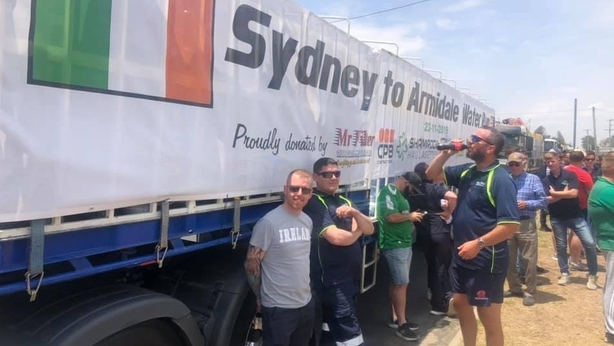 "It was kind of eye-opening to be honest with you. When we were driving up - we were coming to places that were absolutely scorched. If it wasn't with a fire, it was with the sun, it just looked like a different world."

Since that trip, Peter has received a box of letters from local school children thanking all the Irish people involved in the truck run.
"I actually received a big package in the post from all the kids in Armidale, they gave me thank you letters which was absolutely unbelievable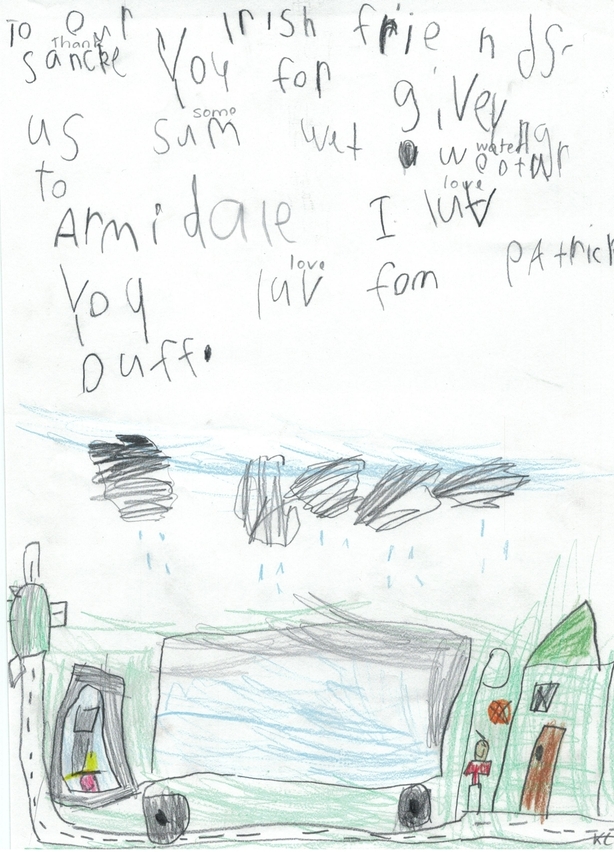 Kieran Cowman from Co Wexford who also travelled to Armidale says he'll never forget the scenes that met him there.

"A picture that won't really leave my head was when you were driving up and there's no grass to be seen. There's stock on just clay. There's all burnt fields around you but i remember when we were driving up, there was a field of sheep with little lambs there beside them and they were just so thin, you could see their ribs. It was terrible.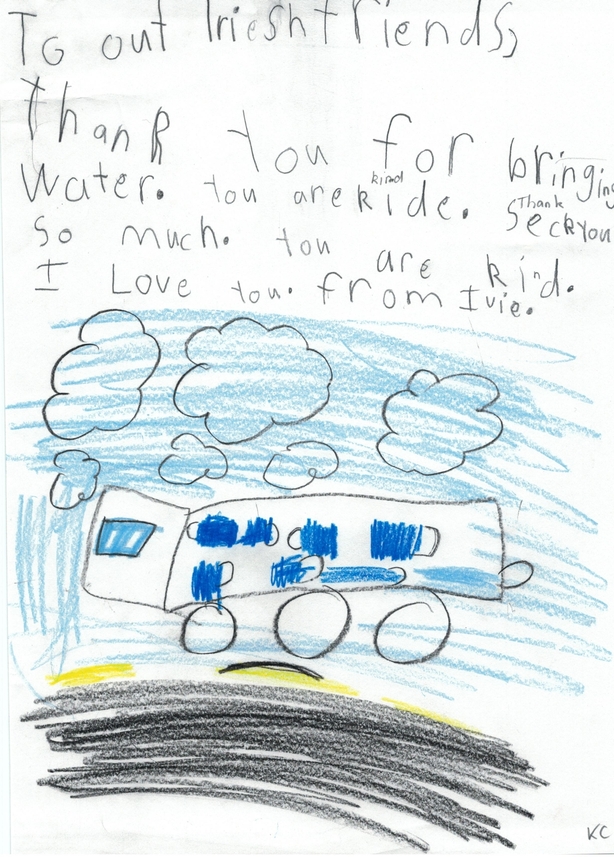 I suppose when you get up there and you hear the local farmers going to basically put down their stock, because there's just no water there for them to drink., it's terrible, you know."

Both Peter and Kieran are hoping that they can get involved in another run if it proves necessary in the New Year.

"We'd definitely get on board and do it all again, but I think it's about time the government stepped in to see what they can do to help these people."

Even those who haven't been directly affected by the bush fires, are suffering from their effects.
Steve Wilson is an actor originally from Dublin who is now living in Newcastle in New South Wales.
He says everyone is worried about their children's health- and having to stay inside during the hot summer weather.
"There's a lot of coughing going on. My own daughter, my youngest has had a terrible cough all week and I don't think any of us has slept properly."
Sydney, Australia's most populous city has been shrouded in a smoky haze.
"They were talking about the quality of the air... the effects of it being similar to smoking 40 cigarettes a day which you can imagine when you've got young children, it's really the last thing you want to hear," says Steve.
"It's a really outdoors lifestyle here in Australia and it's horrible to have kids being told they can't go out and they have to stay indoors."
We have fire tornadoes in Australia. You read that right; 'FIRE TORNADOES'
Sounds like a bad sci-fy movie of the week. #AustraliaBurns #ClimateEmergency https://t.co/imtguFzEfU

— Steve Wilson (@Dublinactor) December 8, 2019
He describes what it's like to live with the fire smoke on a daily basis.
"You know if you've been out at a bonfire and the next day your clothes smell of that sort of smoky flavour, well that's been the smell of everything that we've tried to dry on the lines.
"You've also got this horrible taste in the back of your throat. I've suffered a lot from headaches recently but you know I'm a fairly healthy person and I don't suffer from any lung infections but you can imagine there's an awful lot of people who have asthma, who have breathing difficulties to begin with and they've really been hit the worst."
Steve, who also works as a photographer describes this picture he took of the sun.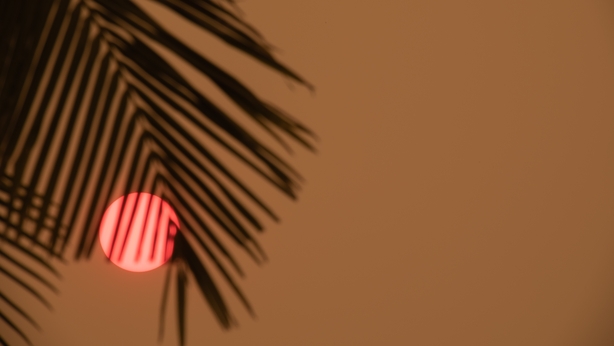 "The sun, you could see in the haze just about was a small red disc, you could look straight at it, it was just like seeing the moon through a heavy cloud."
He says that whilst people have lived through bush fires in Australia before, this is something different.
"It's unbelievable, having kids literally at home and trying to keep them indoors, just purely because the air outside is poisonous, it's horrible.
"People have been talking about it in very apocalyptic terms because it doesn't even look like our planet when you go outside at three or four in the afternoon and instead of seeing bright blue skies and sunshine, you see brown, heavy cloud".
He says many people in Australia are angry at how little has been done on a governmental level.
Steve says: "The government were getting ready to wind up over the last couple of weeks ... before the summer break and it wasn't mentioned.
"It's an absolute tragedy and it's just not being discussed by the politicians, they're burying their heads in the sand."
Back in Brisbane, Richard Lenihan says he has been blown away by the generosity of the local Irish community this Christmas.
"The Irish community in Brisbane is so small. It's probably three to four times smaller than the community in Sydney and we didn't even think we'd get a quarter of the response we're after getting – it's just after blowing up to the moon and I can't thank everyone for getting involved enough."