A wooden fragment believed to be from the manger of Jesus has arrived in Bethlehem amid a great ceremony after more than 1,300 years in Europe.
A procession of marching bands greeted the relic which was later placed in Saint Catherine's Church, at the Church of the Nativity compound in Manger Square.
"We are proud that part of the manger is back in Bethlehem because we feel that the soul of God is with us more than before," said Chris Gacaman, 53, a Bethlehem homemaker, as she stood outside the church.
Others were a little let down.
"It's a small piece, we thought it would be a bigger piece," said Sandy Shahin Hijazeen, 32.
"When we heard that the manger is coming back we thought it would be the whole manger, but then we saw it."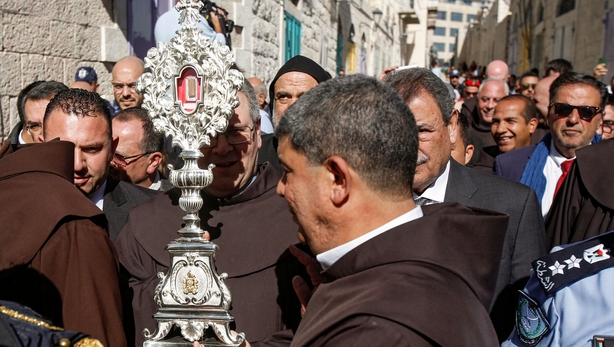 Housed in Rome since the seventh century, the relic had been presented to the Franciscan custodians of the Holy Land as a gift from the Vatican.
Yesterday, Mr Patton said that the 7th-century Latin Patriarch of Jerusalem, Sophronius, had sent the relic to Rome in around 640 as a gift to Pope Theodore I.
Now the item, about a centimetre wide by 2.5 centimetres long, is to be installed "forever" in Bethlehem, he said.
"We venerate the relic because (it) reminds us of the mystery of incarnation, to the fact that the son of God was born of Mary in Bethlehem more than 2,000 years ago," Mr Patton said.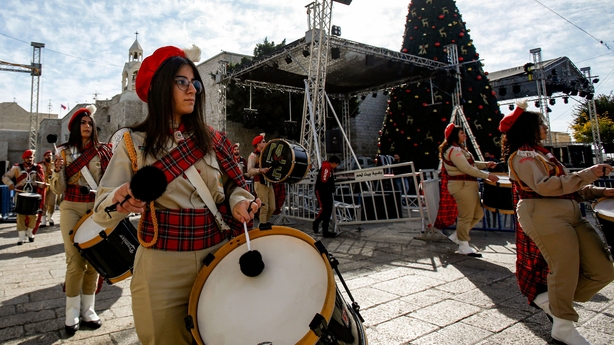 Palestinian president Mahmud Abbas had asked Pope Francis to repatriate the crib fragment during his visit to the Vatican for Middle East peace talks in December 2018, said Palestinian envoy to the Holy See, Issa Kassissieh.
Bethlehem, in the Israeli-occupied West Bank, is usually particularly busy ahead of Christmas on 25 December, with tourists and pilgrims flocking to the Biblical city.
Christians make up around 1% of the Palestinian population in the West Bank, Gaza Strip and East Jerusalem.