Dozens of pro-democracy protesters stood firm within a besieged Hong Kong university, where an "SOS" sign was laid out as supporters took up calls to distract police surrounding the campus by disrupting city transport.
The UN's human rights office has urged a peaceful resolution to the four-day standoff between demonstrators and police at Hong Kong Polytechnic University (PolyU), where protesters have held off riot police with Molotov cocktails, bricks and arrows.
Protesters at PolyU said around 50 of their number remained after hundreds had fled deteriorating conditions and officials warned that police may fire live rounds. 
A 20-year-old protester who gave his name as Ken said food and water were running low.
"We will die because they don't let me out. Some people want to get out but they cannot. So we left this SOS," he told AFP.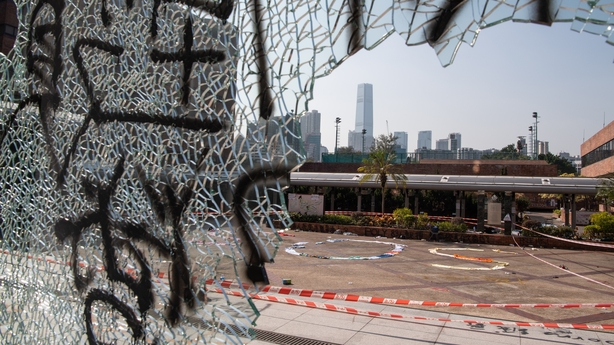 The holdouts included around 20 of the university's students, a PolyU official said.
Meanwhile, two pro-democracy protesters were arrested as they emerged from a manhole on a Hong Kong road outside a besieged campus, in a thwarted escape bid from inside the university. 
Two male protesters holed up in the campus for days were detained along with four people lowering ropes to help them out from the drainage system, police said.
The men apparently crawled through sewers to a manhole outside a housing estate around half a kilometre from the grounds of PolyU.
Hong Kong's chief executive Carrie Lam called yesterday for protesters to surrender, adding that those over 18 would face rioting charges, but minors would not be arrested.
Police said that since the siege began nearly 900 people at the campus had turned themselves in as of last night.
The UN human rights office was watching the university situation with "deepening concern", spokesman Rupert Colville said in Geneva.
Mr Colville acknowledged protesters' "deep-seated grievances" but condemned the "extreme violence" of some demonstrators and called on authorities to seek a peaceful resolution.
---
Read More:
---
UK summons Chinese ambassador over torture claims
Britain's Foreign Secretary has summoned the Chinese ambassador after a former employee of the UK's Hong Kong consulate alleged he was tortured in China.
Dominic Raab asked to meet China's UK representative, after Simon Cheng, a Hong Kong citizen who worked for the UK government for two years, was held in China for 15 days in August.
Mr Cheng, 29, told the BBC he was "shackled, blindfolded, and hooded" and claims he was beaten and forced to sign confessions.
He was accused of inciting political unrest in Hong Kong.
Mr Cheng said the Chinese authorities accused Britain of supporting demonstrations in Hong Kong.
He recalled: "They said I'm a state enemy and I'm a traitor, and also they asked whether the consulate instructed me to mingle with the protest."
He added: "They wanted to know what role the UK had in the Hong Kong protests - they asked what support, money, and equipment we were giving to the protesters.
"I told them I want to make it 100% clear, the UK didn't assign resources or help with the protests."
Unrest in the city state began in the summer with calls to scrap a now-suspended extradition bill, but have now widened to protest against the way Hong Kong is administered by Beijing.
Separately, the Hong Kong Open golf tournament later this month has been cancelled.
Chief Executive of the European Tour Keith Pelley said the decision was made to cancel the event, which was scheduled to take place at the Hong Kong Golf Club from 28 November to 1 December "due to the ongoing level of social unrest" in the city.
Additional Reporting PA