The leader of the Islamic State group Abu Bakr al-Baghdadi has died following a US military raid in northwest Syria.
US President Donald Trump confirmed the news in a statement at the White House.
Mr Trump said Baghdadi killed himself with an explosive vest in a tunnel as US special operations forces descended on his compound.
A number of his companions, including his three children, were also killed, Mr Trump said.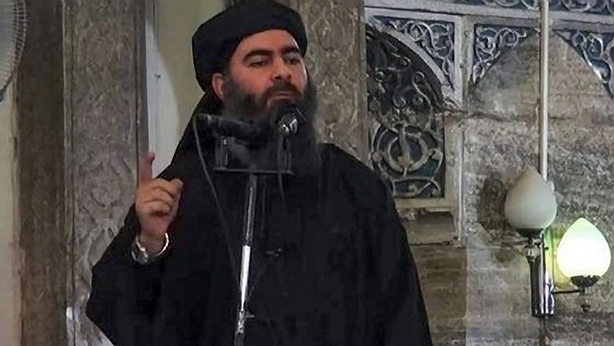 "The thug who tried so hard to intimidate others spent his last moments in utter fear, panic and dread, terrified of the American forces coming down on him," Mr Trump said.
"He reached the end of the tunnel as our dogs chased him down. He ignited his vest, killing himself and his three children. His body was mutilated by the blasts.
"The tunnel had caved on him. But test results gave certain immediate and totally positive identification. It was him."
Mr Trump said it took 15 minutes for DNA tests to confirm Baghdadi's identity.
Long pursued by the US-led coalition against IS, Baghdadi had been erroneously reported dead several times in recent years.
IS chief Baghdadi dead after US military raid – US President Donald Trump | https://t.co/NwdBU7FT1d pic.twitter.com/KHaaIY4zbg

— RTÉ News (@rtenews) October 27, 2019
Mr Trump said that no US special forces personnel were killed in the operation, even though they faced heavy gunfire on their arrival and a booby-trapped door, with the only reported injury that of a service dog.
The president said that US forces were able to remain in the Baghdadi compound for two hours and retrieved lots of sensitive information on IS activities.
He said: "Last night was a great night for the United States and the world … a violent killer has been eliminated.
"He died like a dog, like a coward. The world is now a much safer place.
"Today is reminder that the United States will continue to pursue remaining Islamic State terrorists."
Mr Trump said he was able to view the operation in the situation room with senior officials and that Baghdadi had been under surveillance for a number of weeks.
President @realDonaldTrump watches as U.S. Special Operations forces close in on ISIS leader Abu Bakr al-Baghdadi. pic.twitter.com/SAgw4KxM77

— The White House (@WhiteHouse) October 27, 2019
The operation involved dozens of highly trained special forces, who flew into the region on board eight helicopters, as well as back up from several ships and aircraft.
Mr Trump also said that he wanted to thank Russia, Syria, Turkey, Iraq and the Kurds for their support in the raid, although he said they were not made aware of the target of the operation.
US Defense Secretary Mark Esper said the aim of the raid was to capture Baghdadi or to kill him if that was not possible.
Mr Esper said the troops tried to call out Baghdadi and he refused, and he then later detonated a suicide vest.
Mother of American journalist James Foley, who was murdered by IS in August 2014, said she was "grateful" to Mr Trump and the US army for finding Bagdadi.
In a statement to US media, Diane Foley said: "I hope this will hinder the resurgence of terror groups and pray that captured IS fighters will be brought to trial and held accountable."
Iraq said has said that its National Intelligence Service found Baghdadi's location and provided it to the US.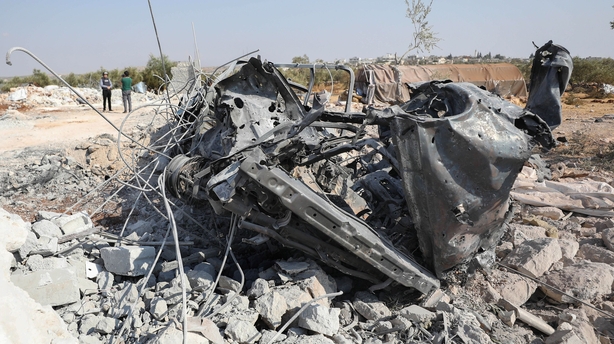 "After constant monitoring and the formation of a specialised task force over an entire year, the Iraqi National Intelligence Service acting on accurate information was able to locate the den in which the head of Daesh terrorists Abu Bakr al-Baghdadi and those with him were hiding in the Syrian province of Idlib," the Iraqi military said in a statement.
---
Read more
---
Baghdadi, a native of Iraq and around 48 years old, led Al-Qaeda's branch in Iraq, taking credit for suicide bombings and other attacks targeting Shia and moderate Sunnis that left thousands dead over 2010-2013.
He then broke with Al-Qaeda and announced his own, more aggressive jihadist group named Islamic State of Iraq and the Levant (alternately, Islamic State of Iraq and Syria) that aimed to establish its own deeply conservative Islamic nation, or caliphate, on territory straddling the Iraq-Syria border.
The group's rule was notoriously brutal, and it was globally condemned as a terrorist organisation, blamed for the deaths of thousands of civilians - in summary executions and beheadings - and accused of war crimes.
Baghdadi though was rarely seen.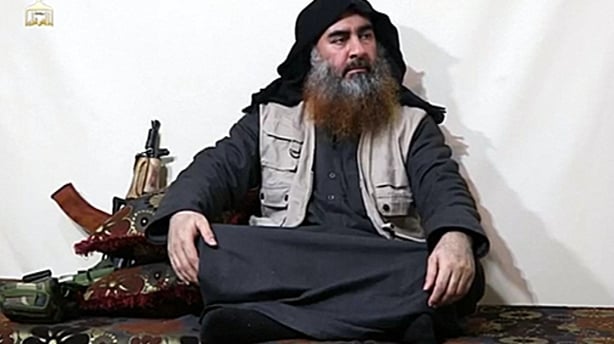 After 2014, he disappeared from sight, only surfacing in a video in April this year with a wiry grey and red beard and an assault rifle at his side, as he encouraged followers to "take revenge" for IS members who had been killed.
It was seen as a reassertion of his leadership of a group that, while it had lost its physical territory, had spread from the Middle East to Asia and Africa, promoting the violent ideology he preached.
But Baghdadi remained on the run as the US-led coalition slowly destroyed IS and focused on tracking down the leadership. The US State Department posted a $25 million reward for information on his whereabouts.
Under Baghdadi, the State Department said, IS "has been responsible for the deaths of thousands of civilians in the Middle East, including the brutal murder of numerous civilian hostages from Japan, the United Kingdom, and the United States".
In September, the group released an audio message said to be from Baghdadi praising the operations of Islamic State affiliates in other regions.
It also called on scattered IS fighters to regroup and try to free thousands of their comrades captured by the US-allied Syrian Democratic Forces in northeastern Syria.
World leaders were quick to congratulate Mr Trump on the death of Baghdadi.
British Prime Minister Boris Johnson said it was an important moment in the "fight against terror".
The death of Baghdadi is an important moment in our fight against terror but the battle against the evil of Daesh is not yet over.

We will work with our coalition partners to bring an end to the murderous, barbaric activities of Daesh once and for all.

— Boris Johnson (@BorisJohnson) October 27, 2019
Israeli Prime Minister Benjamin Netanyahu said it was "an important milestone".
Turkey's President Tayyip Erdogan said Baghdadi's death marks a turning point in joint fight against terrorism.
However, Russia raised doubts over the "umpteenth death" of Baghdadi, who has been reported killed several times since 2014.
"The defence ministry does not have reliable information about the actions of the US army in the Idlib 'de-escalation' zone... concerning the umpteenth 'death'" of Baghdadi, the Russian defence ministry said in a statement.