Hundreds of thousands of Catalan protesters have blocked major roads in Barcelona today following a three-day 'March for Freedom' to coincide with a general strike in the region.
Among those who marched into the city centre is Wanda Lammers, who lives on the outskirts of Barcelona with her two Irish-born children Ben Lambert, aged 16, and Luan Lambert, aged 12.
But she says she wouldn't let them join her on today's protests due to the violence that gripped the city overnight.
Speaking to RTÉ News from the march, she said: "There was violence for the last three nights so we decided, some mums who were marching together, to leave the children at home.
"However, there are plenty of older people, families, parents with their buggies coming along. It's actually quite incredible the amount of people that we have here now."
We need your consent to load this rte-player contentWe use rte-player to manage extra content that can set cookies on your device and collect data about your activity. Please review their details and accept them to load the content.Manage Preferences
The protests follow the jailing this week of nine separatist leaders for their role in a failed independence bid in October 2017.
Wanda, who lived with her family in Ireland for ten years, before moving back to Barcelona explains why she wanted to join in the protests today.
"We are just tired of the repression and a lot of people that are out are not even pro-independence ... we're all very tired of the conditions that we have at the moment and the repression from the Spanish state," she says.
She says she supported the holding of a referendum two years ago, but it was declared unlawful and the result invalid by the Spanish courts.
"I was in one of the schools protecting the ballot boxes," she says.
She believes that most of those seeking independence want to use peaceful means, but that there are now two sets of groups on the streets.
"There are two branches. There are a lot of people like today who are holding peaceful and joyful demonstrations where we are just walking, or just standing and being present," she says.
However, at night, she says a lot of violence has been breaking out, with people setting fires and police responding with plastic bullets.
Barcelona suffered its worst night of violence last night with running battles between pro-independence supporters, the police and right-wing groups.
"So even though the majority is not pro-violence, I think it is a consequence of the police attacking us."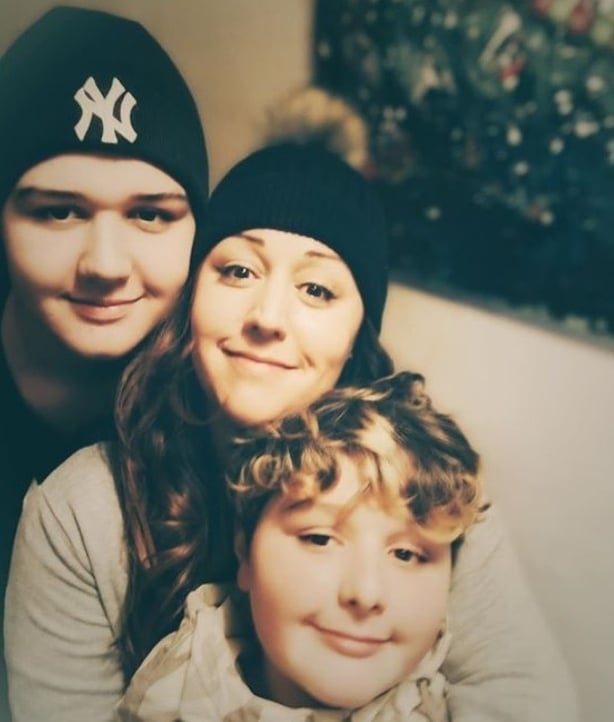 Last night, she said her 16-year-old was attending a peaceful demonstration, but later a number of right-wing gangs arrived and a number of pro-independence demonstrators were beaten.
"If it gets out of control there are not enough police to contain everything and it's a bit dangerous and a lot of us are against violence - we are peaceful people," she says.
Wanda says protesters now plan to stay on the streets for the weekend.
"As far as I know the airport will be taken over as well," she says.
She adds: "I think, to be honest, there has been a lot of hard work from the politicians to divide people ... but what I see is people being united to try to get the government to do something and to get the prisoners out of jail."
Irish woman Clare O Riordan, a lecturer from Cork, has been in Barcelona since Sunday and fears she will not be able to get her return flight back to Ireland this weekend.
She says she has had little sleep for the last few nights due to the ongoing protests outside her hotel window.
She says: "I'm staying right in the centre in a very upmarket street called Passeig de Gracia. It's approximately 1.5km long. It spreads from the hills down to the sea and at the moment it's packed with people and also the side streets.
"Every night for the past four nights, there have been demonstrations from about 5pm onwards up until maybe 4am.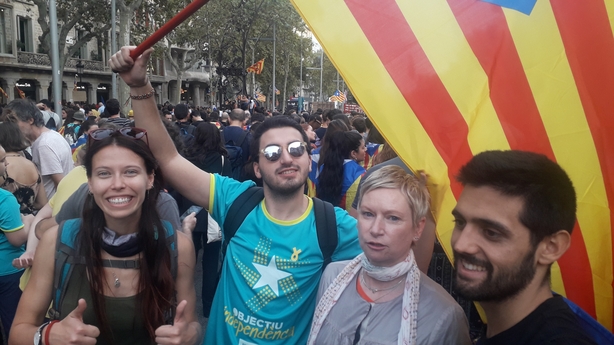 "Today was a general strike and people from the whole region of Catalonia have been marching on foot since Wednesday from all the towns and villages to join the people here in Barcelona- the pro-Independence people.
"It's completely packed the last number of hours ... young people, children, elderly people with walking aids - all age groups - the streets and side streets are completely packed with people waving flags and singing."
But she fears what will happen as darkness falls and has now returned to her hotel room.
"Every night it starts to get more volatile. Every night that I have been here for the past four nights, I've had about two hours' sleep because the routine appears to be that at 5-7 o'clock all of the people come out."
Most of the protests she has seen have been peaceful, but she is aware of clashes nearby between protesters and the police, as well as right wing groups and she has been advised to stay indoors.
She does not know if she will be able to catch her flight back to Ireland on Sunday.
She says: "At the moment the airport is not operational. We saw on Spanish TV this morning that the people have been sleeping out there."