US President Donald Trump, in a letter to Turkish President Tayyip Erdogan before Turkey launched an incursion into Syria, warned the Turkish leader "don't be a tough guy" and "don't be a fool!"
The 9 October letter was released by the White House as Mr Trump battled to control the political damage following his decision to pull US troops out of northern Syria, clearing the way for the Turkish incursion against America's Kurdish allies.
In a letter to Turkish President Erdogan, @realDonaldTrump tells him: "Don't be a tough guy. Don't be a fool!". @rtenews https://t.co/O7f9Trcb36

— Brian O'Donovan (@BrianOD_News) October 16, 2019
Meanwhile, US House Speaker Nancy Pelosi said Democratic leaders cut short a White House meeting after President Donald Trump had a "meltdown" over a House of Representatives vote condemning his Syria withdrawal.
Mr Trump called Ms Pelosi a "third-rate politician" and the meeting deteriorated into a diatribe, Senate Democratic leader Chuck Schumer and House Majority Leader Steny Hoyer told reporters.
"What we witnessed on the part of the president was a meltdown. Sad to say," Ms Pelosi told reporters as she and the other Democrats emerged from the White House.
We need your consent to load this Instagram contentWe use Instagram to manage extra content that can set cookies on your device and collect data about your activity. Please review their details and accept them to load the content.Manage Preferences
The Democratic leader said President Trump had a temper tantrum because so many Republicans joined Democrats to vote for a resolution condemning the president's decision to withdraw US forces from northeastern Syria, clearing the way for Turkey's offensive against US-allied Syrian Kurds.
The vote was 354 to 60, with dozens of Trump's fellow Republicans joining the majority Democrats.
The split underscored deep unhappiness in Congress over Mr Trump's action, which many lawmakers view as abandoning Kurdish fighters who had been fighting alongside Americans to defeat Islamic State militants.
However, Republicans said Ms Pelosi "stormed out." Representative Michael McCaul, the top Republican on the House Foreign Affairs Committee, said he was disappointed to see Democratic leadership walk out of the meeting.
Following the meeting, Nancy Pelosi said the White House scrapped a briefing for the full House scheduled for Thursday and the Democrats said they were concerned Mr Trump did not have a strategy going forward in the region.
"I asked the president what his plan was to contain ISIS. He didn't really have one," Mr Schumer said.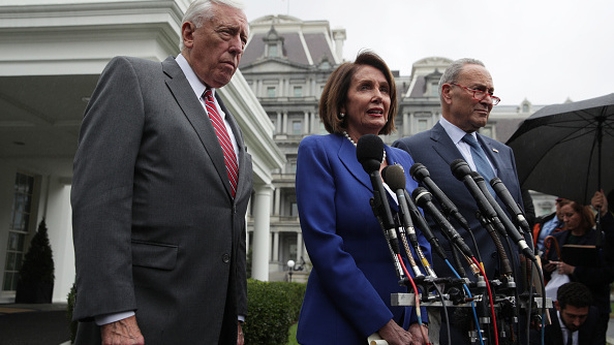 Earlier, Turkish President Recep Tayyip Erdogan firmly ruled out any negotiations with Kurdish militants in Syria as the United States pushed for a ceasefire.
"There are some leaders who are trying to mediate ... There has never been any such thing in the history of the Turkish republic as the state sitting at the same table with a terror organisation," Mr Erdogan said in a speech to parliament.
It came as US President Donald Trump denied he had given President Erdogan a "green light" to launch operations against Kurdish militants in Syria.
"President Erdogan's decision didn't surprise me because he's wanted to do that for a long time," President Trump told reporters.
"He's been building up troops on the border with Syria for a long time. I didn't give him a green light. Just the opposite of a green light."
US Vice President Mike Pence is travelling to the Turkish capital Ankara to demand a ceasefire.
Battles raged in the key Syrian border town of Ras al-Ain today, with Kurdish fighters trying to hold off the onslaught by Turkish-backed forces, now in its second week.
The fighting has triggered a flurry of diplomacy among major powers, with US President Donald Trump dispatching Mr Pence along with his top diplomat Mike Pompeo to Turkey amid the greatest crisis in relations for decades between the NATO allies.
The Kremlin said it would host President Recep Tayyip Erdogan for a meeting with his Russian counterpart Vladimir Putin in the coming days, to ensure the operation does not turn into an all-out war between Turkey and Syria.
Russia has stepped into the void caused by Mr Trump's withdrawal of US troops from northern Syria, deploying patrols to prevent clashes between Syrian and Turkish forces.
Mr Trump, who is facing mounting criticism in Washington over his decision to pull 1,000 troops out of the conflict zone, as well as an unrelated impeachment inquiry, has hit back at Mr Erdogan, slapping sanctions on three cabinet officials and raising tariffs on Turkish steel.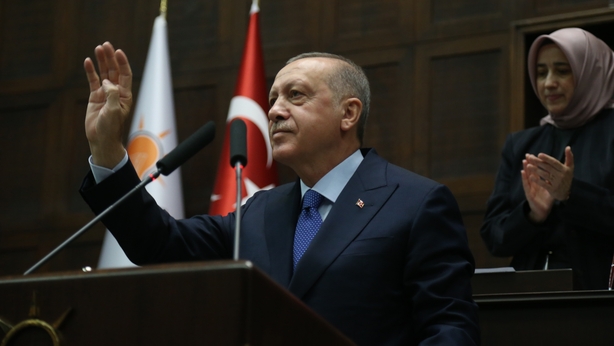 Mr Pence said he would meet Mr Erdogan tomorrow and "voice the United States' commitment to reach an immediate ceasefire and the conditions for a negotiated settlement", his office said in a statement.
He reiterated that Mr Trump will pursue "punishing economic sanctions" until a resolution is reached.
The operation has widespread support in Turkey, where decades of bloody insurgency by Kurdish militants has killed tens of thousands of people.
But Western powers are spooked that the operation is endangering the battle against the Islamic State group, which was led on the ground by Kurdish forces.
Thousands of IS prisoners are held in Kurdish-run camps in the region.
French Foreign Minister Jean-Yves Le Drian said that the camps were not "currently" under threat from the operation, but Europe has taken an increasingly tough line with Turkey.
Britain and Spain became the latest powers to suspend military exports to Turkey yesterday. Canada made a similar move.
The Kurdish-led Syrian Democratic Forces (SDF) have mounted a desperate defence to the east of Ras al-Ain, using tunnels, berms and trenches.
An AFP correspondent said clashes around the town were ongoing despite Turkey's repeated claims it had captured the area.