US Vice President Mike Pence will meet Turkish President Recep Tayyip Erdogan in Ankara on Thursday, the White House has said.
Mr Pence is expected to urge Turkey to reach an immediate ceasefire in Syria and to work towards a negotiated settlement.
"Vice President Pence will reiterate President Trump's commitment to maintain punishing economic sanctions on Turkey until a resolution is reached," the White House said in a statement.
US military aircraft have carried out a "show of force" in Syria after Turkish-backed fighters came in close proximity to American forces during a Turkish offensive into northeastern Syria, a US official has said.
The official, speaking on the condition of anonymity, said US military aircraft were flown over the area after troops in northeastern Syria felt the Turkish-backed fighters were too close.
The Turkish-backed fighters dispersed, the official said. The Pentagon did not immediately respond to requests for comment.
It comes as Russia has called Turkey's military incursion into the area "unacceptable" and said the operation had to be limited in time and scale.
The move is a rare broadside that suggests Russian patience with Turkey is wearing thin.
In Russia's strongest criticism since Turkey launched its military operation last week, President Vladimir Putin's envoy for Syria indicated Russia wanted Turkey to wrap up the offensive soon.
"We didn't agree with the Turks any questions about their presence in Syria and we don't approve of their actions," envoy Alexander Lavrentiev told reporters in Abu Dhabi during an official visit there by Mr Putin.
---
Read more:
---
He said Turkish troops had the right under an agreement struck between Syria and Turkey in 1998, the Adana pact, to temporarily push up to a maximum of 10km into Syria to conduct counter-terrorism operations.
"But it doesn't give them (Turkish troops) the right to remain on Syrian territory permanently and we are opposed to Turkish troops staying on Syrian territory permanently," he added.
Mr Lavrentiev made his comments as Turkey pressed ahead with its offensive despite US sanctions and growing calls for it to stop.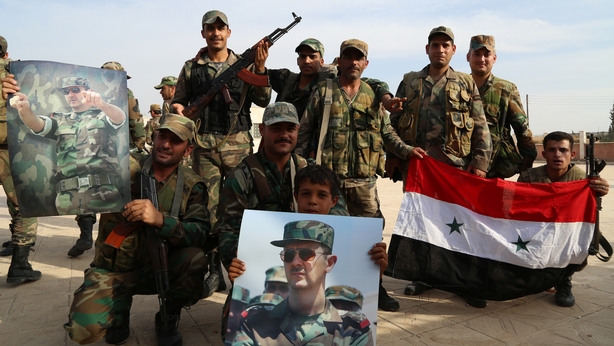 Meanwhile, Syria's Russia-backed army has moved on the key city of Manbij that was abandoned by US forces.
Earlier, Mr Lavrentiev earlier told Russian news agencies that Russia had always considered any kind of Turkish military operation on Syrian territory unacceptable.
Yesterday, the Kremlin complained that Turkey's incursion was "not exactly" compatible with Syrian territorial integrity.
"The security of the Turkish-Syrian border must be ensured by the deployment of Syrian government troops along its entire length," Mr Lavrentiev said.
"That's why we never spoke in favour or supported the idea of Turkish units (being deployed there) let alone the armed Syrian opposition."
Turkey's actions are set to be discussed at a meeting of the UN Security Council tomorrow. The UN session was requested by European countries with seats on the 15-member council.
At a first meeting last Thursday, the council was divided, and only the European members issued a statement calling for an end to the Turkish offensive.
On Friday, Russia and China blocked a US-sponsored text that also called for an end to the assault.
A diplomat said there may not be consensus this time either as the council meets on the incursion, with Russia possibly preventing members from showing a unified front.
There will likely be another statement issued by the European countries on the council, the diplomat said.
Russia risks becoming increasingly isolated on the council. It has already used its veto power as a permanent member 13 times since the war in Syria broke out in 2011.
The US is calling in increasingly firm language for an end to the incursion, and announced sanctions against Turkey yesterday.
Today, China also called on Turkey to halt its military operation and "return to the correct way of political resolution".