At least 15 people are reported to have died after Turkey launched a military assault on Kurdish forces in northern Syria, to eliminate what it described at as a "terror corridor" on its southern border.
Turkish forces supported by Syrian militants have now launched a ground offensive, as Syrian Kurds say there have been civilian casualties.
The spokesman for one of the pro-Turkish Syrian militant groups told AFP the land phase of the operation began in Tal Abyad, an area under the control of the Syrian Kurdish People's Protection Units (YPG).
Turkish media said special forces and armoured vehicles led the ground invasion and had entered at several points along the border.
"The Turkish Armed Forces and the Syrian National Army have launched the land operation into the east of the Euphrates river as part of the Operation Peace Spring," the defence ministry announced on Twitter.
It said the Turkish army has hit a total of 181 militant targets since the start of the operation.
Also on Twitter, the Syrian Democratic Force said a Turkish air strike hit a prison that holds detained Islamic State militants.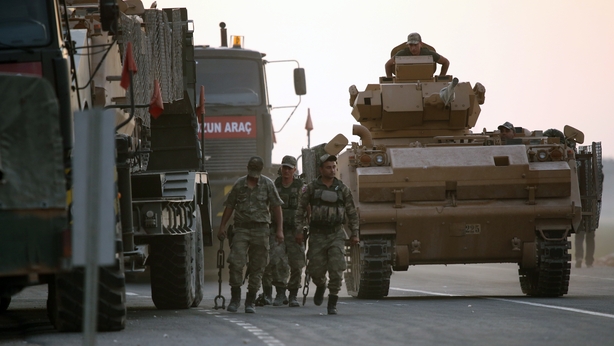 It comes hours after Turkey's warplanes and artillery began hitting territory held by Kurdish-led forces.
President Recep Tayyip Erdogan announced the start of the attack on Twitter, labelling it "Operation Peace Spring".
It triggered criticism from Western countries who have allied with the Kurdish-led Syrian Democratic Forces (SDF) against the so-called Islamic State jihadist group (IS).
An AFP correspondent reported Turkish artillery fire in the Ras al-Ain border area and explosions as warplanes flew overhead.
SDF fighters armed with rocket launchers were seen deploying in the area, as Kurdish authorities called up civilians to defend against the assault.
The Syrian Observatory for Human Rights war monitor said air strikes and artillery fire also hit the Tal Abyad border region further west.
The SDF called on the international community to impose a no-fly zone to protect against "an imminent humanitarian crisis".
President Erdogan said the operation would target both Kurdish militants and IS.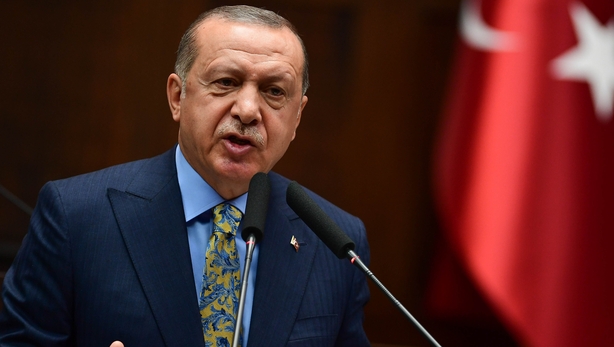 "Our mission is to prevent the creation of a terror corridor across our southern border, and to bring peace to the area," he wrote on Twitter.
Ankara says it is necessary to curb the power of the SDF due to its ties with Kurdish insurgents inside Turkey.
It also wants a "safe zone" on the Syrian side of the border where it could send back some of the 3.6 million refugees it hosts from the eight-year civil war.
President Donald Trump insisted the United States had not abandoned its Kurdish allies.
Mr Trump was widely seen as giving a green light at the weekend, ordering the pullback of US troops from the Turkey-Syrian border which had served as a buffer.
Republican Senator, Lindsey Graham, and Democratic Senator, Chris Van Hollen, have proposed sanctions on Turkey, including targeting the US assets of President Erdogan.
The proposed legislation would also impose sanctions on any military transactions with Turkey, set sanctions on anyone who supports Turkey's domestic energy industry for use by its armed forces, and prohibit the sale of US defense articles to the Turkish armed forces.
---
Read more:
US to withdraw troops as Turkey launches Syria operation
Does US withdrawal spell end of Syria's Kurdish region?
---
Russian President Vladimir Putin urged Mr Erdogan to "think carefully" before the offensive, while the European Union demanded Turkey halt its military operation.
General mobilisation
Kurdish authorities announced a general mobilisation, urging all civilians to "head to the border with Turkey... to resist during this delicate historical moment".
Shortly after fighting started, Anadolu news agency said two shells hit the Turkish town of Ceynalipinar and six rockets hit Nusaybin.
"Both Turkish and Kurdish forces have a track record of carrying out indiscriminate attacks in Syria that have killed scores of civilians," warned Amnesty International's Middle East research director Lynn Maalouf.
"This must not be allowed to happen again," she added.
Kurdish leaders said they would hold their erstwhile US ally and the whole international community responsible for any "humanitarian catastrophe".
In Ras al-Ain, Kurdish-led security forces set up checkpoints and stockpiled tyres to set alight to blur the vision of Turkish military pilots, an AFP correspondent reported.
Ras al-Ain was one of the places from which US troops withdrew on Monday.
It was expected that Ras al-Ain and Tal Abyad - both with Arab-majority populations - would be the focus of the first assaults.
Kurdish forces have dug trenches and tunnels in both areas, covering streets with metal canopies to block the cameras of Turkish drones.
Massive opposition
The Kurdish-led SDF took heavy losses in the US-backed campaign against IS in Syria which they led to its successful conclusion in March.
The Kurds called on Moscow today to facilitate dialogue with Damascus.
They have warned that a Turkish offensive would reverse the military gains achieved against IS and allow the jihadist group's surviving leaders to come out of hiding.
While a Kurdish-led operation earlier this year saw the end of IS's territorial caliphate, the organisation is not dead and sleeper cells have been active in several parts of Syria and Iraq.
IS claimed an overnight suicide attack by two of its fighters in its former Syria stronghold of Raqa.
Turkey said it would not allow a resurgence of IS, but called on European countries to repatriate jihadist prisoners being held in Kurdish detention centres.
Turkey urged to exercise restraint
The UN Security Council's president, South African ambassador Jerry Matthews Matjila, appealed to Turkey to "protect civilians" and exercise "maximum restraint" in its military operations in Syria.
Mr Matjila expressed hope the council could meet quickly on the situation but stressed it was up to drafters of resolutions on Syria to convene such a session.
Belgium, Germany and Kuwait are the council members designated to follow the humanitarian situation in Syria, so it would fall to them to convene a council session.
The South African diplomat, who holds the council presidency for the month of October, spoke before the start of a meeting devoted to the Democratic Republic of Congo.
Meanwhile, France has strongly condemned Turkey's offensive in northeast Syria.
European Affairs minister Amelie de Montchalin said France, Germany and Britain were working on a joint declaration "which will be extremely clear on the fact that we very strongly condemn" the Turkish campaign against Kurdish forces in northeast Syria.
Germany's Foreign Minister said Turkey "is willingly risking further destabilising the region and a resurgence of IS" (Islamic State) by attacking northeastern Syria.
Minister Heiko Maas said: "Syria needs stability and a political process... however, the Turkish offensive now threatens to cause a new humanitarian disaster," adding that Berlin would "urge Turkey to end its offensive and to pursue its security interests peacefully".
Canada's Foreign Minister, Chrystia Freeland, said on Twitter: "Canada firmly condemns Turkey's military incursion into Syria today ... we call for the protection of civilians and on all parties to respect their obligations under international law".