At the beginning of this year US President Donald Trump planned for a US withdrawal of troops from Syria and vowed to "devastate Turkey economically if they hit Kurds" when the US was gone.
News broke that the US was withdrawing its forces from the Syrian-Turkish border.
President Trump reiterated his threat to Turkey's economy but the conditions had changed from a specific defence of the Kurds to "anything that I, in my great and unmatched wisdom, consider to be off limits".
As I have stated strongly before, and just to reiterate, if Turkey does anything that I, in my great and unmatched wisdom, consider to be off limits, I will totally destroy and obliterate the Economy of Turkey (I've done before!). They must, with Europe and others, watch over...

— Donald J. Trump (@realDonaldTrump) October 7, 2019
During his visit to Serbia, Turkish President Recep Tayyip Erdogan announced plans to carry out cross-border operations in Syria against Kurdish forces he regards as terrorists.
He also announced that he had spoken last night with Donald Trump on the phone, hinting that Turkey had influenced the US move.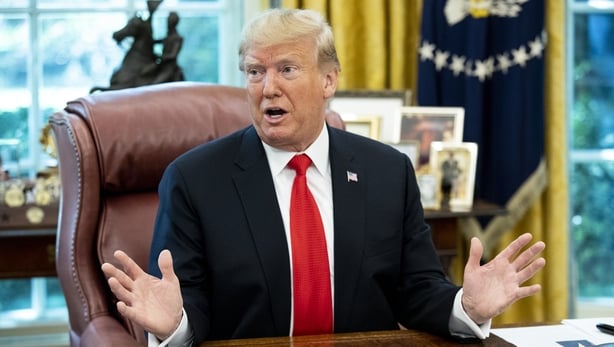 What has changed in the White House since January? That is the question occupying the minds of Kurdish forces in north-eastern Syria.
Earlier today Mr Trump gave some insight into the move on Twitter.
"The Kurds fought with us, but were paid massive amounts of money and equipment to do so. They have been fighting Turkey for decades. I held off this fight for almost 3 years but it is time for us to get out of these ridiculous ENDLESS WARS, AND FIGHT ONLY TO WIN. Turkey, Europe, Syria, Iran, Iraq, Russia and the Kurds will now have to figure this situation out, and what they want to do with the captured ISIS fighters in their "neighborhood".
There are a number of strands to Mr Trump's thinking outlined in his tweets. As he sees it:
1. The US owes the Kurds nothing for their role in fighting ISIS. They were well paid to do so.
2. The Kurds have had a long-running fight with Turkey (and they can take the consequences of that fight).
3. The US needs to end its commitment to long-running, expensive wars. Its commitment of troops Syria has gone on long enough.
4. The fight against ISIS on the ground is now up to other people. The US can return with air power at any time if it wishes.
While not referenced in his tweets, there may also be some deal-making considerations at play. US relations with Ankara suffered a blow recently after Turkey's planned purchase of a Russian missile defence system resulted in the US suspending delivery of equipment for the F35 stealth fighter.
That issue is back on the table in next month's face-to-face meeting between Presidents Erdogan and Trump in Washington, the Turkish president said today.
There were mixed messages to the news from Russia, which has been a powerful presence in Syria since it intervened to back the government in 2015.
A Kremlin statement said that Turkish and Russian intelligence agencies were in contact, but that Turkey had not discussed its plans with Moscow.
It said Turkey "may take action to ensure its security" but must respect "the territorial and political integrity of Syria".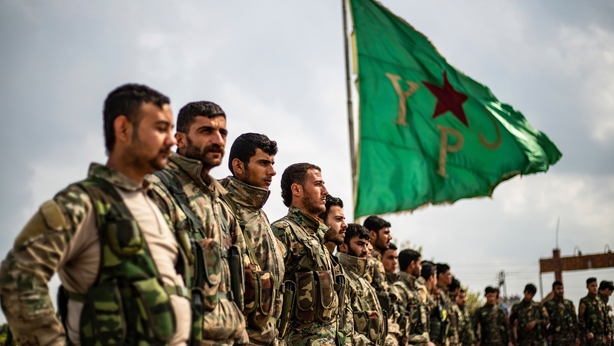 The group with the biggest concern after today's announcements are the Kurds. Kurdish troops made up the main part of the Syrian Democratic Forces (SDF), which the US has backed in its push against the so-called Islamic State within Syria since 2015.
The SDF's General Command issued a blunt statement expressing its dismay at the US decision, saying the US has "not fulfilled their obligations" by withdrawing from the border in advance of a Turkish offensive.
"Basically the Kurds were very happy to work with [the US] against ISIS but they were hoping that after all these sacrifices - they sacrificed over 11,000 people in the fight against ISIS - the co-operation would continue," says Wladimir van Wilgenburg, author of The Kurds of Northern Syria.
Mr van Wilgenburg has been hearing from Kurds in Iraq, where he has lived for years and in Syria from where he regularly reports: "They were willing to make concessions over Turkey's security concerns. On the border, for instance, they were prepared to withdraw heavy weapons there and now suddenly Trump says after one phone call with Erdogan, 'Ok, I'm withdrawing'...he's basically giving Turkey a free ride and that is why they see it as a betrayal."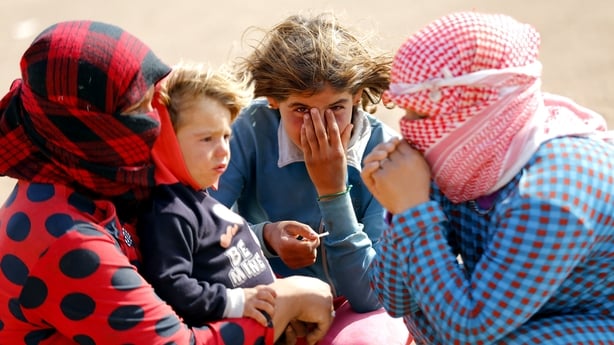 Mr Trump's announcement today also reverses reassurances given to Kurds by other arms of the US state, van Wilgenburg told RTÉ by phone: "Kurds have had a lot of contacts on the ground - US generals visiting, state department officials visiting and telling them that Trump has changed his mind [about the withdrawal of troops]... [the US] is still staying, still committed to the security mechanism and then suddenly Trump says 'We're going to pull out', so in this regard it is a surprise."
Nikolaos van Dam is a former special envoy on Syria for the Netherlands and author of a recent book on Syria's war titled Destroying a Nation. He says the US announcement should not have come as a surprise and is just one of many shifting alliances in the conflict.
"This was predictable that the US was going to leave the Kurds on their own because, for them, the relationship with Turkey is much more important than the relations with the Kurds," said Mr van Dam.
Others will also watch the US announcement with interest. The UK and France have hundreds of troops in Syria, which they agreed to increase after the US announced its intention to scale down its presence in 2018.
European countries, particularly NATO allies of the US will have been unhappy to see themselves lumped in with Iran, Iraq, Russia and Turkey in the list of countries whose job it is to sort out the situation after the US leaves, enjoying no special status in the US president's considerations.
They will also be concerned at what happens to ISIS fighters and their families currently held in prisons and camps if the SDF are diverted into fighting a Turkish incursion.
Al Hawl camp, where Irishwoman Lisa Smith was held for a time with her two-year-old daughter is one of the facilities under SDF control. Over 70,000 people currently live there.
The capacity of the Kurdish guards, who are already struggling to secure facilities under their control, could reach breaking point, says Mr van Wilgenburg: "This could lead to prison break-outs by ISIS. The camps could break up.
"We've already seen a riot a week ago in the Al Hawl camp because there was a speech by [ISIS leader] Abu Bakr Al Baghdadi that was calling on ISIS to try to free their companions in those camps and prisons. If Turkey attacks, ISIS will make use of that because the Kurds or the SDF will have to send troops to protect their border."
ISIS sleeper cells would be one of the main beneficiaries of an overstretching of the SDF, says Mr van Wilgenburg. He also warns of the potential for a refugee crisis resulting from a Turkish invasion.
"The only direction that Kurds in Syria can flee to is into Iraqi Kurdistan. There are around two million or more Syrian Kurds in Syria...They simply don't have the financial capabilities to deal with this," 
As well as Kurds, there are also large numbers of Syrian Arabs displaced from other areas by the advance of government troops, who they are seeking to avoid.
For the Kurds of Syria, the prospect of a Turkish invasion represents an existential threat. The previous incursion by Turkey and Turkish-backed Syrian militias into the mainly-Kurdish area of Afrin in January 2018 led to the flight of hundreds of thousands of Kurds from the area.
Turkey began settling some of the 3.5 million Syrian Arab refugees it hosts into the area. Human Rights Watch documented several examples of houses vacated by fleeing Kurds being taken over by Turkish-backed fighters.
If further 'resettlement' of Syrian refugees in border areas by Turkey is planned, Nikolaos van Dam believes that it is fraught with danger: "If they think they can expel them to this so-called safe zone in the north of Syria, it's not resettling them where they came from. Many come from completely different areas...and if the region is to be reconquered by the regime, then they are not safe there either."
Today's SDF statement expressed hope that all ethnic groups in areas under its control will resist any future Turkish incursion. "We in the SDF will not hesitate for a moment to defend ourselves and call upon people of all sects....to joining forces and stand with their legitimate forces to defend our country against this Turkish aggression."
Mr van Dam warns that an invasion by Turkey that leads to it occupying areas of northern Syria would be ill-advised.
He believes increased Kurdish autonomy on Turkey's border is partly a problem of Ankara's own making after it backed anti-Assad rebels and contributed to instability: "The situation [in the north of Syria] has completely deteriorated because of the Turkish intervention in Syria and if they had known they might have got this back, they might never have entered the war there because one of the results is the stronger position of Kurdish nationalism."
A Turkish assault is not the only threat the mainly Kurdish SDF may have to deal with. The presence of US troops was also deterrent to the Syrian government, Russia and Iran from making incursions into the SDF-held territory in case of clashes with US troops.
That deterrent recedes as Washington reduces its presence. Major oil wells and agricultural land mean that the region is vital to the economy of Syria and firmly in the government's sights.
Having surrounded the final pockets of ISIS resistance over the last year, today's announcement gives the SDF a sense of what encirclement feels like.