Ebtisam al-Saegh is greeted with hugs, smiles and handshakes as she makes her way around Dublin Castle. 
The Bahraini human rights defender moved just about everyone who listened to her powerful story at the Front Line Defenders international conference. Afterwards, a middle-aged man approaches gently to politely shake Ebtisam's hand to tell her how "brave" she is to speak out. 
For the past decade Ebtisam has made it her mission to expose human rights abuses in Bahrain. The mother of four has won acclaim, but became a target in the process for publicising human rights violations in the Gulf monarchy.
Ebtisam's activism started when she was just nine-years-old. 
"I remember the night my father was arrested," she recalls. "The authorities broke down our front door and took him away. I was so angry they had invaded out home for no reason." 
Ebtisam's father was a businessman who railed against corruption which she claims angered the Bahraini regime. "He was arrested and thrown in prison and my brother was exiled to London."
Bahrain is ruled by a Sunni royal family but it has a Shi'ite Muslim majority. It is the only one of the Gulf monarchies to have faced serious unrest during the Arab Spring protests that paralysed the Middle East and North Africa in 2011.
Bahrain's government moved quickly to brutally crush all forms of dissent.
"I have seen houses raided in the middle of the night in terrifying campaigns of violence," Ebtisam told RTÉ News. "I can still recall the screaming children and their mothers breaking down pleading for mercy." 
The ruling Al Khalifa family has kept a lid on dissent since the mostly Shi'ite opposition staged a failed uprising in 2011. Bahrain's government says the country upholds constitutional rights for freedom of expression but "any acts of disorder that disrupt public safety require legal actions to be taken" in accordance with internationally recognised standards. 
Human rights groups say female doctors and their families are frequently targeted by Bahrain simply for offering medical assistance to protestors who dared to campaign for reform. 
"They are often blindfolded and sexually assaulted for minor infractions and left anxious and depressed afterwards," said Ebtisam. 
Bahrain's Institute for Rights and Democracy (BIRD) says female political prisoners frequently endure physical, sexual and psychological torture to extract confessions. It is also claimed that they are illegally arrested on trumped up charges, subjected to sham trials and kept in inhumane prison conditions.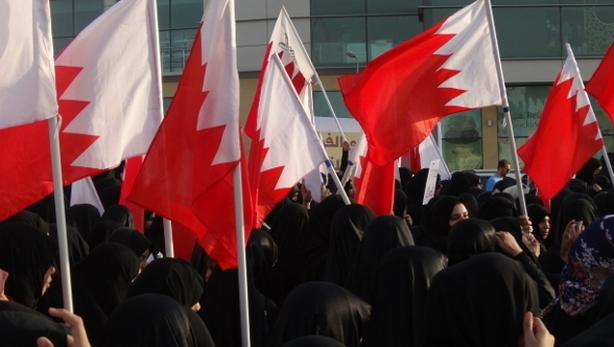 Ebtisam's friend was among those who was brutally punished for helping those in need. "They burned her hair and forced her into signing a false confession saying that she helps terrorist organistaions." 
The activist was so outraged she took to Twitter to expose the wrongdoing and called for justice for victims of torture in Bahrain's detention centres. 
Ebtisam al-Saegh posted a tweet calling for justice for the victims of sexual assault. This drew the attention of authorities and she was promptly arrested. 
On 23 May 2017, she was taken to the National Security Agency offices where she was "blindfolded, handcuffed, sexually assaulted and beaten".
"A man kept me in darkness and beat me across the head and broke my nose," Ebtisam explains in Arabic to our translator Linda, a Moroccan human rights worker. 
"I was sexually assaulted for seven hours, he forced me to open my legs and touched me in intimate places."
Ebtisam says the only way she was able to get through the assault was by imagining how she would use her voice to expose the misuse of power. "When I gave birth to my four children I was in a lot of pain, but I gave birth to something beautiful," she said.
"I was in a lot of pain during those seven hours but I was so determined that something good would come out of it when I was set free."
Linda wipes away the tears as she relates the details of Ebtisam's assault. It is a common reaction to a story the activist has told more times than she can remember. 
The attack left Ebtisam broken and depressed. However, instead of retreating from public life she did the opposite and became more visible. 
She returned to the office where she was violated in Al Muharraq and posted photos on social media of the building and the exact floor where the assault took place. 
"This bravery drew respect and praise from both male and female Bahrainis," said Erin Kilbride, research and visibility coordinator with Frontline Defenders. 
"Ebtisam became a hero for speaking out so openly about the sexual assault. People reacted with a mixture of awe and horror," Ms Kilbride told RTÉ News. 
Like most Bahrainis, Ebtisam endured a two-year travel ban and was twice denied access to the Dublin conference.
"When she arrived at the airport on Tuesday we all had tears as she came through arrivals because it was a very emotional moment," Ms Kilbride said.
Five human rights defenders from Cuba, Algeria, Azerbaijan and Chechyna were prevented from travelling to the international conference in Dublin. 
The identity of the fifth person was withheld for security reasons.
Front Line Defenders says this shows what activists are up against in their home countries. "The fact that these countries put so much resources into silencing these activists is almost a show of respect," says Andrew Anderson, Executive Director of Front Line Defenders. "It proves how effective they are in exposing corruption."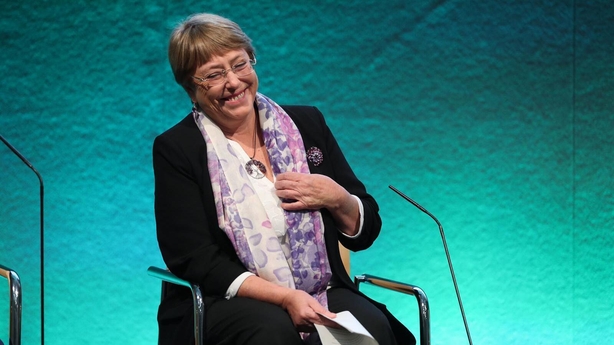 The Dublin Platform was opened by Tánaiste Simon Coveney and the UN High Commissioner for Human Rights, Michelle Bachelet. 
"Over the past year we've seen positive change in Gambia, Ethiopia and Malaysia," said Mr Anderson. 
"I'm optimistic things are moving in a better direction because these activists are putting pressure on governments for change."
Front Line Defenders says Ebtisam al-Saegh is one of the few female human rights activists brave enough to publicly campaign for change in her country.
Ebtisam bats all the praise away with a dismissive swipe of her hand. "I'm still frightened for myself and my children's future," she says.
Ebtisam says her children have become a target. "Authorities told me they know the route my son takes to school and that they can fake an accident."
Despite the consequences, her battle to expose the truth in Bahrain remains stronger than ever.
"I will continue my fight so things will change for the next generation."