The brother of the Manchester Arena bomber, Hashem Abedi has appeared before court in London charged with 22 counts of murder relating to the 2017 attack.
The 22-year-old was flanked by two police officers and three security guards when he was brought into the dock of court number one at Westminster Magistrates' Court.
Hashem Abedi, who was raised in Manchester city, fled to Libya days before his brother Salman Abedi detonated his suicide vest as pop fans left an Ariana Grande concert, resulting in the deaths of 22 people, while hundreds more were injured.
Seven children under the age of 18 were among the 22 people killed in the attack.
Prosecutor Kathryn Selby told the court Abedi was charged with murder relating to each victim of the attack, one count of attempted murder encompassing all other victims, and one count of conspiring with his brother Salman to cause explosions.
The court heard 260 people were seriously injured, including those with life-changing injuries. The court was also told that at least 600 people reported psychological harm.
The names of all 22 victims were read out in court as the charges were put to Hashem Abedi.
He has indicated through his counsel Zafar Ali QC that he will plead not guilty to the charges against him.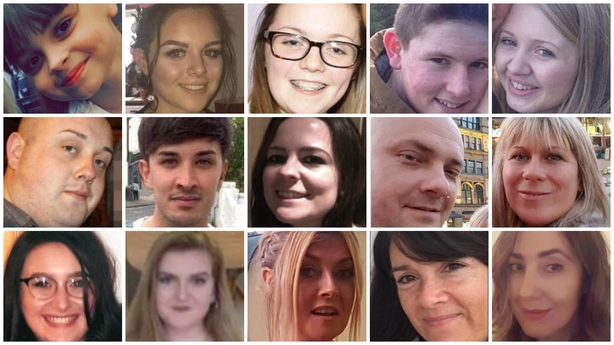 Inquests into the killings have been on hold while criminal proceedings against Hashem Abedi remained in limbo.
But his arrival at a London airport yesterday, flanked by British police following months of work to return him to England, raises the prospect of a development.
---
Read more
---
Prime Minister Theresa May, Home Secretary Sajid Javid and Security Minister Ben Wallace all welcomed the extradition.
Minister Wallace said: "I am pleased that the extradition of Hashem Abedi to the UK has been completed.
"It has been a huge effort by the police, Foreign Office and Home Office to ensure that the law can take its course.
"My thanks to the Libyan authorities for their support.
"Today my thoughts are with the victims of the Manchester Arena attacks and I can assure them that we will not rest until justice is done."