A group of locals sit on a row of benches under a corrugated iron shelter as a stranger holds up buckets and packets of soaps.
The midday sun beats down on the scorched and parched earth but everyone remains still and calm.
The community health worker is talking about the dangers of Ebola in the Democratic Republic of Congo.
The central African country is poorly equipped to deal with the rapidly spreading virus.
The government official has many in the audience looking a little puzzled as he begins to wave a large pair of red gloves in the air.
''Use these if you are handling exposed products or are entering the home of an infected person,'' he sternly warns.
Many of them still do not know what Ebola is and - even worse - are convinced the virus is fiction.
Despite the scepticism, Ebola has been a major talking point in the district of Nande near Beni in the eastern DRC.
On the day we visited the picturesque village, a local 23-year-old pastor contracted Ebola and was hospitalised.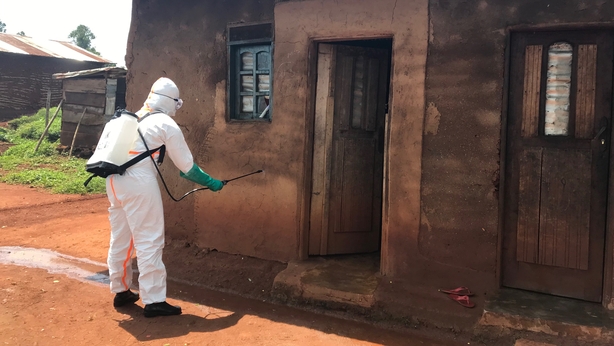 His small brown cement home is surrounded by a team of hygienists kitted out in white protection suits.
They are spraying every inch of the dwelling; walls, door frames and windows are dripping with disinfectant.
The pastor's 19-year-old heavily pregnant wife Merveille Mwenze anxiously looks on as the hygienists kick open her door and start spraying her furniture.
The mother-to-be appears bewildered, lost in her own thoughts, as she comes to terms with the fact her husband has the deadly virus.
He had all the symptoms of Ebola, including a high fever and bloody diarrhoea, but he falsely thought it was malaria.
Merveille's husband had also refused the vaccine.
''I'm seven months' pregnant,'' Merveille told RTÉ News as her neighbours gather around. ''I'm afraid that both myself and my unborn child are exposed. I'm very scared and can't rest until the baby comes."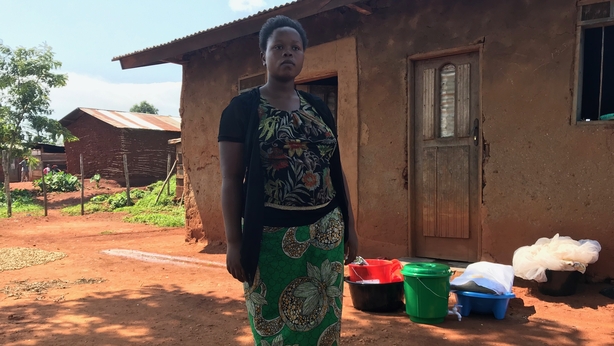 The decontamination team draws a large crowd. Most are eager to find out what is happening. Others turn their backs and go back inside their own homes.
Many in the DRC believe Ebola is a conspiracy made up by aid agencies and the government to destabilise the restive area dominated by armed groups in the south.
In a nearby town, I meet Masika carrying her nine-month-old baby on her back as she returns home. By her own admission she was an Ebola denier.
Masika believed authorities were making a big fuss over nothing. That changed when her neighbours fell ill and she realised something serious was afoot.
Holding up three fingers Masika elaborates: ''I know of three cases of Ebola in my village and two of them died.
"I then realised that Ebola really exists."
As panic spread through her community, Masika decided to get vaccinated.
''I'm worried about my baby so my advice is to keep your children away from people with the virus.''
Health teams in the DRC have been unable to reach some areas because of violence by rebel groups, with scores of rival armed factions active in the region.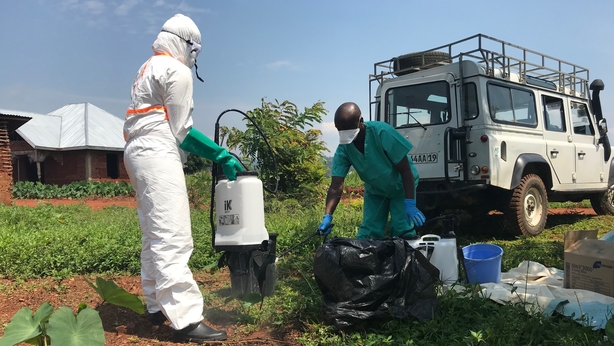 More than 100 attacks on treatment centres and health workers have been recorded since the beginning of the year, according to World Health Organisation.
A combination of suspicion, fear and misinformation is fuelling the violence.
''When we arrive to some places, they are saying you want to kill us,'' says Dr Souleymane Diallo, Unicef's DRC Ebola coordinator.
''They tell us it is not true - that Ebola doesn't exist. It's a cultural, almost mystical, interpretation of the virus,'' Dr Diallo told RTÉ News.
Amid all the rumours and distrust, children are playing a key role in combatting all the misinformation.
In a small primary school near Beni, six and seven-year-olds are learning how to spot the danger signs of this silent killer.
They stand up and sing a song with matching hand movements chanting: "We wash our hands with soap to prevent Ebola".
It may seem like a small gesture but these children are key to spreading the word back in their homes and villages.
As the virus continues to cause chaos, their efforts may end up saving lives.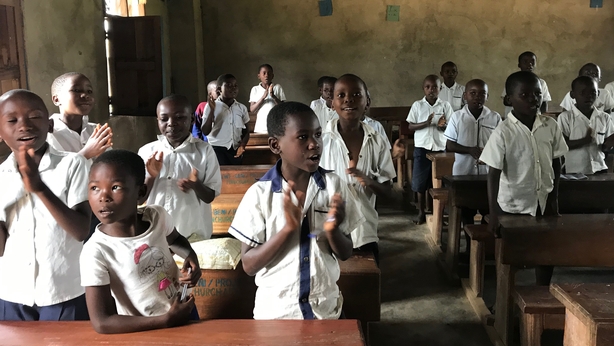 We need your consent to load this rte-player contentWe use rte-player to manage extra content that can set cookies on your device and collect data about your activity. Please review their details and accept them to load the content.Manage Preferences