On Tuesday, US President Donald Trump will officially launch his re-election campaign at a rally in Florida.
It should come as no surprise that he has chosen the 'Sunshine State' to unveil his bid to retain the White House.
Florida is a crucial swing state and winning its 29 electoral college votes was a key part of Donald Trump's victory over Hillary Clinton in 2016.
In recent days, there has been renewed focus on that 2016 campaign and a sense that lessons may not have been learned.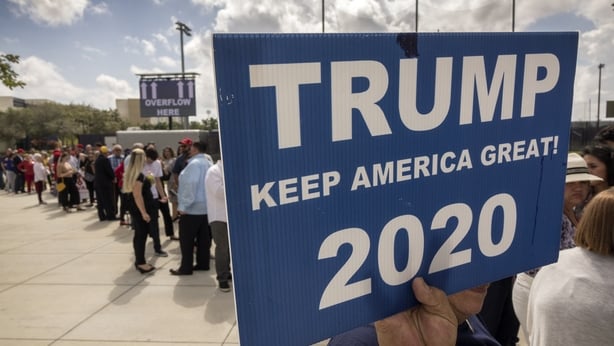 Questions over contacts between his campaign and Russia have consumed the Trump presidency.
The Special Counsel Robert Mueller investigated a meeting at Trump Tower involving Donald Trump Jnr and a Russian lawyer who had promised 'dirt' on Hillary Clinton.
As another election campaign approaches, it appears President Trump still sees nothing wrong with getting information from foreign governments.
In a recent interview with ABC News, he was asked if a foreign government offered him or his campaign information on an opponent should they accept it or should they call the FBI.
"I think maybe you do both. I think you might want to listen. There's nothing wrong with listening. If somebody called from a country, Norway, 'we have information on your opponent'. Oh. I think I'd want to hear," he said.
"If I thought there was something wrong, I'd go maybe to the FBI. If I thought there was something wrong."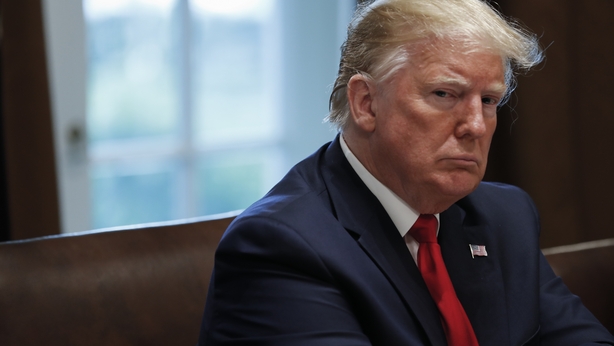 The backlash came quickly with Democrats describing the comments as disgraceful and shocking.
Some Republicans also expressed concerns, with Senator Lindsey Graham saying that if a foreign government offers you anything of value, whether it's information or money, "the right answer is no".
President Trump took to Twitter to try to clarify his comments saying he talks with foreign governments every day and listed the Taoiseach among the leaders that he has recently met.
He asked: "Should I immediately call the FBI about these calls and meetings? How ridiculous!"
....call the FBI about these calls and meetings? How ridiculous! I would never be trusted again. With that being said, my full answer is rarely played by the Fake News Media. They purposely leave out the part that matters.

— Donald J. Trump (@realDonaldTrump) June 13, 2019
It was an insight into how Donald Trump and his campaign team might deal with any 'dirt' on opponents they may receive. We've also been given an insight in recent weeks into how President Trump may attack his rivals on the campaign trail.
He has frequently criticised the more progressive and liberal Democratic candidates accusing them of trying to turn the US into a socialist country. It's for this reason that the frontrunner Joe Biden is probably the candidate that Donald Trump fears the most.
As a moderate, the former vice president will appeal to blue collar workers and middle class voters in swing states such as Pennsylvania, Michigan and Ohio - support that will be crucial when it comes to winning the White House.
Predicting the outcome of Election 2020 is a guessing game at this stage, particularly when we don't know who Donald Trump's opponent will be.
Days after the US president's campaign launch in Florida, Democrats will visit the same state for their first primary debates. There are so many candidates that it is being split over two nights in Miami with ten hopefuls taking to the stage each night.
As the debates continue and the numbers of candidates are reduced, we'll get a better idea of what kind of campaign awaits and a better sense of who the next US president may be.
Right now, Donald Trump is not doing well in opinion polls, but as Republicans repeatedly say, if polls were to be believed, Hillary Clinton would be in the White House.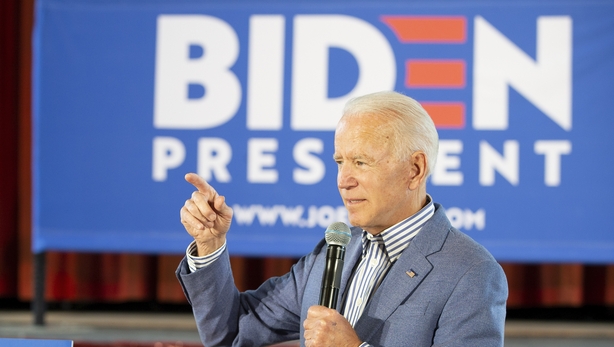 Nonetheless, the numbers are no doubt causing concern in the White House, with many polls predicting a landslide victory for Joe Biden over Donald Trump.
A recent Quinnipiac University survey had Biden leading Trump by 13 points.
Most polls show Donald Trump struggling in key swing states, such as Michigan, Wisconsin and Pennsylvania.
Some recent surveys even show President Trump behind Joe Biden in places like Texas, Arizona and Iowa - states he easily won in 2016.
But as I mentioned, Donald Trump's success in the last election was not reflected in the polls. When I speak to voters, particularly those outside of the Washington DC bubble, many of them tell me that they think President Trump is doing a good job.
They point to promises kept when it comes to tax cuts, the Iran Nuclear Deal and the Paris Climate Accord.
And then there's the economy. They all reference the booming economy.
Right now, US unemployment is at a 50-year low and growth figures remain strong. If this continues into 2020 it will be a massive boost to Donald Trump's re-election hopes.
It was a Bill Clinton advisor who said "the economy, stupid" ahead of the defeat of George HW Bush in 1992.
The same phrase may very well be employed next year if a Donald Trump victory leaves some election observers scratching their heads.