For months it's been a case of when rather than if Joe Biden would announce that he's running for US President.
I asked him about it back in September at an event at the Irish Embassy in Washington.
At the time he told me that America needed to get its confidence back and whoever runs in 2020, he was going to help.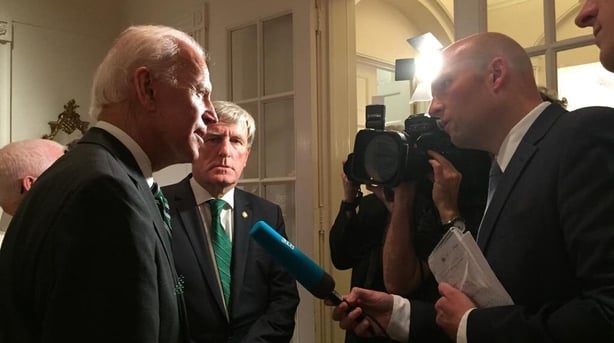 That message of America needing to be fixed somehow was echoed again today in the official announcement of his candidacy.
It came this morning in a three-and-a-half minute online video.
Much of the message focused on the white nationalist rally that happened in Charlottesville, Virginia in 2017.
At the time, Donald Trump said there were "fine people" on both sides of the protests.
Joe Biden said that America's core values, democracy and standing in the world are all at stake
We need your consent to load this YouTube contentWe use YouTube to manage extra content that can set cookies on your device and collect data about your activity. Please review their details and accept them to load the content.Manage Preferences.
He's the 20th candidate to enter the race for the Democratic nomination, but is the frontrunner, according to almost all opinion polls.
Most of his rivals are seen as more progressive and liberal and will appeal to the left-leaning wing of the Democratic Party, but Joe Biden could be the candidate that Donald Trump fears the most.
As a more moderate centrist, the former vice president will be popular among blue collar workers in places like Pennsylvania and Michigan - states that will be crucial when it comes to winning the election in 2020.
But Joe Biden is not without controversy. Earlier this month, he promised to be more respectful of personal space after seven women accused him of inappropriate behaviour.
Joe Biden ran for US President in 1988 and again in 2008 and he'll be hoping that it's a case of third time lucky in 2020.