Voters are going to the polls in the world's largest democracy, but the marathon process will take nearly six weeks to complete.
India begins a mega election today. As eligible voters represent over 10% of the world's population, voting is broken down into seven stages and will take some time.
Polls suggest Prime Minister Narendra Modi's Bharatiya Janata Party (BJP) is widely expected to be in a position to form a new government after the election, but the big question is whether he will win an outright majority or be forced into trying to form a coalition.
Population giant
One of the reasons that voting takes so long is that India has a massive population of some 1.3 billion, according to the UN, with 900 million people eligible to vote.
It is the world's second most populous country behind China's population of close to 1.4bn.
However, India has a very young population and with 65% of its citizens under the age of 35, it is expected to surpass China in the next five years.
Shubhajit Roy, Senior Editor with the Indian Express says such is the scale of the electoral exercise, that it has to held during the holidays when schools are closed, meaning the buildings can operate as polling stations.
He said: "900 million voters, when they vote, it's a massive exercise and that government machinery is at the disposal of the Election Commission. 250,000 soldiers are mobilised to guard the polling stations over six weeks because it's such a huge country."
We need your consent to load this rte-player contentWe use rte-player to manage extra content that can set cookies on your device and collect data about your activity. Please review their details and accept them to load the content.Manage Preferences
India's epic 900 million voter, seven-phase election kicks off tomorrow.
See our @AFP interactive on the biggest democratic undertaking on the planet https://t.co/jIpGzj5dlJ pic.twitter.com/lgOvbjD7G1

— AFPgraphics (@AFPgraphics) April 10, 2019
Who are the contenders?
Narendra Modi and the Bharatiya Janata Party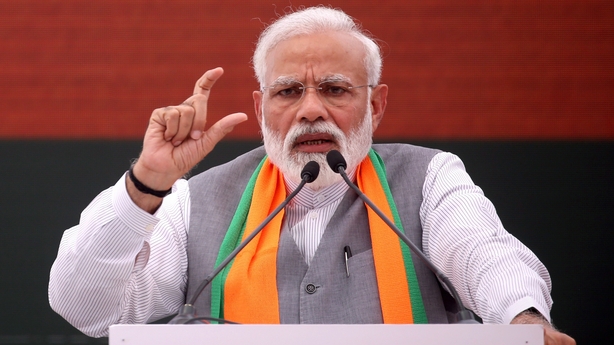 Narendra Modi, 68, is the current prime minister who swept to power in 2014. His Hindu nationalist BJP becoming the first party to win an absolute majority since Rajiv Gandhi in 1984.
He portrays himself as a tough guy from humble beginnings who will protect Indian security.
As a child he helped his father run a railway station tea stall. He says of the opposition Congress party: "Yes, I sold tea, but I did not sell the nation."
Rahul Gandhi and the Congress party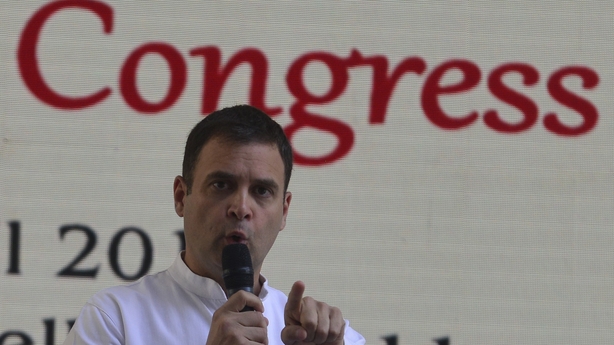 Rahul Gandhi, 48, is the great-grandson, grandson and son of three past prime ministers, but he will still face a tough task beating the incumbent Mr Modi.
His father Rajiv Gandhi, was assassinated by a Tamil suicide bomber in 1991 when Rahul was 20.
His Italian mother Sonia Gandhi, widow of Rajiv, took over the Congress party in 1998 and handed over the reins to her first born son Rahul in 2017.
After the party was crushed by the BJP in the 2014 election, Rahul Gandhi has tried to rejuvenate it whilst keeping more traditional voters on side. He has stressed his secular credentials and has reached out to Muslim voters and promised greater representation to women in parliament.
Last December, Congress won three key state elections including in northern India's "cow belt", which has traditionally been seen as Mr Modi's heartland.
State power
In India, the prime minister's power is limited by the authority given to state assemblies who have significant control over finances, law and order and other key government functions.
There is a lot of diversity in India with nearly 60% of Indians speaking a language other than Hindi as their mother tongue. 
Mr Roy says the Congress party has been trying to make some key alliances with more regional parties in a bid to stop Mr Modi.
"Clearly unlike 2014 when there was what we call the 'Modi wave', this time we are not seeing a 'Modi wave' but the opposition has united and it has done tactical alliances in different states," Mr Roy says.
He says each of the states in India votes very differently.  
"There are regional leaders who are very powerful and there have been tactical alliances, especially in the most populous state in India, Uttar Pradesh, and in northern India which we call the "cow belt" area."
Last December, Congress secured victory in three key state elections, including in the "cow belt", which was Mr Modi's heartland last time around.
Mr Roy adds: "Yes, there are polls which are suggesting that Narendra Modi would come back to power but possibly with diminished strength ... it has been said this is Modi versus 30 regional leaders at play right now."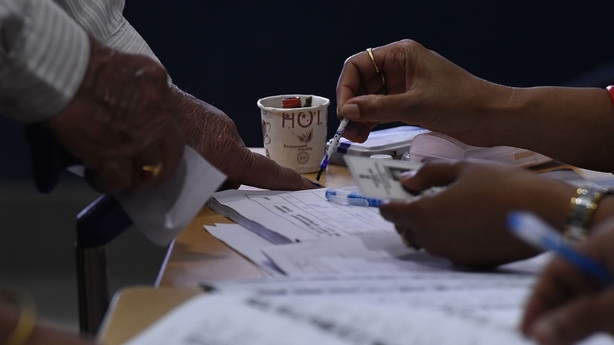 What are the big issues?
The Economy
India became the world's sixth biggest economy in 2017 and according to the World Bank, it is projected to overtake Britain this year.
Unemployment is a major concern, particularly among young people with a leaked government report in February suggesting it had risen to a 45-year high of 6.1% in 2017 to 2018. 
About half of the workforce is employed in agriculture, but many jobs are shifting to services, manufacturing and IT.
Projected economic growth for this year is 7.5%, down from previous years.
Doubts have been expressed over BJP's economic reforms with many business people still angered by the sudden cancellation of high-value banknotes in 2016 in a bid to combat the black market economy.
Shubhajit Roy says the opposition is putting its focus on jobs and the economy: "Because of job losses in the country in the last five years, especially after 2016, there was a decision by the current government where they demonetised 85% of the high value currency in the country and that led to a lot of job losses in rural villages.
"So that is one of the main issues for a lot of people who lost their jobs or their incomes haven't grown as was promised by the Prime Minister Modi when he came to power in 2014."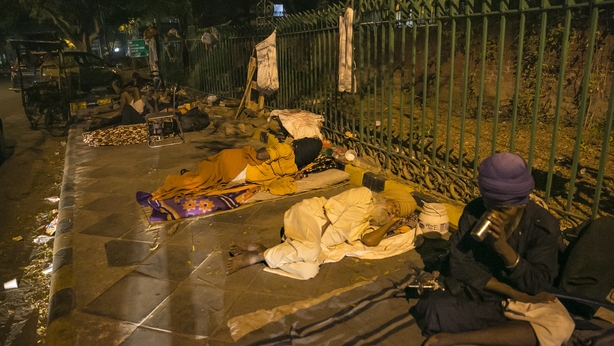 Poverty
Extreme poverty remains widespread in India with half of the population below the poverty line.
The World Bank estimates 176 million Indians were in extreme poverty in 2015.
Opposition Congress has promised a minimum income guarantee if they come to power-equivalent to US $86 per month, but this has been dismissed by the BJP as a "hollow promise".
Pollution
India tops international lists of the world's most polluted cities. Fourteen of the world's 15 most polluted cities are there and New Delhi is the world's most polluted capital.
Security
Arch rivals India and Pakistan have been in conflict for decades over the disputed territory of Kashmir. Both became nuclear powers in 1998 and tension flared there recently.
Most of the polling agencies have released surveys that found Mr Modi got a boost from this recent tension, which saw a militant group in Pakistan kill 40 Indian military policemen in Kashmir in February.
A recent C-Voter poll said: "In today's India we have seen perhaps for the first time security issues competing with, and outdoing, a bread and butter issue like unemployment."
However, due to the size of the electorate in India, pre-election polls can be very unreliable.
Congress has accused BJP of using retaliatory airstrikes on Pakistan as a political tool to distract from economic issues.
The role of media
Despite Narendra Modi's Twitter following of more than 46 million, making him one of the world's most tracked leaders, he has never given a press conference as prime minister and rarely gives TV interviews.
Mr Roy says Indian elections are largely seen as free and fair, but India's Election Commission has recently been accused by some of being partisan and of favouring the incumbent government.
Mr Roy says: "An example has been a new TV station that has come up in the last ten days which is called the NAMO TV- it stands for Narendra Modi essentially N-A-M-O... It does propaganda for the BJP and for the government 24/7 and has been showing speeches of the prime minister and different movies which eulogise national security and patriotism and nationalism amongst viewers.
"There have been complaints to the Electoral Commission that this skews things in favour of the government but the electoral commission has turned a blind eye so far."
We need your consent to load this rte-player contentWe use rte-player to manage extra content that can set cookies on your device and collect data about your activity. Please review their details and accept them to load the content.Manage Preferences
Yesterday, India banned the release of a biopic about Prime Minister Modi after complaints that the flattering portrayal would give his party an unfair advantage. 
In a win for the opposition, India's Election Commission barred the cinematic release of the film until voting concludes on 19 May.  
Under Indian election rules, the publication of any content deemed as campaign material, including advertisements, films and even social media, requires the election commission's prior approval.
The commission said the film "has the potential to disturb the level playing field during the elections".
The congress party had insisted it was propaganda and resisted the timing of its release, even taking its fight to the country's highest court.
Indians have been bombarded with social media messages during this campaign with political parties using all the tools they can to woo voters.
Mr Roy says: "It's already been called the WhatsApp election because WhatsApp is the most used messenger service in India and political parties are campaigning through WhatsApp a lot."
---
Read more:
Many Indians living in Ireland to vote in home election
We need your consent to load this rte-player contentWe use rte-player to manage extra content that can set cookies on your device and collect data about your activity. Please review their details and accept them to load the content.Manage Preferences